Class of '98: 25th Reunion
Congratulations to the Class of '98 on celebrating your 25th reunion!
Reunite with your fellow classmates at your very own 25th Reunion Tent at the Alumni Gael-Gate! Food and beverages will be served and there will be live music, yard games and much more. Families are welcome to join the celebration!
Reunion Committee Members
Mark A. Andrews '98, '00MS
Robert T. Bird III, CFP, '98
Margaret E. Kowalski '98
Wayne A. Lawrence '98
Cyd M. Williams '98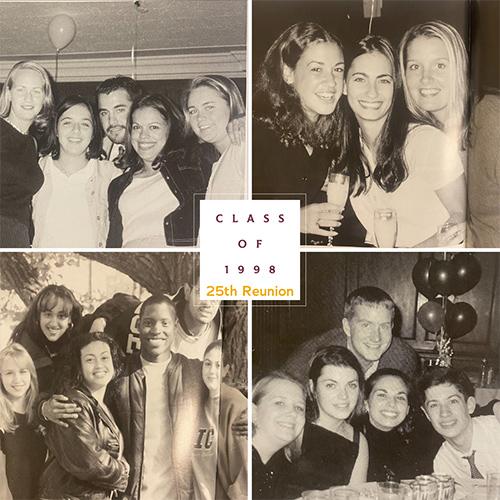 Homecoming: Class of '98
This will be updated weekly
Colleen Amato
Bobby Bird
William Campione
Rena Capri
Martino Centi
Frederick Cornelius
Lisa Dembowski
Jean-Marie Donoghue
Mary Driscoll
Kevin Driscoll
Michael Geary
Laura Koch
Chris Mark
Donna Mark
Patrick Martin
Lisa Martinsen
Lisa Martinsen
Janine McGinely
Francois Michel
Bryan Vicari
Cyd Williams
George Woods
Hear from reunion committee member Bobby Bird as he outlines some of the details and highlights for the Class of 1998 reunion!
Class of 1998 Schedule
8 p.m. - Maroon Madness: Kick-Off the Season Event
Hynes Arena
The Iona Community will celebrate the official start of the men's and women's basketball season with a fun night of contests, giveaways, and performances! 
Shuttle to run to Summit Lot throughout the day
9 a.m.-3 p.m. - Welcome Center open
Atrium, LaPenta School of Business
Information center for the weekend. Pick up an updated schedule!
10 a.m. - Campus Tour
Atrium, LaPenta School of Business
*Golf Cart available for those who need it
**Registration required
Noon - Men's Soccer Game vs. St. Peter's
Mazzella Field
Noon-4 p.m. - Alumni Gael Gate Sponsored by Heineken
Reunite with your fellow classmates at your very own 25th Reunion Tent at the Alumni Gael Gate! Food and beverages will be served and there will be live music, yard games and much more. Families are welcome to join!
**Registration required
3-5 p.m. - Rugby Game vs. Brown University
Mazzella Field
5 p.m. -  Homecoming and Family Weekend Mass
Burke Lounge, Spellman Hall 
Contact Information
Miranda Kozak, Senior Director of Alumni Engagement and Annual Giving
Eddie Maffia '21, Assistant Director of Development