Group Study Rooms
Ryan Library is pleased to provide group study rooms!
In order for these rooms to remain a respectful learning environment for all users, please review and follow the policies below.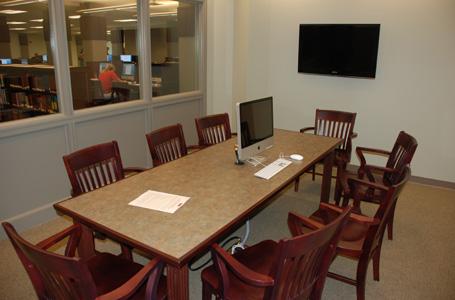 Group Study Rooms are intended for a minimum of two users and are restricted to members of the Iona College Community. A minimum of 8 users must be present for the use of combined rooms.
Technology located in the Group Study Rooms is for educational and research purposes only.
Group Study Rooms are available on a first-come, first-served basis and may not be "held" by one person.
Group Study Rooms are intended for collaborative work and should not be used for extra-curricular activities.
Study Rooms should not be used by any single group for more than three hours if another group is waiting.
NO FOOD IS PERMITTED in the Group Study Rooms at any time. Closed beverages only. Users observed with food will be asked to move to the cafe.
Cell phone use is not allowed in the Group Study Rooms.
Group Study Rooms should be left clean; trash should be thrown away in trash cans.
Belongings should not be left unattended in the Group Study Rooms. The library is not responsible for loss, theft, or damage of personal property. If a room is discovered unoccupied all belongings will be removed and placed in the library's lost and found and the room will be made available to other patrons.
Furniture should be left neatly arranged upon departure and furniture should not be moved in or out of Group Study Rooms.