Campus Operations
This plan was established by the Iona College Task Force, with input from faculty, staff, students and parents. The plan was developed in accordance with New York State public health guidelines and founded in concern for fulfilling the educational mission of Iona College and the academic integrity of Iona's educational offerings. Policies and procedures are subject to change as the situation evolves.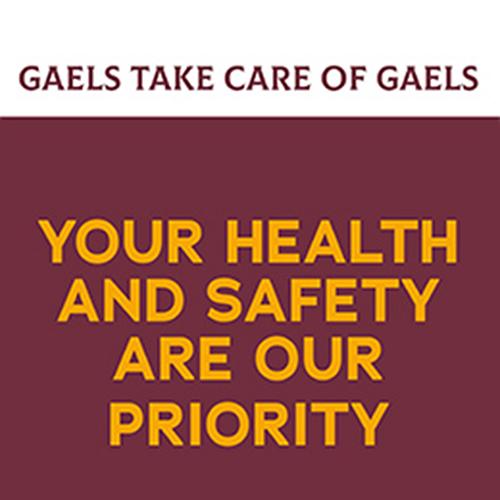 Iona's Academic Calendar will begin February 1 and end May 24.
Iona College undergraduate students and graduate students in Arts & Sciences will begin the spring semester on February 1, 2021, and end the semester on May 24. Final exams will run from Monday, May 17 through Monday, Monday 24.
Graduate students in the LaPenta School of Business will begin the fall trimester on March 1, 2021, and end on May 17. Finals will run from Monday, May 10 through Monday, May 17.
Resident students will be allowed to leave during the semester. However, Iona canceled spring break so that the College could limit the volume of students traveling back and forth to different parts of the country. We know limiting exposure helps to prevent potential spread. We are asking everyone to practice good hygiene and take steps to limit the risks for their own health as well as that of their fellow members of the Iona community. If a student travels to a state considered a "hot spot," the student will be responsible for procuring space off campus to quarantine for 10 days before returning to campus.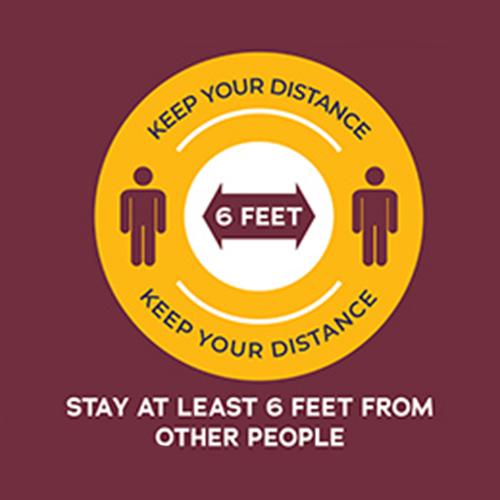 Campus has been restructured to promote physical distancing.
Iona will increase spacing in all classrooms and dining halls to promote distancing. Entry, egress and stairways in buildings on campus will be organized to maximize spacing and minimize face-to-face exposure. Elevators and restrooms will have reduced capacity and signs will be posted to indicate maximum capacity. Iona will reduce occupancy in residence halls to a maximum of two students per room, reduce occupancy in all common spaces including kitchens, lounges, laundry and restrooms and require social distancing.
While on Iona's campus, every individual should practice social distancing whenever possible. All members of the community must wear appropriate face coverings at all times indoors and outdoors. (This does not apply to residential students when they are in their own rooms.) Please note that sidewalks are approximately 3 feet wide, so it is expected that everyone will wear masks while walking outdoors throughout campus.
Administrative offices will be rearranged to provide increased distancing between workspaces. Remote work will continue for staff who can perform their roles from home to increase social distancing in offices.
Offices, waiting areas and the most highly trafficked spaces on campus have been rearranged to ensure social distancing.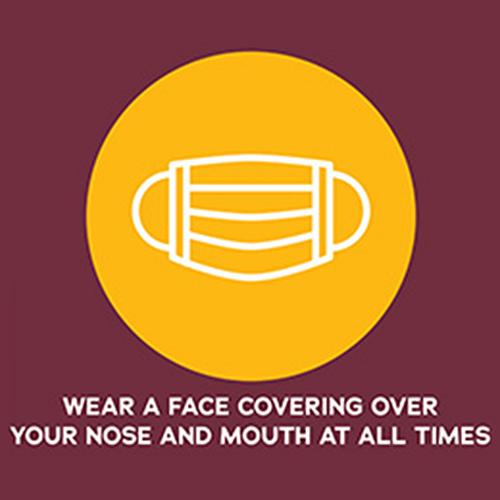 All community members will receive and wear Personal Protective Equipment (PPE).
Everyone at Iona will be required to wear a face covering at all times when on campus. The only exceptions are employees when inside private offices and residential students when inside their own room or suite.

Every student will receive a PPE pack. The PPE pack will include two reusable face coverings, hand sanitizer, a reusable thermometer, a face shield, a lanyard, reminders of hygiene protocols and instructions on what to do if they should experience symptoms. Faculty and staff will receive masks from their supervisor or Department Chair. Students must wear masks at all times in classrooms. Face shields will be available for anyone who chooses to wear them in addition to a mask.
Campus Safety will continue to be available.
Non-emergency incident reports will be done over the phone or Zoom. Only emergency calls will require an in-person response.

Campus Safety office cleaning and disinfecting will continue at the start of every shift using Shockwave disinfectant and will include all fixed posts where Campus Safety officers are stationed, such as the front gate, resident halls and Annex.
Prior to the start of the semester and the opening of the residence halls, all spaces will be cleaned and disinfected. All water systems will be flushed prior to the start of the semester. Where possible based on the air system, the fresh air intake will be increased and/or MERV 13 filters will be utilized.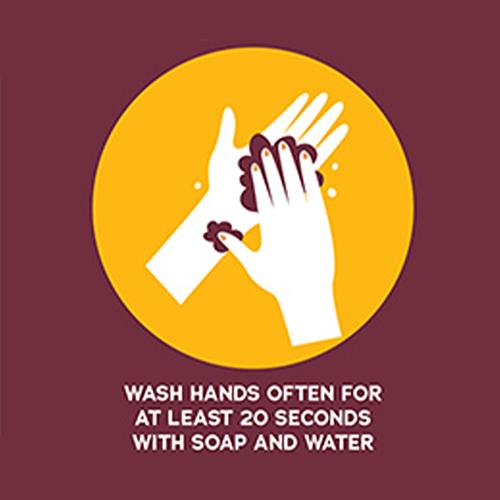 Hand sanitizer stations will be available inside campus buildings and at the Gael Express shuttle stop, with posted reminders to wash hands and/or sanitize regularly. Soap, water and paper towels will be available in all restrooms on campus.

Restrooms, lobbies, lounges, lunchrooms, stairways and common areas will be sanitized regularly throughout the day. An electrostatic sprayer will be used daily for disinfection in all common areas and bathrooms. Event spaces will be sanitized before each use.

Classrooms, common spaces and elevators will be sanitized each night. Sanitizers will be available and accessible across campus. Disinfecting wipes will be provided in each classroom and students and faculty will be asked to wipe down their space before and after use.

Daily logs will be maintained stating date/time/scope of cleaning. Logs will be reviewed regularly by Facilities management.

Common restrooms shared by all students in a residence hall floor will be cleaned multiple times each day by cleaning staff and barriers will be installed or alternate sinks shut down to maintain distancing. 

Suite restrooms shared by four people will be cleaned by students. Iona will provide a starter pack of cleaning supplies.
If necessitated by widespread COVID-19 transmission, the following shut down procedures of in-person operations will commence.
Moving to a Virtual Environment
If circumstances require the College to shut down in-person operations, Iona is prepared to seamlessly continue classes, moving all in-person classes to the virtual learning environment. Staff and administrative employees will work with supervisors to coordinate continuing their work from home. 
Move-Out
Before starting the semester, residential students are required to submit a plan for: 
should they need to quarantine or isolate, and 
if the campus must shut down in-person instruction due to the spread of COVID-19. 
Therefore, upon opening, the College will know how many students must remain on campus should the College need to end in-person instruction. In addition, the College may need to house students in certain majors currently completing an internship or related placement needed for licensure (should that internship remain open for in-person work).
If the College or residence halls must close, residents will be instructed to move out of the halls in an orderly fashion with scheduled move-out blocks over several days, mimicking the move-in process. It is also possible for students to leave the residence halls if desired at any point and return just for their scheduled move-out to collect their belongings.
As with move-in, residents will be limited to no more than two helpers who will also be required to wear face coverings and adhere to any other health and safety related protocols in place at that time. 
Students were asked to pack lightly in the event a shutdown is needed to facilitate ease of move-out.
Once students move out, spaces will be cleaned and sanitized, and those students remaining on campus would be moved to the North Avenue residence hall with suites of no more than four people and two shared, assigned bathrooms to limit exposure but allow for appropriate supervision and support.
Should residents remain in the halls until the conclusion of the spring semester, student move out will occur naturally over several days as classes and exams end. Residential Life will work with students to coordinate these move outs so as to ensure social distancing and will enforce all health and safety protocols currently in place. As with early closure of the halls, at the end of the spring term, break housing will be limited only to approved exceptions for international students and those students who require an internship for licensure and graduate business students who may still be taking classes. Otherwise, all students will move out by the appointed date.
Communication  
If circumstances require the College to shut down in-person operations, faculty, staff, students and parents will be made aware as soon as possible once the decision is made. The community will be notified via email, text messages, social media posts and the website will contain updates and answers to frequently asked questions. Students, staff and faculty are encouraged to stay connected with the Iona College Campus Text Notification System. The Campus Notification System will alert you to any critical issues impacting the Iona community.