Testing, Monitoring & Dashboard
This plan was established by the Iona College Task Force, with input from faculty, staff, students and parents. The plan was developed in accordance with New York State public health guidelines and founded in concern for fulfilling the educational mission of Iona College and the academic integrity of Iona's educational offerings. Policies and procedures are subject to change as the situation evolves.
Protocols are in place for initial and ongoing testing.
Before coming to campus, every member of the Iona community must take the COVID-19 PCR test. All employees must be tested within 14 days before returning to campus. All students must be tested within 14 days before the start of classes. Students who are returning to campus must be tested within 14 days before coming to campus.

We have established a partnership with Montefiore Hospital in New Rochelle that provides any member of the Iona community testing at no cost.

Montefiore New Rochelle, in conjunction with the City of New Rochelle, and the NYS Department of Health opened a walk through COVID-19 testing facility located on Lockwood Avenue and Glover Johnson Place. The test results are normally emailed within 3 – 5 days of the test. Walk-ins are the preferred option. The walk-through testing facility is outside of the hospital; please do not contact Montefiore to schedule an appointment.

Students and employees may also get tested at their own health care provider. Employee test results should be sent to Human Resources. Students must submit all documentation to Iona College, Health Services Office:
All are asked to retain copies of all documentation submitted for their records and may contact Health Services at (914) 633-2548 with any questions or concerns.

If students cannot take the COVID-19 PCR test prior to coming or returning to campus, they will be required to take the test and submit a negative test result before attending in-person classes and/or participating in on-campus activities. Resident students will not be allowed to move in before having the test.
Testing is available for students coming from "hot spot" states or outside the United States.
We recognize that there may be some students coming from hot spot states or other regions where testing availability is limited and they are unable to get the test before coming to New York. When those students arrive, we will have them tested at Montefiore upon arrival and quarantine them for 14 days. These students will not be required to take a second COVID-19 test before coming to campus unless they develop symptoms.

Students coming from outside of the United States must return to campus by July 27, 2020, and quarantine for 14 days. Residential Life staff will contact each international student to provide specific details about quarantine spaces, guidelines, expectations and how services will be provided to them.

Anyone returning to campus without providing negative test results will not be allowed to move into their housing assignment or take in-person classes until they provide results of a negative COVID-19 test result.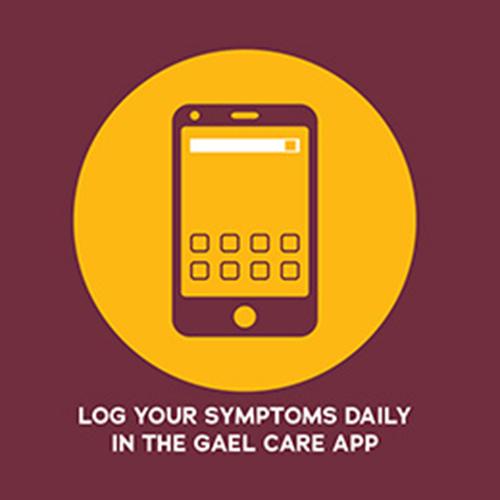 Testing responsibility, frequency and protocols.
Iona's partnership with Montefiore Hospital in New Rochelle allows any member of the Iona community to get tested at the Montefiore site at any time, at no cost to the patient. On a daily basis, all members of the Iona community will be expected to complete a COVID-19 symptom check via the Gael Care app. If community members self-report symptoms consistent with COVID-19, they will be advised to quarantine and seek testing when appropriate.

As part of Iona's ongoing COVID-19 surveillance and monitoring, the College will conduct COVID-19 PCR tests with a random sampling of students including commuter and residential students. The purpose for random testing is to provide an early indication of any COVID-19 cases or clusters of cases among our campus community.
Students will be randomly assigned to a group at the start of the semester. Based on this random assignment, groups of students will be tested at least once during the semester.
Testing of these students will be conducted either at Montefiore in New Rochelle or on Iona's campus.
There is no additional cost to students for the random testing.
All test results will be maintained in Student Health Services.
Iona will monitor early warning signs.
Iona will use two metrics to monitor and detect early warning signs of increased positive cases:
Average daily positive cases in the region (Mid-Hudson Valley, Westchester County)
Cases of confirmed COVID-19 among Iona College students, faculty and staff
The average 7-day case reports exceeding 7% would likely trigger the region to initiate restrictions that might include Iona College needing to move to a 100% virtual platform.
On campus, cases confirmed positive will guide mitigation and/or closing stops. While an exact number is not established as of this date, based on tracking and tracing models, a R0 greater than 1.5 will serve as an early warning sign of significant spread among Iona community members.

Three data points will be monitored to provide early warning signs regarding positive cases:
Local, county, daily COVID-19 case reports that show % Positive Results Over Time, Mid-Hudson.
Tracking of daily symptoms on Iona's campus used with the daily symptom tracker, will alert the College of symptomatic events that might be associated with COVID-19 infections.
Reports of positive COVID-19 cases reported to Iona from medical providers and/or the local health department; and from random COVID-19 testing (process described in testing) being done throughout the Fall 2020.
Contact tracing will be conducted in coordination with public health officials.
Following local health department and CDC guidance, when a case of COVID-19 is confirmed, the local health department initiates contact tracing through the official public health procedures. In a situation where Iona becomes aware of a case, either from the COVID-19 person directly or by being informed by a health official, the College will use available information to inform students, faculty or staff who were known to have been in close contact with the COVID-19 person.

The following steps will be taken to support improved efficiency for contact tracing:
Students will have assigned seats in each class so that if any student tests positive for COVID-19, we can assess which students were in nearby contact and should be advised to quarantine and get tested.
Daily screening will be required via the Gael Care app. 
To provide a safer campus community, students and employees will be required to conduct a daily symptom check using the Gael Care app.

If symptoms are present, individuals should not come to campus and the app will provide information on quarantining, monitoring symptoms and getting tested. Students and employees without symptoms will receive a daily passport via the app, which they will be asked to present at various locations on campus (e.g. classrooms, library, Hynes Athletics Center, offices).

Visitors to campus will be asked a series of daily health-check questions about their exposure and symptoms and will be required to wear face coverings.

As a reminder, symptoms include:
Fever or chills
Cough
Shortness of breath or difficulty breathing
Fatigue
Muscle or body aches
Headache
New loss of taste or smell
Sore throat
Congestion or runny nose
Nausea or vomiting
Diarrhea
This list does not include all possible symptoms. The CDC will continue to update this list as we learn more about COVID-19.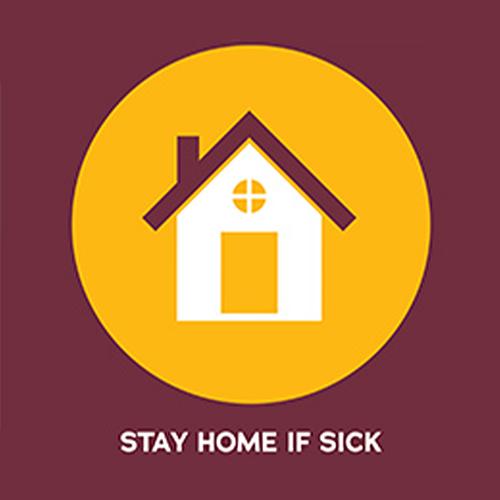 Preventative plans are in place to contain potential transmission.

Every student must begin the fall semester prepared with a plan for what they will do, and where they will go if they need to quarantine or isolate. A survey sent to all students in July asked students to develop and submit their plans.
Isolation
Anyone who is COVID-19 symptomatic will be instructed to isolate for 14 days and get tested.
Iona College has established a partnership with Montefiore Hospital in New Rochelle to provide virus testing for all faculty, staff and students whenever necessary at no cost. Testing could also be conducted at any other health care provider.
Residential students will isolate until test results are available while arrangements are made for them to return home. Commuter students will be instructed to isolate at home.
Anyone who tests positive for COVID-19 will need to isolate for 14 days. Anyone with symptoms that tests negative for COVID-19 will need to isolate until they are no longer symptomatic.
Quarantine
Uninfected residential students who have been exposed to COVID-19 may quarantine in their room on campus, or an alternative room may need to be assigned for the quarantine period depending on the residence hall design. To maximize their comfort, students are encouraged to return to their home for the quarantine period if they can travel safely without taking public transit.
Uninfected commuter students who have been exposed to COVID-19 will be asked to quarantine at home for 14 days.
Any employee who has been exposed to COVID-19 will be asked to quarantine at home.
Iona has secured rooms to quarantine students traveling from the NYS designated list of restricted states.
Students Confirmed or Suspected to Have COVID-19
If the student does not have an off-campus location to quarantine or isolate, Iona College will provide separate space for students who need to isolate while they are on campus.
Students who are isolating or quarantining may continue in their classes, learning online if they are able.
Personal needs including all meals, laundry and access to restrooms will be provided.
Students may access all student services virtually.
Any employees who are symptomatic will be sent home from campus.
Confidentiality will be maintained as required by federal and state law.
Iona's partnership with Montefiore guarantees hospital care should anyone in the Iona community need urgent medical attention.
One of the Gael Express shuttle vehicles will be removed from the regular shuttle service and specifically reserved for transporting anyone who needs to go get tested or get care.
If a roommate or suitemate exhibits symptoms consistent with COVID-19, their roommates and suitemates are asked to report symptoms and may get tested. If concerned, we can and will provide the quarantine space or the student may self-quarantine at home.
Hygiene, Cleaning and Disinfection
Every classroom will be cleaned and disinfected nightly. Any campus vehicle used to transport a symptomatic individual will be disinfected using the electrostatic sprayer.

Protocols are in place for cleaning and disinfecting an area used by someone who tests positive for COVID-19, including:
Close off areas used by the person who is sick.
Open outside doors and windows to increase air circulation in the area.
Wait 24 hours before cleaning or disinfecting. If 24 hours is not feasible, wait as long as possible.
Clean and disinfect all areas used by the person who is sick, such as offices, bathrooms, common areas, shared electronic equipment like tablets, touch screens, keyboards, remote controls, and ATM machines.
Vacuum the space if needed with a vacuum equipped with high-efficiency particulate air (HEPA) filter, if available.
Once an area has been appropriately disinfected, it can be opened for use.
Workers without close contact with the person who is sick can return to work immediately after disinfection.
Iona College COVID-19 Dashboard
Dashboard updated every evening.
Before returning to campus for the fall semester, every student and employee was required to submit a negative COVID-19 test result.
 Randomized testing began on August 19 in partnership with Montefiore Hospital. As of August 31, random student testing is taking place on Iona's campus at the Arrigoni Center.
For any positive cases, Iona's isolation, quarantine and contact tracing protocols go into effect in partnership with Westchester County and New York State Departments of Health. More details on the containment protocols can be found in the Containing Potential Transmission section of this page.
COVID-19 Testing

|   | Number | Description |
| --- | --- | --- |
| Total Tests | 7,746 | Total number of COVID-19 tests taken to date by students and employees, including pre-arrival testing. |
This data reflects testing starting on July 1 through December 3, 2020.
---
Student COVID-19 Testing
Total Cases: 158
Total number of cases indicates the sum of total active, non-active and pre-arrival cases.
 
Number
Description
Total Pre-Arrival Positive Cases
7
Total number of positive pre-arrival student test results.
Total Non-Active Cases
150
Total number of positive cases cleared to return to campus (excluding pre-arrival cases).
Active Cases in Isolation
1
Current number of cases that have not yet been cleared to return to campus.
This data reflects testing starting on July 1 through December 3, 2020.
---
Employee COVID-19 Testing

|   | Number | Description |
| --- | --- | --- |
| Total Positive Cases | 9 | Total number of positive employee test results, including pre-arrival cases, to date. |
| Active Cases in Isolation | 4 | Current number of cases that have not yet been cleared to return to campus. |
This data reflects testing starting on July 1 through December 3, 2020.
---
For more information on positive cases in the area, please visit the NYS Percentage Positive Results By Region Dashboard. On the right hand side of the page, in the Select a Region section, choose Mid-Hudson.