Become an Orientation Leader
Orientation Leaders play a vital role in the transition of new students and their families to Iona College during New Student Orientation in June and August, Welcome Days at the start of the school year, New Student Orientation in January and through both formal and informal activities through the entire first year experience. They serve as not only role models to the incoming students, but also as major resources for support and information. They are responsible for conveying information about the College's Christian Brothers values and institutional mission, as well as its unique culture, traditions and community. In addition, they serve as a peer mentor to provide the students with those mentorship relationships early in their time at Iona. This is a student leader paid stipend position; work-study eligible and non-work study students are welcome to apply.
Apply to be an Orientation Leader Now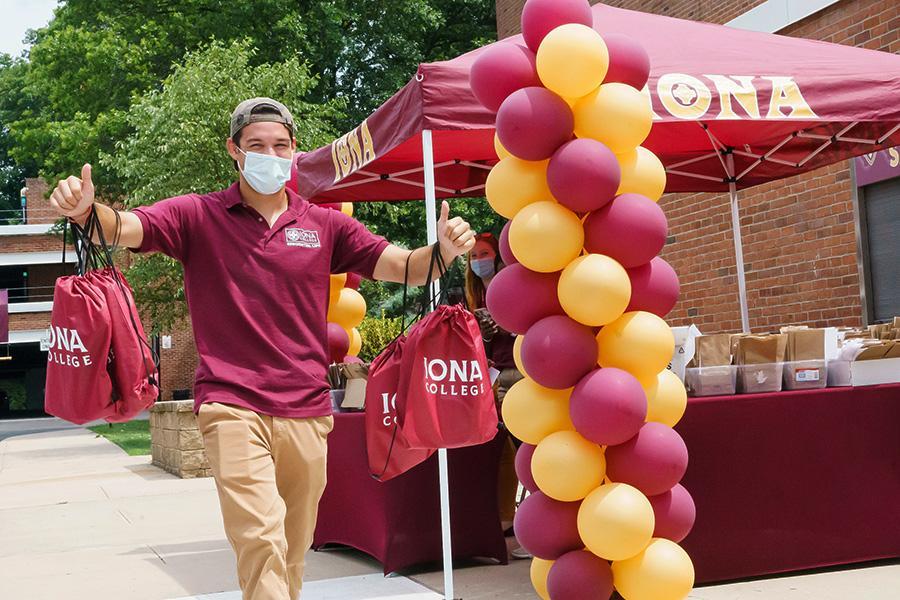 We need your help in identifying outstanding students to apply. We are looking for diverse students who possess leadership skills, can work in a team environment, who have Gael pride, and who can create a welcoming environment for our new students.
Stipend
Summer Campus Housing
Friendships and connections with top student leaders from different areas of campus
Impact the lives of incoming students and their families
Build your resume
Network with faculty and staff
Make lifelong friends
Give back to the GAEL community
Valuable leadership development, including, but not limited to team work, communication, conflict management, public speaking, etc.
Students must meet the following requirement to apply:
Minimum Cumulative GPA of 2.5
Must be in good academic and disciplinary standing  
Involvement in the Iona College community strongly encouraged (i.e. clubs/organizations, research, service, etc.)  
Ability to work with a diverse group of students  
Must be a good communicator, be flexible, and able to think on their feet  
Must be punctual, dependable, and dedicated  
Positive energy and enthusiasm for being a GAEL (strongly encouraged)
Possesses strong leadership qualities  
Take initiative on projects and tasks; able to self-direct  
Works well as a member of a small and large group  
Graduate students will not be considered for this position, but can contact our office for other opportunities.
Being an orientation leader is demanding work that requires commitment and dedication. For the full week prior to the beginning of fall classes, orientation leaders will be quite busy. During this week, other obligations and responsibilities should be avoided altogether. Orientation Leaders will be involved in all aspects of our New Student Orientation program.
Our orientation program is divided into a summer component (Orientation) and a fall component (Welcome Week). Below is a timeline of dates and events:
Important Dates

| Date | Information |
| --- | --- |
| February 2 | Info Sessions @ 5:30-6 PM in McGrath, 2nd fl. Student Union |
| February 3 | Info Session @ 12-12:30 PM in McGrath, 2nd fl. Student Union |
| February 9 | Info Sessions @ 1-1:30 PM in McGrath, 2nd fl. Student Union |
| February 10 | Info Session @ 12-12:30 PM in McGrath, 2nd fl. Student Union |
| February 16 | Info Session @ 12-12:30 PM in McGrath, 2nd fl. Student Union |
| January 26-February 25 | Interviews |
| March 1 | Notifications Begin |
| March 26-May 6 | Training - Fridays from 2-3pm |
| June 1-13 | Training |
| June 13-14 | Orientation - Session 1 |
| June 16-19 | Training |
| June 16-17 | Orientation - Session 2 |
| June 22 | Training |
| June 22-23 | Orientation - Session 3 |
| August 22-27 | Training |
| August 28-29 | Welcome Days |
Must be able to come to campus prior to orientation leader training  
Must be able to attend all trainings and prep sessions   
Must be able to attend all orientation sessions – June 13-14, June 16-17, June 22-23, and Welcome Days, August 28–August 29
Various events, activities and trainings throughout the year (Killian's Kickoff, Recruitment, etc.)  
Must not hold ANY other job/position during trainings, orientations and Welcome Days  
Abide by the Iona College Code of Conduct and remain in good academic & disciplinary standing throughout training, orientation sessions, and the year  
Remain positive and excited throughout all related activities