Orientation
class of 2026 AND NEW GAELS, Welcome to Iona!
---
August 2022 New Student Orientation Session
THURSDAY, AUGUST 25–FRIDAY, AUGUST 26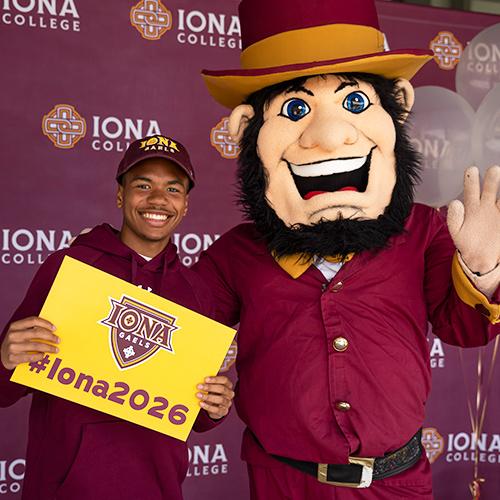 To accommodate our international and domestic students traveling from a distance, as well as newly enrolled undergraduate students, we have a two-day in person New Student Orientation program planned.
Residential students will move in to the residence halls prior to this session.
Commuter students will commute to and from campus.
Parents and families are welcome to attend the Parent & Family Orientation on Thursday, August 25. The Parent & Family Orientation session is optional and it is tentatively slated to run from 9 a.m.-2 p.m.
August 2022 New Student Orientation Schedule (Coming Soon!)
August 2022 Parent & Family Orientation Schedule (Coming Soon!)
REGISTER FOR AUGUST 2022 ORIENTATION
---
Save the Date: Sunday, August 28
First-year students, we have a special day planned just for you!
Move-In Day
Move-In Mass and Reception
Move-In Evening Activities
---
WELCOME DAY Monday, August 29
All incoming first-year and transfer students attend the New Student orientation Welcome Day program!
This longstanding campus tradition brings together new students to hear from campus leaders and take part in their official induction ceremony into Gael Nation. The schedule of the activities allows students to prepare for the academic year to begin, take tours of campus, learn the best routes to class and to have a great kickoff to the year!
New Gaels, please hold August 29, 9 a.m.-7 p.m. on your calendars!
Check back soon for the detailed Welcome Day schedule!
---
JUNE 2022 New Student Orientation Sessions
Thank you for joining us at the June overnight New Student Orientation sessions!
NSO Summer Session 1: Monday, June 13 – Tuesday, June 14, 2022
NSO Summer Session 2: Thursday, June 16 – Friday, June 17, 2022
NSO Summer Session 3: Wednesday, June 22 – Thursday, June 23, 2022
JUNE 2022 NEW STUDENT ORIENTATION SCHEDULE
JUNE 2022 PARENT & FAMILY ORIENTATION SCHEDULE
---
Questions?
Please be sure to visit our Orientation FAQs page for more information.
If you don't find the answer you're looking for, please contact us at orientation@iona.edu or call the Center for Student Engagement at (914) 633-2360.
All schedules and details are subject to change.
Our Orientation Staff
Here at Iona, our orientation staff is made up of professional orientation coordinators as well as a group of Orientation Leaders.
Our orientation coordinators help manage the day to day operations of Orientation. Our coordinators are there to assist and aid families through the registration process, answer any questions and guide families in the right direction.
Our Orientation Leaders play a crucial role in assisting new students and families at the college. Orientation Leaders help new students and their families transition into the college experience and are here to answer any questions that you may have about Gael Nation!

Interested in becoming an Orientation Leader?
Help Iona welcome our new students into Gael Nation! Applications for Orientation Leaders are available now! Email Orientation@iona.edu for details on how to apply!
Resources for Past Orientation Attendees
Please find the Virtual Orientation Supplement from 2020 and 2021 at ionacollege.goorientation.com.
Questions? Concerns?
Please contact the Orientation team at orientation@iona.edu and a member of our team will be happy to assist you.
*Please note all dates and details are subject to change. Please monitor your Iona Student email address for updates. Email orientation@iona.edu for more information.