Orientation
Welcome to Iona!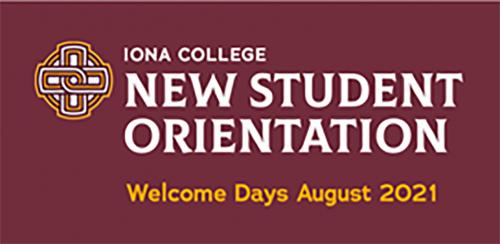 New Student Orientation Welcome Days - August 28-30, 2021
Mandatory Sessions for incoming students
Iona College is looking forward to welcoming our new students during our Welcome Days at the start of the Fall semester. Students will get to meet their orientation leader, campus partners, and learn more about the Iona Community!
See New Student Orientation Schedule
Our Orientation Staff
Here at Iona, our orientation staff is made up of professional orientation coordinators as well as well as a group of Orientation Leaders.
Our orientation coordinators help manage the day to day operations of Orientation. Our coordinators are there to assist and aid families through the registration process, answer any questions and guide families in the right direction.
Our Orientation Leaders play a crucial role in assisting new students and families at the college. Orientation Leaders help new students and their families transition into the college experience and are here to answer any questions that you may have about Gael Nation!

Interested in becoming an Orientation Leader?
Help Iona welcome our new students into Gael Nation! Applications for Orientation Leaders are available now! Email Orientation@iona.edu for details on how to apply!
Resources for Past Orientation Attendees
Please find the Virtual Orientation Supplement for Fall 2020 and Spring 2021 at ionacollege.goorientation.com.
Questions? Concerns?
Please see the Orientation FAQs or contact the Orientation team at orientation@iona.edu and a member of our team will be happy to assist you.
*Please note all dates and details are subject to change. Please monitor your Iona Student email address for updates. Email orientation@iona.edu for more information. Students who missed the Summer III CDS 1195 New Student Orientation course must register for the Fall 2021 CDS 1195 course section and be certain to attend New Student Orientation Welcome Days.