Loftus Award Celebration
Held annually during Heritage Week, the Loftus Award Celebration features the presentation of the Br. Arthur Austin Loftus Award to an outstanding Christian Brother. Long-serving faculty, administrators, and staff members are also honored.
Those who have worked at the University for 50 years receive the Facere et Docere Award; for 40 years, the Pro Multis Anni Award; for 30 years, the Bene Merenti Award; and for 20 years, the Pro Operis Award.
Both the celebration and award are named after Br. Arthur Austin Loftus, CFC (1904 - 1979). Br. Loftus was an extraordinary teacher, leader, and Brother who served as the University's second President, Provincial of the Congregation, and Superior General of the Congregation of Christian Brothers, the first non-Irish-born Brother elected to that post.
---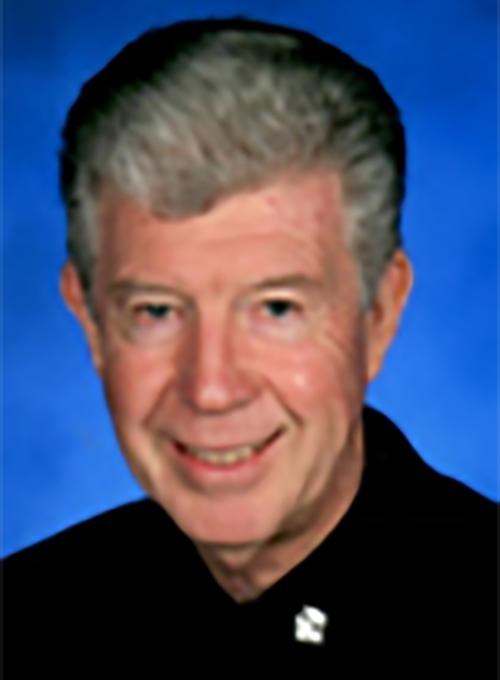 2023 Br. Arthur A. Loftus Award Honoree
Patrick Sean Moffett, CFC, Ph.D., '63
Edmund Rice Christian Brothers of North America
Province Leadership Team
Member of the Congregation of Christian Brothers, Consulter on the Province Leadership Team of the Edmund Rice Christian Brothers North America, Licensed Psychologist, President Emeritus of the Boys and Girls Towns of Italy (now known as A Chance in Life)
Born into an Irish Catholic family in New York City, Patrick Moffett was educated by his family, by the Sisters of Charity, by friends and neighbors in the Bronx and later Bergen County, New Jersey. He attended Bergen Catholic High School and, in 1959, at the age of seventeen, entered what were then known as the Christian Brothers of Ireland. With the name in religion of Brother Sean, he made his first profession of vows the following year.
He graduated from Iona College in 1963 with a Bachelor of Science in Mathematics and certification in Secondary Education.  While teaching in Brothers' schools in Chicago and later New Rochelle, New York, he completed a Master's in Mathematics from Loyola University, Chicago, and a Doctorate in Psychology from the Graduate Faculty of Social and Political Science of the New School for Social Research.
On his return to Iona he taught in the Psychology Department and the Graduate Program in Pastoral Counselling, eventually attaining the rank of full professor and served as Director of the Christian Brothers Scholasticate. Forays into administration saw him chairing the Middle States Visitations, developing programs in peace and justice education, and coordinating inter-collegiate, inter-religious, and community relations as Executive Assistant to the President.
In 1985 he was recruited to become the successor of Monsignor John Patrick Carroll-Abbing, the founder of the Boys' Towns of Italy.  For fifteen years Brother oversaw the transformation of the Boys' and Girls' Towns of Italy as they responded to the pressing needs of the surging refugee population of unaccompanied minors. During these years, Brother also served as a psychological consultant for Religious Congregations based in Rome.
Brother Moffett's occasional articles over the decades in the American Psychological Association's Teaching of Psychology, Review for Religious, Journal of Pastoral Counselling, and Human Development, trace his ministerial involvements with children, youth, and families on the margins of society, and the formation of those called to serve. His portfolio on the Brothers' Province Leadership team includes the nurturing of the Edmund Rice Network, encouraging lay involvement in a daily ministry of Presence, Compassion and Liberation.
---
2023 Br. Arthur A. Loftus Award Honoree
Elena Procario-Foley, Ph.D.
Br. John G. Driscoll Professor of Jewish-Catholic Studies
Professor of Religious Studies
Dr. Elena Procario-Foley has worked as a full-time faculty member at Iona since 1998 and from 1990 to 1997 worked part-time as an adjunct in the Religious Studies department as well as a professional tutor in the Rudin Center on both the New Rochelle and Seton campuses. Currently she holds the positions of: Brother John G. Driscoll Professor of Jewish-Catholic Studies, Professor of Religious Studies, and Director of the Core Curriculum. She chaired the Religious Studies Department for just under eight years. Procario-Foley holds the Ph.D. and M.A. degrees in theology from the Divinity School of the University of Chicago and the B.A. in theology and philosophy from Fordham University.
Procario-Foley's research and teaching focuses on systematic theology and Jewish-Christian Relations. As Driscoll Professor, Procario-Foley developed the undergraduate courses "Jesus and Judaism" and "Memory and Reconciliation: The Churches and the Holocaust." For ten consecutive years before the Covid-19 pandemic blocked travel, Procario-Foley took students to Poland during spring break to study intensively with scholars at the memorial site of the former Auschwitz-Birkenau death camp, learn from Jagiellonian University professors in Krakow, and understand the Jewish-Catholic world of Pope John Paul II in Wadowice.
Procario-Foley's work includes networking with external scholars and other organizations involved in Jewish-Christian reconciliation to provide an annual series of community education programs to campus. Programs have ranged from scholarly lectures to art exhibits to professional development programs for high school teachers. Across twenty-four years, thousands of people have come to campus to learn with Ionians from internationally renowned scholars such as Holocaust historian Christopher Browning and Rabbi Abraham Skorka, friend of Pope Francis. Many Iona students have been privileged to learn from Holocaust survivors who have trusted Procario-Foley's series in Jewish-Catholic studies enough to agree to come to a Catholic campus to speak in classes or simply to attend her public programs.
In 2009 as Chair of the Council of Centers on Jewish-Christian Relations, Procario-Foley was the United States signatory of the challenging international document, A Time for Recommitment—The Twelve Points of Berlin: A Call to Christian and Jewish Communities Worldwide, issued in Berlin, Germany by the International Council of Christians and Jews. And in 2016 she was invited by the Vatican to be the only woman on a team of five Catholics who joined five Jewish scholars for a workshop identifying future issues in Jewish-Catholic relations, presenting at the Woolf Institute of Cambridge University, UK before the Cardinal President of the Commission on Religious Relations with the Jews, Archbishop Kurt Cardinal Koch. Procario-Foley was also chosen to participate in two different seminars that afforded the opportunity to study and present papers in Israel.
A few examples of Dr. Procario-Foley's service to Iona include: twenty-three years as moderator for Theta Alpha Kappa: The National Honor Society for Religious Studies and Theology, participating on committees for three different cycles of Middle States Accreditation, serving on the Honors Council (2002-2011), participating in the freshmen advisement program, serving on the Committee on the Catholic Intellectual Tradition since 2000, and serving as an elected member as well as an ex officio member of the Committee on Academic Affairs. From 1998-00, Procario-Foley was the principle author of Iona's response to the National Conference of Catholic Bishops concerning the papal encyclical Ex Corde Ecclesiae.
Procario-Foley has co-edited three books: Frontiers in Catholic Feminist Theology: Shoulder to Shoulder (Fortress Press, 2009), Righting Relations After the Holocaust and Vatican II: Essays in Honor of John T. Pawlikowski (Paulist Press, 2018); and "You Say You Want a Revolution" 1968-2018 in Theological Perspective (Orbis Books, 2019). In addition to a variety of articles and book chapters, Procario-Foley serves as editor of the scholarly journal Horizons: The Journal of the College Theology Society and serves on a number of professional boards.
---
Past Loftus award Recipients
2022:

Br. Kevin Griffith, CFC '83
Frances Bailie, Ph.D.

2021: Dennis Gunn, CFC, Ph.D., '93 Assistant Professor, Education
2019: Br. Raymond J. Vercruysse, CFC, Ed.D., '77
2018: Br. Kevin Cawley, CFC, Ph.D.
2017: Br. Joseph Gerard Morgan, Ph.D. '75
2016: Br. Henry Dillemuth
2015: Br. Eugene O'Brien, Ph.D.
2014: Br. Joseph A. Cussen, '57
2013: Br. Harry Dunkak, Ph.D., '51
2012: Br. J. Kevin Devlin, Ed.D., '61
2011: Br. James A. Liguori, Ed.D., '65
2010: Br. Robert Novak, Ph.D., '72
2009: Br. Kenneth Chapman, '56
2008: The International Christian Brothers, accepted by Br. Alfred Banda
2007: Br. Jack Mostyn
2006: The Iona Community of Brothers, accepted by Br. Joseph Morgan, Ph.D., '75
2005: Br. Brian Walsh
2004: Br. Charles B. Quinn
2003: The Bicentenary of the Congregation of Christian Brothers (1802 - 2002)
---
2023 Service Awards
Pro Fidelitate - 10 Years of Service
Mr. Benito Alvarez, Trades
Dr. Mitchell Bard, Media & Strategic Communication
Mr. Sean Burke, Athletics
Ms. Cherlie Ceneus, Custodial
Ms. Billi Chambers, Women's Basketball
Dr. Nadine Cosby, Media & Strategic Communication
Ms.  Casey Dellicarpini, Business Services
Ms. Danielle Demorin, Human Resources
Mr. Michael McGovern,  Campus Safety
Mr. Christopher Olmo, Information Technology
Mr. Joseph Pellicano, Campus Safety
Mr. Juan Carlos Pereira, Administration - Plant
Mr. Steven Petrusic, Network Services
Mr. Evon Richards, Mechanical Maintenance – Plant
Dr. Ivy Stabell, English
Mr. Edward Ubl, Campus Safety
Pro Operis - 20 Years of Service
Dr. Miles Beckwith, English
Mr. Brian Beyrer, Sports Information & Broadcasting
Ms. Pattiann Ingraham, Academic Advising
Dr. Anthony Kelso, Media & Strategic Communication
Dr. Joshua Klein, Criminal Justice
Dr. Srilal Krishnan, Mathematics
Mr. Gustavo Portillo, Mechanical Maintenance – Plant
Dr. Daniel Thiery, History
Mr. Ervens William, Campus Safety
Pro Multis Awards - 40 Years of Service
Dr. Alexander Eodice, Philosophy
Dr.  Patricia Oswald, Psychology