Loftus Award Celebration
This year's Loftus Award Celebration will be held virtually on April 14, 2021, at 5:30 p.m.
Held annually during Heritage Week, the Loftus Award Celebration features the presentation of the Br. Arthur Austin Loftus Award to an outstanding Christian Brother. Long-serving faculty, administrators, and staff members are also honored.
Those who have worked at the College for 50 years receive the Facere et Docere Award; for 40 years, the Pro Multis Anni Award; for 30 years, the Bene Merenti Award; and for 20 years, the Pro Operis Award.
Both the celebration and award are named after Br. Arthur Austin Loftus, CFC (1904 - 1979). Br. Loftus was an extraordinary teacher, leader, and Brother who served as the College's second President, Provincial of the Congregation, and Superior General of the Congregation of Christian Brothers, the first non-Irish-born Brother elected to that post.
Br. Arthur A. Loftus Award Recipients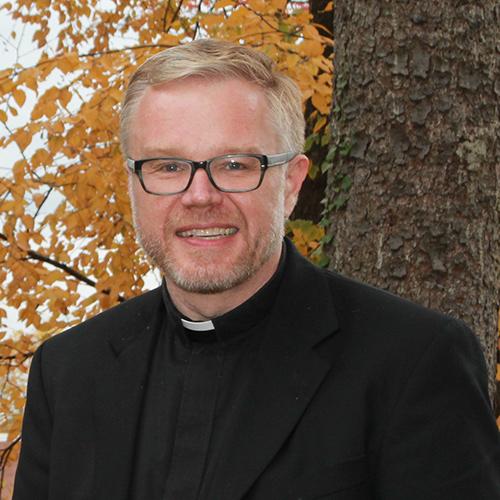 "Take courage, the good seed will grow up in the children's hearts later on." -Blessed Edmund Rice
Brother Dennis Gunn discovered his passion for teaching when he was a college student and he volunteered at the Nativity Mission School on the Lower East Side of Manhattan. Before that, a friend had introduced him to the Men and Boys choir of St. Agnes Cathedral in Rockville Center where he had the opportunity to express his faith through song and praise and work with the youth in the choir. It was not long after that Dennis' direction in life became clearer for him, a pathway that would foster his faith while he served in creative and exciting ways as a classroom teacher. Raised a Lutheran, he converted to Catholicism and began researching opportunities to serve in a teaching order of Brothers. In his over twenty-five years as an Edmund Rice Christian Brother, Dennis has taught every grade, from 1st through 12th and at every level from elementary through graduate school; without a doubt, he embodies the Congregation's motto, "to do and to teach."
Br. Gunn's assignments have included: Blessed Sacrament High School, New Rochelle, NY; Sacred Heart Elementary School, Manhattan; Catholic Memorial, West Roxbury, MA; Fe Y Allegra School, Lima, Peru; St. Patrick's Elementary School, Tampa, FL; St. Joseph's High School, Jackson, Mississippi; Iona College; and the Graduate School of Religion and Religious Education, Fordham University. While teaching in Boston, he completed a Master's Degree in Religious Education at Boston College. In 2014 he earned his Ph.D. in Religious Education from Fordham University; his doctoral dissertation is entitled "Toward Infinite Horizons of Wonder: Bernard Lonergan's Philosophy of Education and the Role of Critical Thinking in Teaching Religion in Catholic Secondary Schools." Having been published widely in the field of education, Br. Gunn eagerly anticipates the Spring 2020 publication of his first book, Educating for Civic Dialogue in an Age of Uncivil Discourse (Routledge). This text draws from Br. Gunn's study of Lonergan as well as his extensive years of teaching and guiding young teachers.
When asked what grade he has most enjoyed teaching, Br. Gunn points to two very formative and rewarding experiences. First, he remembers with great fondness his classroom of 40 seventh graders at Sacred Heart School. More recently, he considers it a great honor and privilege to teach and to mentor Iona College Education students, both at the beginning of their careers in "Principles of Education" and at the end of their Iona careers as student-teachers in middle school and high school. Br. Gunn is especially proud of how the Education Department has cultivated the virtues of community and student-centeredness that are so central to the vision of Blessed Edmund Rice.
2019: Br. Raymond J. Vercruysse, CFC, Ed.D., '77
2018: Br. Kevin Cawley, CFC, Ph.D.
2017: Br. Joseph Gerard Morgan, Ph.D. '75
2016: Br. Henry Dillemuth
2015: Br. Eugene O'Brien, Ph.D.
2014: Br. Joseph A. Cussen, '57
2013: Br. Harry Dunkak, Ph.D., '51
2012: Br. J. Kevin Devlin, Ed.D., '61
2011: Br. James A. Liguori, Ed.D., '65
2010: Br. Robert Novak, Ph.D., '72
2009: Br. Kenneth Chapman, '56
2008: The International Christian Brothers, accepted by Br. Alfred Banda
2007: Br. Jack Mostyn
2006: The Iona Community of Brothers, accepted by Br. Joseph Morgan, Ph.D., '75
2005: Br. Brian Walsh
2004: Br. Charles B. Quinn
2003: The Bicentenary of the Congregation of Christian Brothers (1802 - 2002)
Service Awards
Bone et Fideli – 60 Years of Service
Dr. Victor Stanionis, Physics
Pro Multis Awards - 40 Years of Service
Dr. Frances Bailie, Computer Science
Dr. Robert Schiaffino, Computer Science
Bene Merenti - 30 Years of Service
Dr. Mary Hagerty, Political Science
Pro Operis - 20 Years of Service
Dr. John Breslin, Media and Strategic Communication
Dr. Christina Carlson, English
Ms. Felicia Colangelo, Student Success
Mr. Lewis Derenzis, Network Services
Mr. Frantz Desir, Custodial
Mr. Eugene Dyson, Security
Mr. Noe Flores, Grounds
Ms. Tatyana Komin, Information Technology
Ms. Valerie Masone, Ryan Library
Dr. Kim Paffenroth, Religious Studies
Dr. Robert Petrausch, Media and Strategic Communication
Dr. Aaron Rosenfeld, English
Mr. Miguel Santana, Mechanical Maintance - Plant
Pro fidelitate - 10 Years of Service
Ms. Regina Barone, Information Technology
Mr. Gary Berton, Institute for Thomas Paine Studies
Mr. Matthew Carey, Center Financial Mkt Studies
Dr. Paolina Centonze, Computer Science
Mr. Joe Clifton, Security
Mr. Michael Damergis, Media and Strategic Communication
Mr. Jorge Franco, Trades
Dr. Nicoleta Iliescu, Economics
Dr. Katherine Kinkela, Accounting
Dr. Kathleen Kristian, Chemistry
Dr. Joshua Leon, Political Science
Mr. Joseph Pienta, Track - Men's
Mr. Israel Rivera, Security
Mr. Jose Roque, Information Technology
Pro Multis Annis – 40 Years of Service
Mr. Dr. Vincent Calluzzo, Information Systems & Business Analytics
Mr. Nicholas Cavataro, Men's Swimming
Dr. Michael Jordan, Provost's Office
Dr. George Mangiero, Finance, Business Economics and Legal Studies
Bene Merenti – 30 Years of Service
Ms. Teresa Alifante, Helpdesk
Ms. Margaret Bohan, Counseling Services
Dr. Carl Procario-Foley, Mission and Ministry
Mr. Antonio Rizzo, Information Technology
Mr. John Rodriguez, Mail & Messenger Services
Ms. Joanne Steele, Information Technology
Pro Operis – 20 Years of Service
Mr. Yaw Boadu, Campus Security
Mr. Christian Concillion, Foreign Languages
Dr. Dean DeFino, English
Dr. Jeffry Haber, Accounting
Mr. Herbert Ketcham, Information Technology
Ms. Diana Kiel, Ryan Library
Ms. Nunzia Morano, Business Services
Ms. Daneshea Palmer, College Assistance Program
Ms. Kathleen Pascuzzi, Helpdesk
Ms. MaryEllen Walsh, School of Arts & Science
Pro Fidelitate – 10 Years of Service
Mr. Sander Ceneus, Custodial
Ms. Donna Crisp, Social Work
Ms. Leonne Desir, Custodial
Dr. Joshua Klein, Criminal Justice
Dr. Dorothy Leone, Speech Communication Studies
Ms. Kulsoom Rezvi, Information Technology
Dr. Heechang Shin, Information Systems & Business Analytics
Mr. Fred Sica, Campus Security
Dr. Ellen Small, Education
Mr. William Zimmerman, Education
Iona College Annual Loftus Award Celebration RSVP Form
Wednesday, April 14, 2021, 5:30 p.m.
Virtual Event