Graduate Tuition
Graduate tuition and fee charges vary based on the program you are enrolled in.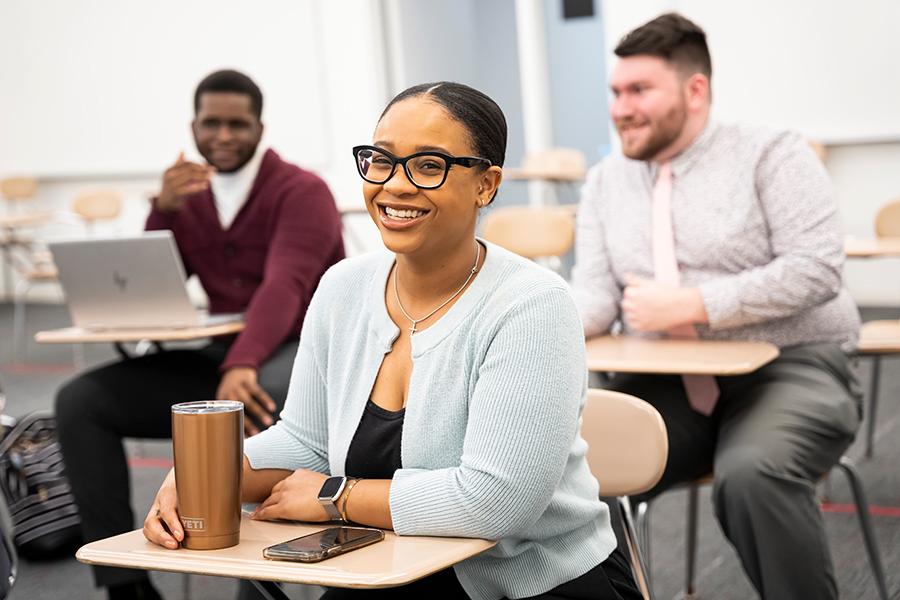 Graduate Programs Open House: 4/27
---
At our graduate open house you can speak with a graduate admissions professional, find out about scholarships, hear from our career services team, tour our beautiful campus and much more. The first 100 RSVPs will receive a special Iona give-a-away bag, register today!
Graduate Tuition and Fees: 2023-2024
LaPenta School of Business
Graduate Business Tuition & Fees

| CHARGES | COST |
| --- | --- |
| Tuition Charges | $1,360 Per credit |
| Program Fee (Fall, Winter & Spring) | $245 Per term |
| Program Fee (Summer & January Intersession) | $85 Per term |
2023-24 Graduate Trimester (LaPenta School of Business) Estimate Cost of Attendance

| Charge | Resident | Off-Campus | Commuter |
| --- | --- | --- | --- |
| Books, Materials, Supplies & Equipment | $1,000 | $1,000 | $1,000 |
| Living Expenses (Food And Housing) | $18,270 | $16,000 | $3,000 |
| Transportation | $600 | $1,800 | $1,650 |
| Personal | $1,250 | $2,100 | $2,100 |
| Total (Without Tuition and Fees) | $21,120 | $20,900 | $7,750 |
School of Arts & Science
Graduate Arts & Science Tuition (Non-Education)

| CHARGES | COST |
| --- | --- |
| Tuition Charges | $1,313 Per credit |
| Program Fee (Fall, Winter & Spring) | $245 Per term |
| Program Fee (Summer & January Intersession) | $85 Per term |
Graduate Education Tuition

| CHARGES | COST |
| --- | --- |
| Tuition Charges | $1,202 Per credit |
| Program Fee (Fall, Winter & Spring) | $245 Per term |
| Program Fee (Summer & January Intersession) | $85 Per term |
2023-24 Graduate Semester (Arts & Science and Health Sciences) Estimate Cost of Attendance

| Charge | Resident | Off-Campus | Commuter |
| --- | --- | --- | --- |
| Books, Materials, Supplies & Equipment | $1,000 | $1,000 | $1,000 |
| Living Expenses (Food And Housing) | $18,270 | $16,000 | $3,000 |
| Transportation | $600 | $1,800 | $1,650 |
| Personal | $1,250 | $2,100 | $2,100 |
| Total (Without Tuition and Fees) | $21,120 | $20,900 | $7,750 |
NewYork-Presbyterian Iona School of Health Sciences
Graduate Communication Sciences & Disorders

| CHARGES | COST |
| --- | --- |
| Tuition Charges | $1,373 Per credit |
| Program Fee (Fall, Winter & Spring) | $350 Per term |
| Program Fee (Summer & January Intersession) | $350 Per term |
Graduate Health Sciences Marriage & Family Therapy Tuition

| CHARGES | COST |
| --- | --- |
| Tuition Charges | $1,050 Per credit |
| Program Fee (Fall, Winter & Spring) | $245 Per term |
| Program Fee (Summer & January Intersession) | $85 Per term |
Graduate Health Sciences Mental Health Counseling Tuition

| CHARGES | COST |
| --- | --- |
| Tuition Charges | $1,313 Per credit |
| Program Fee (Fall, Winter & Spring) | $245 Per term |
| Program Fee (Summer & January Intersession) | $85 Per term |
Graduate Occupational Therapy Tuition

| CHARGES | COST |
| --- | --- |
| Tuition Charges | $1,325 Per credit |
| Program Fee (Fall, Winter & Spring) | $450 Per term |
| Program Fee (Summer & January Intersession) | $300 Per term |
2023-24 Graduate Semester (Arts & Science and Health Sciences) Estimate Cost of Attendance

| Charge | Resident | Off-Campus | Commuter |
| --- | --- | --- | --- |
| Books, Materials, Supplies & Equipment | $1,000 | $1,000 | $1,000 |
| Living Expenses (Food And Housing) | $18,270 | $16,000 | $3,000 |
| Transportation | $600 | $1,800 | $1,650 |
| Personal | $1,250 | $2,100 | $2,100 |
| Total (Without Tuition and Fees) | $21,120 | $20,900 | $7,750 |
Audit and Other Charges
2023-2024 Audit Charges

| PROGRAM | COST |
| --- | --- |
| Graduate Business | $1,360 Per credit |
| Graduate Arts & Science (Non-Education) | $1,313 Per class |
| Graduate Education | $1,202 Per class |
| Graduate Health Sciences Communication Sciences & Disorders | $1,373 Per class |
| Graduate Health Sciences Mental Health Counseling | $1,313 Per class |
| Graduate Health Sciences Occupational Therapy | $1,325 Per class |
| Summer & Winter Undergraduate Special Sessions | $812 Per class |
2023-2024 Other Charges
Type
Cost
Clinical Supervision
$400 per term
Maintain Matriculation
$50 per term
Maintain Thesis
$100 per term
Late Payment Fee
$105 per month (if past due balance exists)
Returned Check Fee
$50 per item
Stop Payment Fee
$50 per item
Student Health Insurance (for International Graduate students)

$1,163 Fall term
$1,611 Spring term