Auschwitz, Poland
Due to COVID-19, with the exception of the virtual European Innovation Program, the upcoming Winter and Spring study abroad programs are suspended. Updates on the Summer and Fall 2021 Programs will be provided as soon as possible. For further information or if you have any questions, please email studyabroad@iona.edu or drichardson@iona.edu.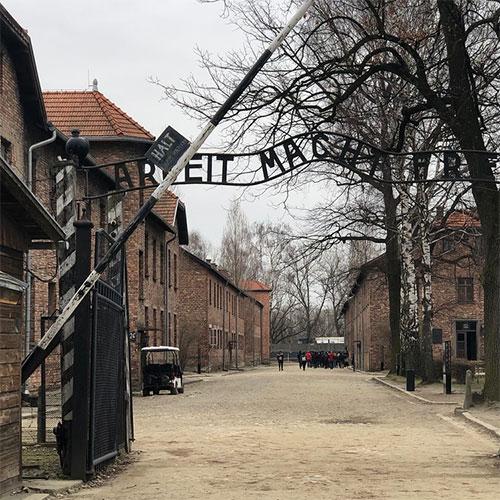 Iona in Poland is an intensive program offering a week of study at the Auschwitz concentration camp during Spring Break.
You must enroll in RST 327 - Holocaust and the Churches. The course can be taken for 200-level core, elective, or major credit, and is taught by Iona faculty members who travel to Auschwitz with the students and live with them in the Centre for Dialogue and Prayer in Oswiecim, Poland.
Some class meetings will take place in New Rochelle both prior to and after studies at Auschwitz.
The program includes a tour of the beautiful, historic city of Kraków.
Dates: March 13-21, 2021
Application Deadline: October 30, 2020
Estimated Cost: $800-$1,100
Requirements
Must enroll in RST 327 - Holocaust and the Churches
Minimum cumulative GPA of 2.5 at the time of departure
Students under any active form of academic or disciplinary probation at the time of departure will not be permitted to participate in the program.
Contact
Elena Procario-Foley Ph.D.
Email: eprocariofoley@iona.edu or studyabroad@iona.edu