Dingle, Ireland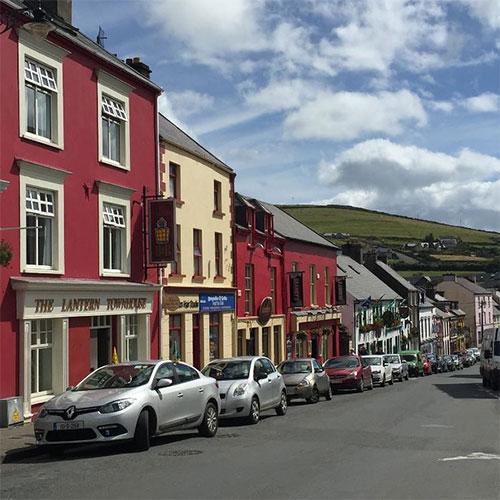 Through a partnership with Sacred Heart University, spend a two-week intensive program in May in the Dingle and County Kerry region of Ireland.
National Geographic once described the area as "the most beautiful place on Earth." Many refer to this idyllic location as the "best of both worlds," since it provides visitors with all of the amenities of a tourist haven, but in an authentic setting with traditional Irish culture. Dingle is home to many hospitable places where you can meet the welcoming local people. It is also a site of tremendous learning resources; magnificent relics, ruins and holy places; immersive activities and opportunities to try something new; and a vast, living record of folklore, celebrations, history and authentic music and dance.
Estimated Cost: $3,985

Part-time Sacred Heart University Tuition (3 credits): $1,800
Confirmation Fee/Deposit: $250
Program Fee: $1,785
Registration Fee: $115
Terra Dotta Fee: $35
Deposit/Program Fees include: Program orientation, airport transfer (only if you are on the group flight), housing in shared accommodations, mandatory basic international health insurance, some meals and excursions.
Deposit/Program Fees do not include: Travel to/from host country, most meals, gym fees, visa/resident permit fees, major medical insurance, and all personal expenses.
Courses
Session I:
BI 104/278: Coastal Ecology of Ireland
BI 199/299: Applied Microbiology in Irish History and Culture
CM 132/HI 299: Irish Identity in Media and History
EC 211: Economics of Social Issues
EX 299: Health and Fitness: An Irish Perspective
NU 299/343: Cultural Diversity in Healthcare Delivery
NU 370: Nursing Leadership
PS 389: Experiential Models of Psychology and Neuroscience
SM 265: Sports Marketing
Session II:
HS 230: Introduction to Global Health
HS 310: Human Growth and Development
HS 336: Childhood Health Inequities: Social and Environmental Determinants of Health
PS 299: Mind and Matter
CM 299: Documentary Media: Representations of the Authentic Irish/American Experience
Excursions
Some exciting excursions that you will enjoy as part of this trip include:
Archaeological tours to sites on the Peninsula
A night at a traditional Irish singing club
Irish set dancing lessons
A boat trip to the Blanket Islands off the coast of Dingle
Weekly field trips planned to complement specific courses
Recreational and social activities such as: sea kayaking, boat trips to see Fungie (Dingle's resident dolphin), walk up Mount Brandon, and horseback riding (additional cost)
Cycling in the Killarney National Park
Day trip around the beautiful and majestic Ring of Kerry
Pottery night where you can decorate your own pottery mug
Housing
Housing is a part of your program fee. In Dingle, you will live in Glor na Habhann, new and fully furnished townhouse-style residences, just a few minutes from the Sacred Heart University classroom building and markets, tourist attractions, theatres, and other amenities. Townhouses include a fully appointed kitchen, washer and dryer, two bathrooms, fireplace, television, and wireless Internet service.