London, England
Due to COVID-19, with the exception of the virtual European Innovation Program, the upcoming Winter and Spring study abroad programs are suspended. Updates on the Summer and Fall 2021 Programs will be provided as soon as possible. For further information or if you have any questions, please email studyabroad@iona.edu or drichardson@iona.edu.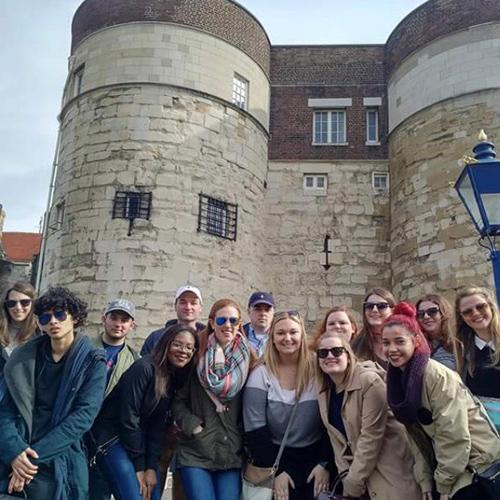 This opportunity allows you to explore the history of London from the banks of the Thames and beyond! You will visit key sites connected to your coursework and take in shows in some of London's legendary venues. You will sample the pub life for which the city is famous, and take day trips outside the city, traveling by train to Oxford and by boat to Hampton Court Palace.
You must enroll in ENG 378 - Children's Literature.
Dates: March 13-21, 2021
Application Deadline: October 30, 2020
Estimated Cost: $2,200-2,500

This includes airfare; ground transportation between Iona and the airport, as well as in London; dorm-style lodging; several group meals; all shows, excursions, and museum admissions.
Requirements
Must enroll in ENG 378 - Children's Literature
Minimum cumulative GPA of 2.5 at the time of departure
Students under any active form of academic or disciplinary probation at the time of departure will not be permitted to participate in the program
Course
This course is a critical survey of children's literature. Specific course interests include the history of the genre, the position of children's literature within educational curricula and culture at large, and the cultural construction of children and childhood. The course focuses on children's texts as literature and will examine the literary techniques and conventions employed in course material.
You will examine British children's literature's capacity to explore the human experience of space and place. You will read the literature in the context of physical spaces in London (and Oxford). This trip includes a visit to Borough Market to think about how, in The Little Princess, Sarah's class and gender shape her experience of the congested London marketplace. Likewise, at Oxford, you will consider the power and perspective Lyra gains in The Golden Compass through her explorations of the university's rooftops.
In this course, you will discuss how children's books teach young readers to navigate, interpret, and see themselves within spaces, and also think about how classic stories such as Harry Potter and Peter Pan shape our understanding of Britain itself as a place.
British fantasy texts provide important insights into the concepts of difference, empire, and power, while British realist fiction depicts life in modern London, especially for girls, the poor, and people of color. The course pairs modern and classic texts to confront newer problems such as urban pollution and the existential crisis of cultural identity in a nation torn between traditionalism and multiculturalism.
Contacts
Dean DeFino, Ph.D.
Email: ddefino@iona.edu or studyabroad@iona.edu
Ivy Linton Stabell, Ph.D.
Email: istabell@iona.edu or studyabroad@iona.edu