Rome, Italy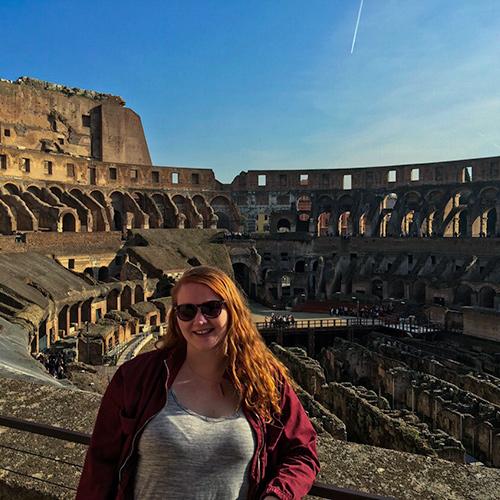 Through a partnership with St. John's University, you will explore Rome while studying at the University's Rome campus!
During a 15-week semester, you will take a full program of 15 credits at the University campus and attend excursions to Campania, Tuscany and Sicily. This opportunity provides ample time to immerse yourself in the Italian culture full-time!
Dates: Spring (January - May) or Fall (August - December)
Estimated Cost: Varies

You are responsible for regular Iona University tuition and room and board charges. Because not all meals are provided in this program, the board (or food part) of your bill will be discounted to reflect only the meals that are provided. You are responsible for your own airfare, travel/health insurance (around $250 per semester), visa fees (if applicable), and must have a working cell phone while abroad.
Requirements
Minimum cumulative GPA of 2.75 at the time of departure
Students under any active form of academic or disciplinary probation at the time of departure will not be permitted to participate in the program.
Courses
You will choose five (six with permission) courses from the following options:
ANT 1010C - Introduction to Anthropology: Cultural
ART 1095C - Monuments of World Architecture
ART 1250 - Italian Sketchbook
ART 1790A - Survey of Art and Architecture in Italy
ECO 1320 - Economics of Poverty and Income Inequality
ENG 2500 - Discovery of Italy through 19th and 20th -century American & British Writers
GOV 2650 - Government and Politics of Western Europe
GOV 3320 - Current Terrorist Movements
HMT 2025 - Appreciation of Italian Food, Wine & Culture (cross-listed with ITA 3530)
IB 3341 - Principles of International Business
MGT 2301 - Administrative and Organizational Behavior
MKT 2301 - Principles of Marketing
PHI 2200C - Ethics
PHI 3000C - Metaphysics
THE 2810 - Religions of the World
THE 3305 - Moral Theology of the Marketplace
ITA 1000 - Intensive Italian I & II
ITA 1010C - Italian I
ITA 1020C - Italian II
ITA 2030C - Italian III
ITA 2040C - Intermediate Italian Conversation
ITA 3120C - Advanced Italian Conversation
ITA 3530 - Italian Culture through Food
ITA 3730 - Italian Culture through Fashion (in Italian)
ITA 3910 - Italian Culture though Fashion (in English)
ITA 3923 - The City of Rome
ITA 4980A - International Internship
Excursions
Campania (weekend-long)
Tuscany (weekend-long)
Sicily (five-day)
Housing
Housing is located on the St. John's Rome campus which is located in the historic Prati District in Central Rome. The campus is less than a one-minute walk from the nearest subway station and less than a 15-minute walk from the Vatican. The campus has 24/7 front-door security, laundry rooms, full kitchens and lounges.