AppsAnywhere
The way you access software is changing
Most software on classroom, library, and computer lab PCs is delivered via an app store from AppsAnywhere. This method of software distribution provides many benefits including up to date applications, faster logon times, and the ability to access specialized software on any of these computers.
AppsAnywhere Instructions for PCs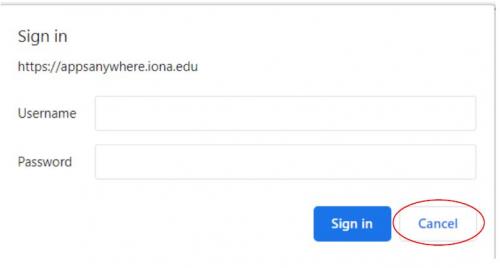 IMPORTANT: IF PROMPTED, DO NOT SIGN IN USING YOUR CREDENTIALS, PRESS CANCEL. You will then be redirected to a login page.
Sign into your Iona account using your credentials. If it is not your first time using AppsAnywhere, after this step, you may skip to step 7.