Keeping you connected
Information Technology supports the Iona College community by providing support and services in computing, communications, information and wireless network services to students, faculty and staff. We keep you connected to enable you to Learn Outside the Lines.
The Libraries and computer labs will be open to Iona College students, faculty, staff and guests on Admissions tours. However, students are being asked to bring their own laptops or keyboards as public shared keyboards and mice will not be available for use.  You can find keyboard recommendations here.
Printing and copying will NOT be available in the libraries and other spaces on campus at this point in time. Students will need to submit their assignments online.
Students should bring their own laptops to classes every day. Windows-based laptops are preferred because the majority of the software used on campus is Windows-based.
The above reopening plan is based on the current CDC guidelines, which advise to avoid sharing electronic devices, books pens, and other learning aids. Students with a financial hardship or other technology concern should contact helpdesk@iona.edu to discuss alternative solutions. A limited number of classes may need to use campus computers for specialty software and cleaning protocols will be put in place.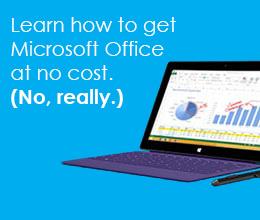 Microsoft Office
Download your free copy of Microsoft Office 365 Pro Plus onto your computer.
AppsAnywhere
Learn how to leverage software distribution providing up to date applications, faster logon times, and the ability to access specialized software on any computer, on- or off-campus.
Email Missing?
Are you expecting email which never arrives? The Junk and Clutter features of Office 365 may be filtering them without you knowing.