East Hall
Centrally located on campus at the top of East Hill, East Hall is a three-floor freshman residence hall. Each floor is gender specific and has communal bathrooms.
Each room in East Hall is a double or a triple and has closets, drawers and desk space for each resident.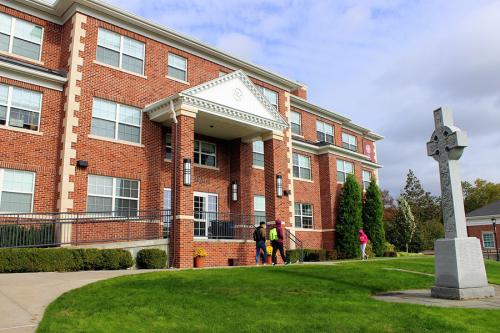 Take a Virtual Tour!
Amenities
A community kitchen on the ground floor
Laundry room on the ground floor
Communal lounges with televisions on the second and third floors
Cable and telephone access
High-speed Internet
24 Hour Security Desk
Short walking distance to LaPenta Student Union and Spellman Hall
Campus Community
Students living in East Hall make fast-friends with their fellow first-year students. The close-knit community is supported by the Residential Life staff. East Hall has a dedicated Residence Hall Director and three Resident Assistants on staff to build community and plan monthly programs through the Office of Residential Life.
A student Campus Minister also resides in East and hosts open door nights and community programs through the Office of Mission and Ministry.
Mailing Information
To send mail to residents, please address mail as follows:
Name
East Hall
Room #
Iona College
715 North Avenue
New Rochelle, NY 10801-1890