North Ave Residence Hall
The North Avenue Residence Hall - simply called "North" - is the newest residence hall on campus. North is made up of six co-ed floors with single gender suites of four residents.
Each suite has 1.5 bathrooms, a kitchenette and a communal living and dining room. Each suite is either made up of two doubles or four singles. Every room has closets, drawers and desk space for each resident.
Many upperclassmen students find themselves living in North. Each suite offers upgraded amenities and spacious rooms, and students love taking pictures of the sunset from the sixth floor lounge.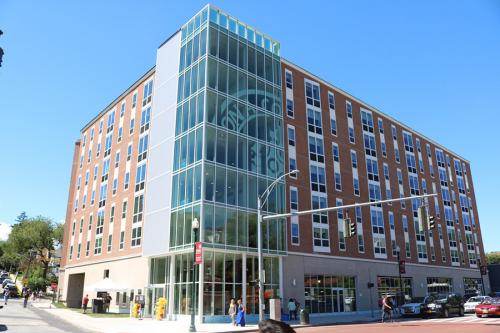 Amenities
Bedrooms have closets, drawers and desk space for each resident
Laundry room on every floor
Unique communal lounges on each floor offering study spaces, televisions, and communal ovens
Cable and telephone access
High-speed Internet
Central location on North Avenue
Campus Community
To help make Iona your home, the North Ave Residence Hall has a dedicated Residence Hall Director and five Resident Assistants on staff to build community and plan monthly programs through the Office of Residential Life. A student Campus Minister also hosts open door nights and community programs through the Office of Mission and Ministry.
Mailing Information
To send mail to residents, please address mail as follows:

Name
North Avenue Residence Hall
Room #
Iona College
715 North Avenue
New Rochelle, NY 10801-1890