Loftus Hall
Loftus Hall is a freshman-only residence hall, one of three buildings in the residential courtyard. Loftus is made up of ten co-ed floors with single-gender suites of five residents.
A suite features a double room and a triple room, as well as a bathroom. Each room has closets, drawers and desk space for each resident.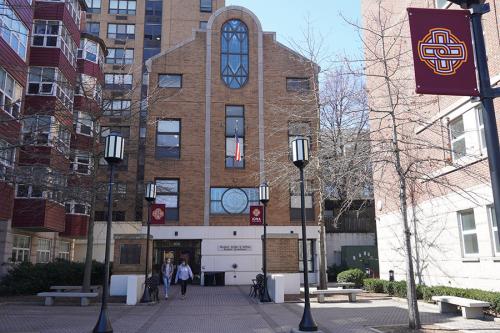 Take a Virtual Tour!
Amenities
Bedrooms have closets, drawers and desk space for each resident
Newly renovated community kitchen on the ground floor
Microwaves on every floor
Laundry room on the ground floor
Communal lounges with televisions, vending machines and a Foosball table
Prayer and meditation room
Cable and telephone access
High-speed Internet
24-Hour Security Desk
Short walking distance to the campus mail room
Campus Community
Most first-year students reside in Loftus Hall and make fast-friends with their roommates and floor community. Loftus boasts a tight-knit community of students making their way through their first year together.
To help make Iona is your home, Loftus has a dedicated Residence Hall Director and ten Resident Assistants on staff to build community and plan monthly programs through the Office of Residential Life. Two student Campus Ministers also reside in Loftus and host open door nights and community programs through the Office of Mission and Ministry.
Living Learning Communities (LLC)
Loftus is also home to several Living Learning Communities (LLCs). Students living in an LLC extend their community into a shared classroom experience. Their Resident Assistant fosters their sense of learning by planning programs around their community theme.
Students in our Honors Program also have a dedicated floor in Loftus Hall and a Resident Assistant who is an upperclassman in the Honors Program.
Mailing Information
To send mail to residents, please address mail as follows:
Name
Loftus Hall
Room #
Iona College
715 North Avenue
New Rochelle, NY 10801-1890