Iona Scholars Day
Iona Scholars Day (ISD) is an annual event to celebrate the scholarship and creative activities performed by Iona students. The day showcases faculty-mentored student work and allows students in all disciplines to recognize and appreciate each other's work through oral presentations, panel sessions, performances, and poster presentations. All students are encouraged to engage in scholarly and creative work with faculty, and share their work with the Iona community. ISD projects may be initiated as part of a course or as independent collaborations with faculty.
Read more about Iona Scholars Day 2022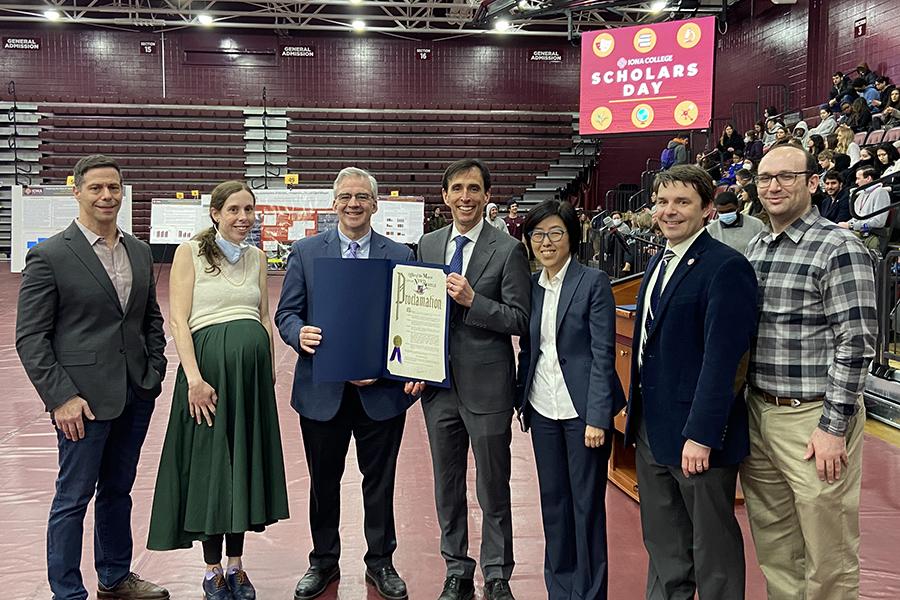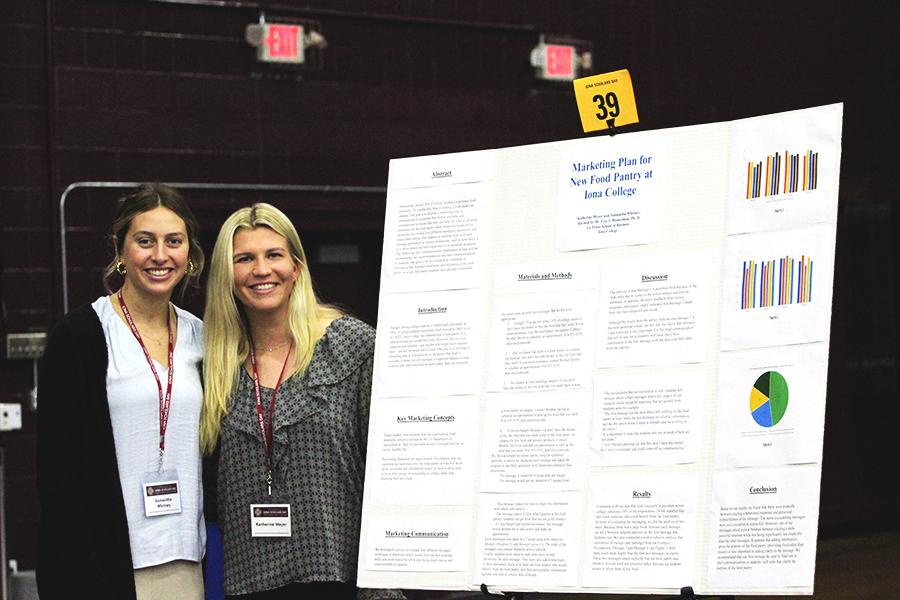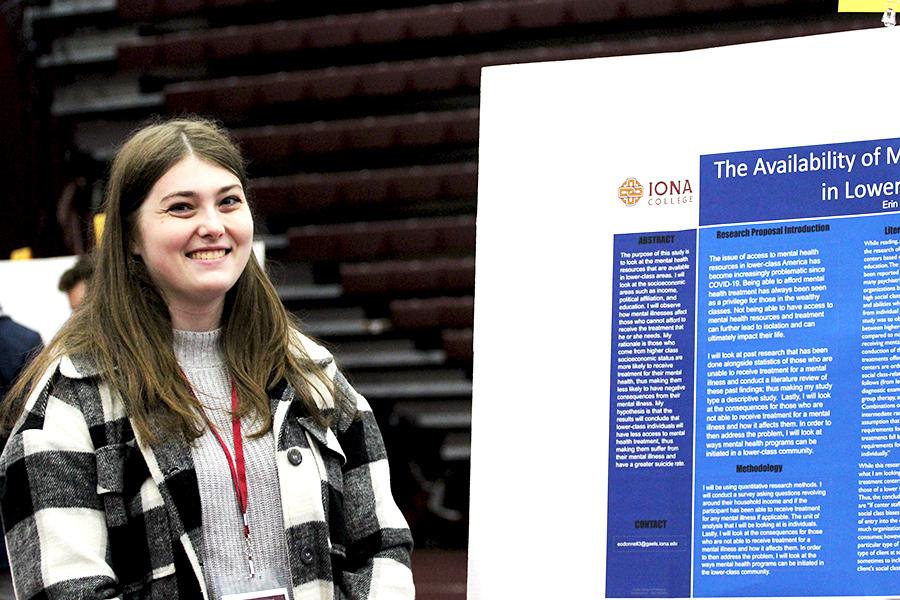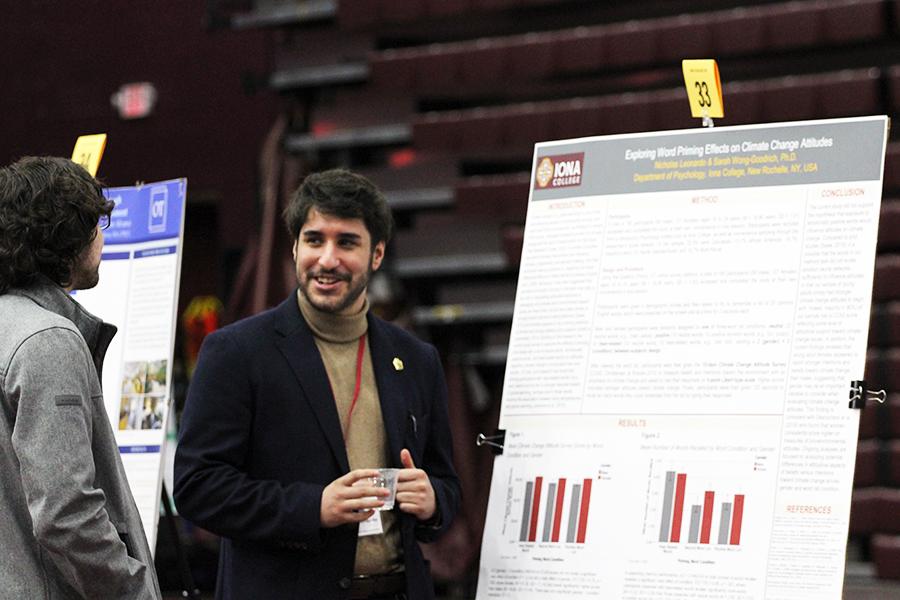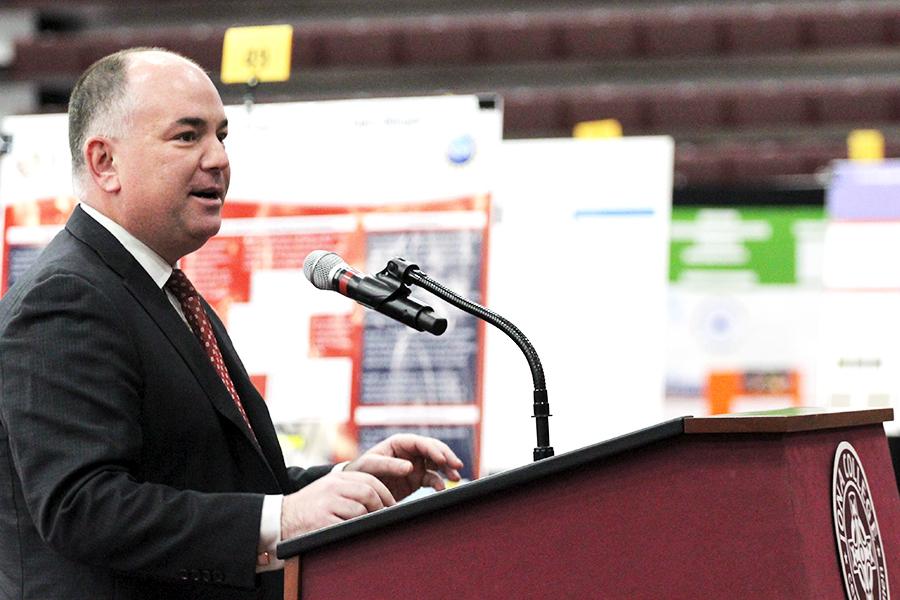 Schedule for the 13th Annual Iona Scholars Day
Time
Event
Location
All Day
Iona College Vocal Ensemble Performances
YouTube
Fascinating Rhythm
Lonesome Town
Fugue for Tin Horns
At the Ballet
9-11 a.m.
Registration & Poster Set-up
Hynes Athletics Center
10-10:50 a.m.
Panel: Sigma Tau Delta Nu Omicron Chapter presents "The Trojan Tattler:" A Retelling of Chaucer's Troilus and Criseyde
McGrath A, LaPenta Student Union
10-10:50 a.m.
Panel: Oshkosh Corporation Financial Analysis
McGrath B, LaPenta Student Union
11-11:50 a.m.
Panel: Iona College and Operation Smile International Collaboration
McGrath A, LaPenta Student Union
11-11:50 a.m.
Panel: Psychology and Speech Language Pathology and Audiology
McGrath B, LaPenta Student Union
12-12:30 p.m.
Welcoming remarks: Dr. Seamus Carey, President
Keynote Speech: James P. Oates '95
"From North Avenue to the World: Reflections from My Career Journey"
Hynes Athletics Center
12:30-2 p.m.
Poster presentations/Boxed lunch
(Posters will be displayed for continued viewing until 4 p.m.)
Hynes Athletics Center
12:30-2 p.m.
Dance performance presentations "Reflection in Action" (also April 8, 7 p.m.)
Christopher J. Murphy Auditorium
2-3 p.m.
Panel: Philosophy of Science and Technology
McGrath A, LaPenta Student Union
2-3 p.m.
Panel: The Concepts of Fate and Free Will in Ancient and Medieval Thought
McGrath B, LaPenta Student Union
3-4 p.m.
Panel: Exploring American History through Digital Humanities
McGrath A, LaPenta Student Union
3-4 p.m.
Panel: Law and Legal Interpretation: Theories and Applications
McGrath B, LaPenta Student Union
3-4 p.m.
Visual Art Exhibition/Fine and Performing Arts Poster presentations
(Other recorded works available via the Iona College Council on the Arts YouTube page starting April 21 at noon)
Iona College Music Program Spring Concert, April 29 at 3 p.m., Christopher J. Murphy Auditorium
Hynes Athletics Center
ISD 2022 Poster Presentations
Explore this year's poster presenters and their fascinating research projects.
ISD 2022 Poster Presentations

| Name | Presentation |
| --- | --- |
| Joseph Annabi | Examining Expression of Multiple Protein Isoforms in Bactofilins of P. mirabilis and C. crescentus |
| Laura Arroyo | La Cultura - A look into Latin Dance and Choreography |
| Camryn Bishop | Examining Social Media Use, Social Anxiety, and Nicotine Use in College-Aged Men and Women |
| Zaria Brons-Bailey | Political Initiations link to Democratic Backsliding |
| Kieran Clarke | Beech Leaf Disease and Nematode Link |
| Colleen Clarke | Effect of different DOPC/DOPS Ratios on the Structural Properties of Biological Membranes |
| Matthew Connolly | Music Therapy Center for Adults with Autism in Westchester |
| Elizabeth DeLeo | Examination of Behind-the-Scenes Methods and Strategies in Producing a Broadway Show |
| Jake DeMartino | Democratic Backsliding of Italy |
| Catherine DiProperzio | Detecting Schizophrenia in Authors Using Machine Learning |
| Nicholas Edmonds | A Battle of Policies: The Modern Day Struggle for Geopolitical Control Between China and The West |
| Maryann Forbes | Developing a Bacterial Two-Hybrid system to determine BacM interactions in Myxococcus xanthus |
| Alondra Gamez Hernandez, Escarlin Perez | Thermodynamic investigation of interactions of phytochemicals with cell membrane |
| Katelyn Garcia | Modification of G3 PAMAM Dendrimer Terminal Branches for Cell Membrane Interaction Investigations |
| John Gardini | Mutations to the Calcium-binding Domains on the Calcineurin Regulatory Subunit Produce Different Effects to the Calcineurin Signaling Cascade in Saccharomyces cerevisiae |
| Hailey Gironda | Seed biology of an invasive plant: germination requirements and ant-mediated dispersal |
| Christopher Gonzales | Optimizing Composting with Biochar and Earthworms (Eisenia fetida) With Applications for a College Campus |
| Rachel Griffith, Michael Schools, Alex Cisija, Kevin Graham, Thomas Burger, Tavis Johnson | Development of Droplet Detection Algorithm to Understand Dynamic Properties of Cell Membranes: An Interdisciplinary Project |
| Jamie Gudyka, Jasmin Ceja-Vega | Differential Interaction of Cannabidiol with Biomembranes Dependent on Cholesterol Concentration |
| Destinee Guity | Democratic Backsliding within Nicaragua |
| Lisbeth Guzman | Chavismo and Madurismo: Venezuela's Backsliding Democracy |
| Kyra Hall, Mary Vrahimis, Anthony Velasquez, Armando Snachez, Davion Scales, Miguel Lugo, Christina Brikes, Mary Felix | Operation Smile Speech Therapy Tracker App |
| Malik Henry | Inclined Readers: Impact on Academic Performance |
| Ela Hoxhaj, Kelly Kinlen | Determining the Function of Holin A and Holin B proteins in Myxococcus xanthus |
| Katherine Ivanchenko, Patrick Scollan, Juan Rosario | Raman spectroscopic investigation of model lipid membranes with cholesterol |
| Zayne Jakhra | Democratic Backsliding in Venezuela |
| Puneet Kaur, Myles Chiarello | How do college students view US foreign policy crimes |
| Riana Khan, Chyanne Blakey | Using Engaged Civic Learning to Aid Social Enterprise Customer Discovery During the COVID-19 Pandemic |
| Michael Krmic, Michael McGlone, Joseph Giancaspro, Riley Porteus | Effect of Hydrocarbon Intercalants on the Thickness of Model Membranes: Electrophysiology Technique |
| RaAnna Kurek, Colleen Simonson, Jessica Jaramillo, Isabella Zacarolli | Developing Speech Therapy Materials for Operation Smile in Nicaragua: Considerations and Collaborations |
| Tringa Lecaj, Kaitlyn Ohrtman | Examining Gender and Ovarian Hormone Effects on Mental Rotation and Word Recall |
| Katherine Lee | Investigating the Contributions of BacM Isoforms to Myxococcus xanthus Cell Shape and Antibiotic Resistance |
| Nicholas Leonardo | Exploring Word Priming Effects on Climate Change Attitudes |
| Madeline List, Kaitlyn Tonnesen, Taylor Alvarez, Tana D. Kuldraree | Enhancement of Purposeful Aging Through Implementation of an Environmental Assessment |
| Julius Lombardi | Democratic Decline in Germany |
| Isabella Lopane | Successful Public Relations Administration in Non-profit Arts Organizations: Developing an "Awareness Campaign" for ArtsWestchester |
| Luca Lotito | Democratic Backsliding in India |
| Amanda Martinez | Democratic Backsliding in the United States |
| Katherine Meyer, Samantha Whitney, Omar Mtarfi | Marketing Plan for the Food Pantry at Iona College |
| John Mollahan | The Effects of The Federalist Papers On Government And Society In The Modern Age |
| Aishani Nalla, Leah Figueroa | Connecting Iona Students through Entrepreneurial Thinking |
| Courthney Normil | Russia's Strive to End Democratization |
| Erin O'Donnell | The Availability of Mental Health Resources in Lower Class Areas |
| McKenzie Ogden | Democratic backsliding in the nation of Malawi |
| Mauro Pacsi | The Democratic Backsliding of the Philippines and its Relation to the U.S. in 2022 |
| Audra Parisi | Therapeutic Use of Lysergic Acid Diethylamide for Neuroinflammation in Alzheimer's Disease |
| Escarlin Perez, Alondra Gamez-Hernandez | Differential Interactions of Drugs with Human and Bacterial Model Membranes |
| Erienne Peters | Calculations of DOPC/DOPE Bilayer Structural Properties at Different Compositions by Molecular Dynamics Simulation |
| Riley Porteus, Michael Krmic | Characterization of electrical properties of model lipid bilayer |
| Maile Powell | Exploring the Role of Optimism on Exercise Activity and Motivation |
| Megan Ricci, Colleen Arini, Samantha Jean Bagwandeen | Interventions for children of incarcerated parents through the lens of development |
| Kathleen Russo | Creating an Archive for the Guild for Spiritual Guidance |
| Mohamed Salah, Genesis Bolton, LeAngela Brown, Bruna DeCarvalho, Andrew Maxwell, Mesha Iqbal | G3 PAMAM Dendrimer Demulsification Studies of known Oil Compositions in Water Emulsions |
| Patrick Scollan, Juan Rosario, Joseph Giancaspro, Elizabeth Miller, Samuel Braziel | Structural determination of model phospholipid membranes by Raman spectroscopy |
| Rebecca Sembrano | Fragmentation of the Antibody, Trastuzumab, and its Conjugation to Click Ligands |
| Konstantina Sgolombis | Potential of Mean Force calculations of water permeability of Mixed-Lipid Membranes |
| Gabriella Shanley | Democratic Backsliding in the Nation of Turkey |
| Shakinah Silverberg | Game of Cycles |
| Ariana Simpson | The Interdependency of Global Democracy and Global Environmental Sustainability |
| Gabriel Tarrago | Backsliding democracy in Spain |
| Brooks Thoden | Arts Showcase |
| Julia Thomas | Interactions between the MAP kinase Fus3p and the actin nucleator Bni1p during the mating response of Saccharomyces cerevisiae |
| Donnovan Tucker | The Backsliding of Democracy in Kyrgyzstan |
| Gabriel Vargas, Kelvin Veloz, Jorge Villa | Chemistry Lab Simulation |
| Maria Vargaya | Ribosomal stalling due to the presence of two codons coding for the same amino-acid (lysine) |
| Gianna Vento, Aishani Nalla, Mayan Beroukhim, Hailey Burke | Supporting Pre-School Teachers' Understanding and Implementation of Sensory Regulation Strategies and Techniques within a Special Needs Classroom |
| Jeremiah Vidal | The Relationship of Fig1 and it's Glycosylations |
| Kaylyn Young | Measuring and Conceptualizing Democratic Backsliding |
| Kara Zazzaro | Exploring the Roles of Family-Related Factors on Perceived Stress in College Students |
| Brandan Gianni, Jaiell Taylor, John Davis | Virtual Breadboard Simulator |
| Christopher Lora, Brendan Bohan, Elion Halili, Christopher Mena, Cian Patterson | GaelNote |
| Anthony DiBrino, Clifton Telemacque, Peter Esparta, Eliza Verghese, Luke Cioffi, James Ollen | Safari Solutions Scheduling Software |
Iona Scholars Day Keynote Speaker: James P. Oates '95
Principal, Eventum Risk Advisors, LLC
Retired Senior Leader of UBS Group AG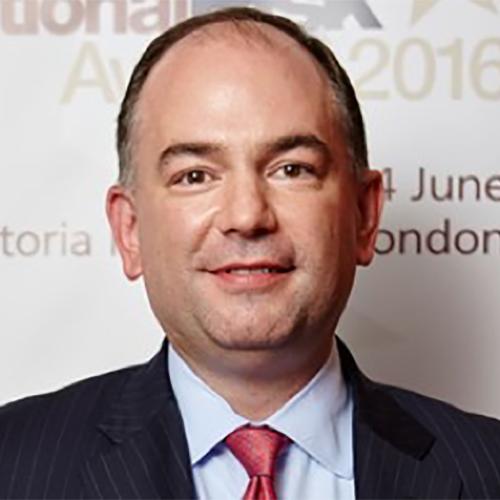 "From North Avenue to the World: Reflections from My Career Journey"
After retiring from a 17-year career with UBS Group in June 2019, Jim formed the advisory and consulting practice Eventum Risk Advisors, LLC; and serves on the boards of Aison Technologies AG and the Iona College Alumni Association.
Jim joined UBS in 2002 as part of the Trading Risk Audit (TRA) team in New York and was responsible for various fixed income businesses. In 2005, Jim was appointed global head of TRA and in 2007 as global head of the Investment Bank Audit Division. In March 2010, Jim was appointed the head of Group Internal Audit for UBS globally. On March 2016, Jim was appointed as Global Head Compliance & Operational Risk Control (C&ORC).
Prior to joining UBS, he worked in internal audit at Credit Suisse First Boston in New York from 2000 through 2002 focusing on its MBS/ABS and Private Equity businesses. From 1994 to 2000, Jim worked at Donaldson Lufkin & Jenrette which included a secondment to DLJ International in London from 1998 through 2000. He received an Honours BBA Degree in Finance from Iona College in 1995 and was North American Securities Administration Association Series 7 and Series 63 registered. He is a Certified Director and member of the National Association of Corporate Directors.
In addition to these accomplishments, Jim has been instrumental in creating the Gaels Go Further Mentoring Programs at Iona College. These programs serve to connect students and alumni and provide a space to discuss career goals and other important life topics.
Jim and his wife and two children live in New Jersey. His hobbies include tennis, golf and genealogy.
ISD 2022 Presentation Platforms & Guidelines
A poster is a graphically based approach to presenting research. In presenting your research with a poster, you should aim to use the poster as a means for generating active discussion of your research. A poster is usually composed of a short title, an introduction to your question, an overview of your investigative approach, your results, and discussion of your results, and some brief acknowledgement of the assistance and financial support, if applicable.
Effective posters are:
Concise and organized;
Visually appealing;
Legible from 3-6 feet distance.
In general, poster presentations are designed to relate information to the audience without excessive verbal explanation. Well-designed posters are appealing in their balance of visual information, e.g., pictures, graphs, tables, etc. complemented by captions, written explanations, etc.
Posters should include:
a title giving the name of the project, and identifying the student author and faculty mentor
an introduction stating the problem to be solved, ideas described or discovered, or proofs to be established
a body presenting information using written descriptions and/or visual models with captions
a conclusion summarizing the work and perhaps suggesting new avenues of discovery inspired by the student's research
We will provide a panel (48 x 36 inch) where your poster should be able to stand alone (panel could be a kiosk shown in Image A and B, or tri-fold poster board with easel shown in Image C). As shown in the photos below, your presentation can be a single poster that fits on the panel or multiple printed sheets. Visual aids and handouts can be used. PowerPoint presentations and other computer-based audio-visuals may ONLY be used if they are approved in advance.
Image A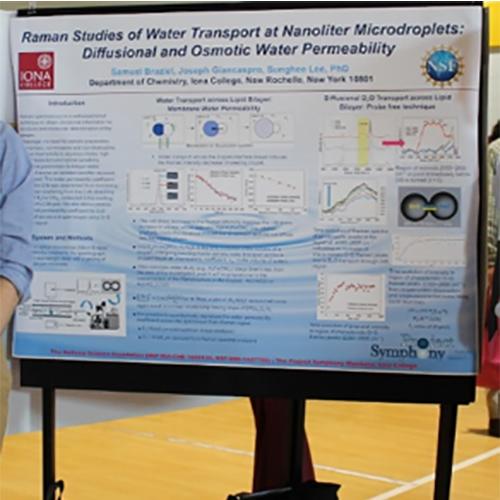 Image B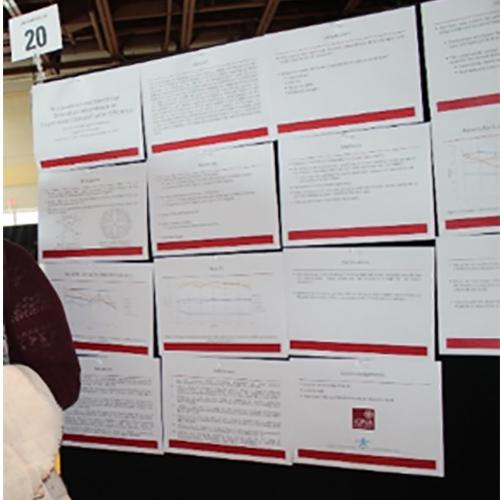 The above images A and B are examples of kiosk presentations.
Image C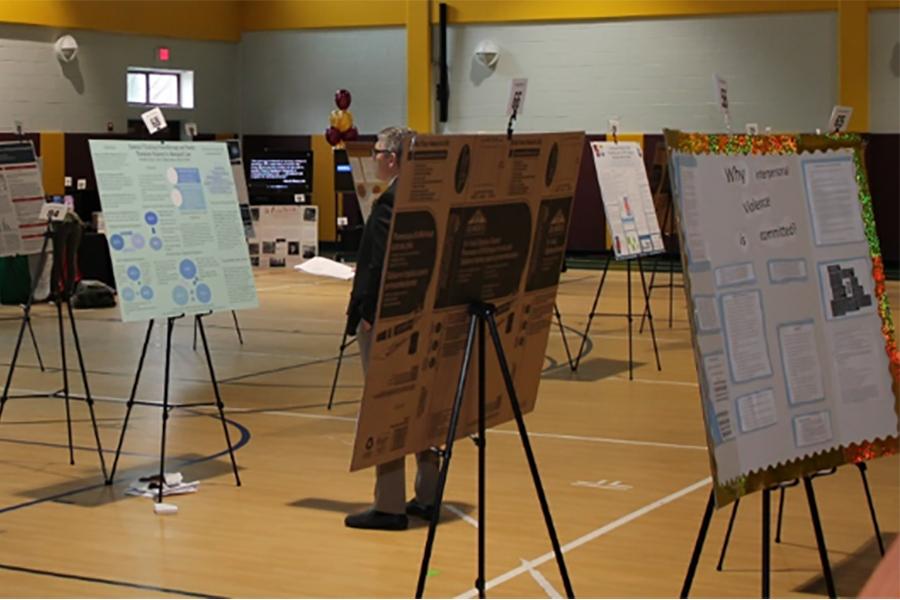 Image C shows examples of tri-fold poster boards with easels.
For additional advice in preparation for poster presentations, please contact Dr. Sunghee Lee.
If you wish to present a paper, this is most likely the option that will apply to you.
For Faculty: If you have a topic from class that would make for engaging student presentations, then encourage your students to submit!
For Students: If you have a paper or other work you are particularly proud of, consider speaking about it! You don't have to submit as part of a group, we'll match you with similar topics.
There will be sessions of talks held in person at different times on Iona Scholars Day.
Each panel will occupy a one-hour live presentation time slot. This time slot can be divided up per panel group as each panel sees fit. For example, for a three- or four-person panel, each panel presenter can plan to give a 10- to 15-minute talk followed by a 5 minutes of question and answer with the audience. For the 10-minute talk, students should describe their paper or project (as is standard for talks in their discipline of study). Presenters are welcome to utilize slides, handouts or other media as appropriate; supplementary material can be passed out to the audience, if the presenters prefer to do so.
If you are presenting works in the fine and performing arts, we invite you to submit either a video or visual presentation based on your work. These will be made available in a gallery of work, with the opportunity to engage with members of the community.
Past Events
Iona Scholars Day 2021
View Fine & Performing Arts Presentations