Iona Scholars Day
Iona Scholars Day (ISD) is an annual event to celebrate the scholarship and creative activities performed by Iona students. The day showcases faculty-mentored student work and allows students in all disciplines to recognize and appreciate each other's work through oral presentations, panel sessions, performances, and poster presentations. We encourage all students to engage in scholarly and creative work with faculty, and share your work with the Iona community. ISD projects may be initiated as part of a course or as independent collaborations with faculty.
On April 22, 2021, we will be celebrating the 12th annual ISD in a virtual format via four different platforms described below. This is a great opportunity to develop and strengthen your digital portfolio, since sharing work virtually is going to be increasingly more important in the years to come. The detailed submission instructions will be announced shortly. In the meantime, you are invited to think about ways you can share your own scholarly achievements with the broader Iona Community.
Iona Scholars Day 2021
April 22, 2021
Virtual Event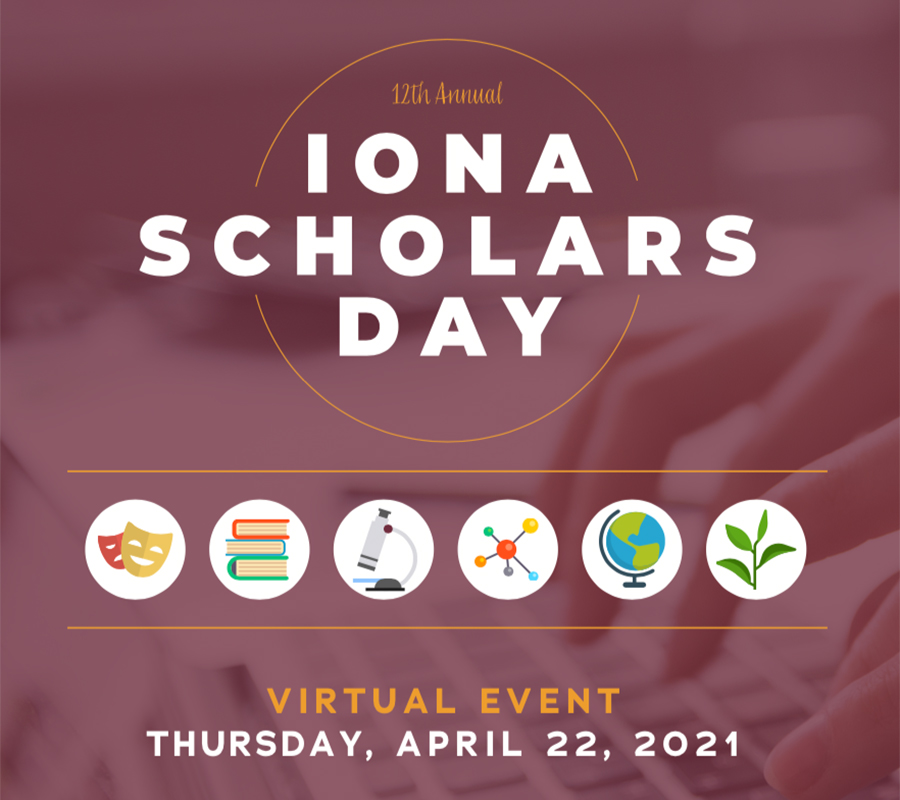 ISD 2021 Presentation Platforms
Virtual Poster Session: This will be the closest option to the traditional poster session, where you create and share a visual representation of your work that will be posted and available to the Iona community. There will also be an opportunity to engage with members of the community on set dates/times to describe what you did and how you did it, as well as answer questions relating to your project.
Panel Presentation: If you wish to present a paper, this is most likely the option that will apply to you. For Faculty: consider if you have a topic from class that would make for engaging student presentations and encourage your students to submit! For Students: If you have a paper or other work you are particularly proud of, consider speaking about it! You don't have to submit as part of a group, we'll match you with similar topics. These will be a session of talks held live at different times over the course of the month.
Elevator Talk: This is a new option we're including as part of the virtual format. Students will submit 4-7 minute pre-recorded presentations (including slides if they wish) based on the work that they have done and their experience with student research. These videos will be made available in a gallery of student work, again with opportunity to engage with members of the community on set dates/times to answer questions and elaborate further.
Performance Piece: If you are presenting works in the fine and performing arts, we invite you to submit either a video or visual presentation based on your work. These will again be made available in a gallery of work, with opportunity to engage with members of the community to answer questions and elaborate further.