Lent at Iona
We invite the entire Iona community to take part in Lent by reading the daily calendar and reflections, attending Mass and/or Bible study, and participating in Operation Rice Bowl and other special events.
Lenten Reflections
The great season of Lent is upon us once again. It has often been called the great retreat of the Church. We begin by receiving ashes on our foreheads as a sign of repentance and the call to conversion. We hear the call from Matthew's Gospel of the three things we are invited to do during this great retreat: prayer, fasting and good works. Jesus invites to do these things in a way that only we and God knows. It calls us to recognize our need to be open to the love and mercy of God and to deepen that friendship with God and ourselves.
Often we do the same things for Lent because that's what we have al-ways done. As begin the journey of Lent, let us remember the words of Fr. Teilhard de Chardin, SJ, "A fresh kind of life is starting." Lent pre-pares for that fresh kind of life. Our prayer, fasting and good works prepare us for that newness of life. We come to know that through the mysteries of the Triduum of Lord's Passion, Cross and Resurrection. As we begin the Lent journey, may we hear that call to conversion and open our hearts and lives to that fresh new gift of Life given to us through the life-giving Cross of the Risen Savior. May it transform us to be the pres-ence, the compassion and the liberating love of our God.
Leviticus 19: 1-2, 11-18
"Take no revenge and cherish no grudge against your fellow countrymen. You shall love your neighbor as yourself."
To understand today's readings, it's important to note the feast that is being celebrated today, the Feast of the Chair of Saint Peter. Typically, we're used to celebrating the feasts and solemnities of people throughout the liturgical calendar. For example, tomorrow will be the feast of St. Polycarp and earlier this month was the Feast of St. Blaise, where you would have received the blessing of throats, a novel but rich tradition in the church. While there may not be a saint celebrated every day, it's very rare to have a non-person be celebrated on the day. Throughout the calendar, such non-people that are celebrated are the most holy body and blood of Jesus (or Corpus Christi), the Immaculate Heart of Mary, and even in older calendars, the Beheading of John the Baptist. So why are we celebrating a chair? What does this chair symbolize, if anything? What is the takeaway for our own Lenten journeys?
To answer these questions, I offer three reflections taken from today's readings.
The first is that the first reading is not from the Old Testament, as is usual. It's from the book of St. Peter in the New Testament. While there is scholarly debate if Peter himself wrote these letters, the author continues Jesus' language and imagery of the shepherd and his flock. He gives the direction of fellow priests to tend willingly, eagerly, and to be present by example. This can't be understated, as this is opposed to a common theme of suffering and hardship, that permeates elsewhere. So if we are looking to understand better what this chair means, we have this first clue- how does a shepherd tend? Willingly, eagerly, and by presence.
The responsorial psalm should be a familiar one for many. Psalm 23. I often associate it with funerals, but it has its place in the everyday prayer life of many. The Lord is my shepherd, there is nothing I shall want. This suggests for us a singular focus and reliance on the Lord. Clue number two about this Chair of St. Peter- there is only one shepherd, one chair, one God. Or as we know from Deuteronomy, "Hear, O Israel! The lord is our God the Lord is one!"
The last clue is in the gospel. We all know the famous line within it "Peter, upon this rock I will build my Church." But Jesus goes on further to remark, "Whatever you bind on earth shall be bound in heaven; and whatever you loose on earth shall be loosed in heaven." This is the important connection that Jesus ties to Peter. Peter will be the earthly representative of heaven, as Jesus has bestowed to Peter the Keys to the Kingdom of heaven. The third clue about this Chair is that its power comes not from earth but bestowed from above. It may be a piece of manmade furniture, but the person sitting in it has the authority given by God.
So how can the Chair of St. Peter guide us during our Lenten observances?
The church has a funny way of helping us understand the grandeur of God. Because our humanity limits our ability to truly understand God, we are given tangible representations that can help us grasp Him. A chair in this sense can be such a thing. In a similar way, we can be reminded of God's presence everywhere, even in seemingly the most common things. Maybe it's nature or art, be on the lookout for those things, especially as you are praying or in a contemplative state.
Another thing that the Chair of St. Peter reminds us is that the chair itself is reserved for a leader. Although there are examples of collective prayer, like the Mass or maybe spiritual communities, prayer can at times be a solitary exercise. I bet we notice this even more during the pandemic. But there may be value in being guided by someone to help direct you in that prayer life. It may be someone in authority, but it could also be a trusted mentor or elder. Or you can also take the direction of the current occupant of the Chair, Pope Francis.
So 2000 years later, the Chair of St. Peter "lives" on today. When you have a moment, revisit the readings but this time reflect on how the imagery of the shepherd or Psalm 23 or the rock have new, different meaning to you now that we've heard how this simple idea of a "chair" can mean so much more and bring us closer to an understanding of God.
Jonah 3:1-10; Luke 11:29-32
The Scriptures today are challenging, humorous and odd – as we hear a section of the story of Jonah in the Old Testament and what seems to be Jesus' stern admonishment of the need for people of his time to repent. Scriptures are about you and me, about our lives and struggles. So each of us may relate to a different character or circumstance. It seems that today we are offered three images to consider:
The character of Jonah
The righteous anger of Jesus
The mercy and compassion of God
I personally find the story of Jonah to be quite humorous. Jonah goes to great lengths to avoid doing what God calls him to do. "All my life I have been haunted by God." Dorothy Day says in her autobiography, Long Loneliness, and we see that in Jonah. He is going at great lengths to avoid God…He gets on a boat to go to Tarshish and God sends storms, an incredible tempest. He is cast off the boat as the sailors needed to lighten the load and we would think this is his end. But God sends a whale and there was his shelter for three days. And then finally he is spewed up on shore only to do what he is called to do to announce in Nineveh that God will destroy them….Isn't it telling what God is willing to do to remind Jonah of what he is to do… and isn't it telling how Jonah goes at great lengths to not listen to God…Do we relate to Jonah in any way? I know I do especially the time that I overthink things and make them more complicated than they need to be. And then realize that if I just quieted myself and listened to God…
Or maybe in today's Scripture we connect well with the righteous anger of Jesus, who names the evil that is everywhere in the world. Jesus' indignation at people's blindness to evil and unwillingness to repent or do anything about it is apparent. For me I could not help but think of Pope Francis whose constant pleas to the world community to take care of one another and to care for the fragile earth seem so often to go unheeded. And this year too we are immersed in a racial reckoning, coming to terms with our countries deeply entrenched sin of racism and white supremacy Sadly, in our day and age, we don't need to imagine Nineveh, to imagine evil the world. Perhaps Jesus is speaking through Pope Francis and our many racial justice leaders, such as Kevin Powell yesterday in condemning the evil of our time.
A third image from Scripture today: the mercy and compassion of God. God was merciful towards Nineveh and is compassionate towards us every day. How has God been compassionate in our lives? Today, yesterday, the past year, the past five years? Are there ways we can pay it forward this day in being compassionate to others.
So as we bring together these great stories – that of Jonah, of Jesus' call to repent, and the depths of forgiveness of our loving God – let us consider which image sits most with us today, who we are and where we are with and in these Scriptures, and pray that the wisdom of God's word seep into us as we carry on…
Gospel, Lk 6:36-38
Jesus said to his disciples: "Be merciful, just as your Father is merciful.
"Stop judging and you will not be judged. Stop condemning and you will not be condemned. Forgive and you will be forgiven. Give and gifts will be given to you; a good measure, packed together, shaken down, and overflowing, will be poured into your lap. For the measure with which you measure will in return be measured out to you."
---
Lent is a time of challenge and in today's Gospel we receive the ultimate challenge: to strive to be like God our creator. This doesn't seem like a realistic challenge being placed before us. Our mortal bodies and minds are not capable of the infinite love and compassion of God, however, as Christians we are called to take up this challenge and try daily to share our love, joy, hope, and compassion with others. As recent events have shown this is no small task, people in our country and around the world seem to be at polar opposites on many issues: politics, religion, wealth, health care, education to name just a few. But the message of the Gospel is clear we will not receive what we are not willing to do or give in our daily life. This is an invitation from Jesus to strengthen our relationship with God and try our best to share that example with those we encounter.
A prayer attributed to St. Ignatius of Loyola might be a helpful tool to keep this challenge before us during Lent and as we continue our earthly journey:
Lord,
teach me to be generous,
to give and not to count the cost,
to fight and not to heed the wounds,
to toil and not to seek for rest,
to labor and to seek no reward
save that of knowing that I do your holy will.
Matthew 20:17-28
"...the Son of Man did not come to be served but to serve and to give his life as a ransom for many."
Where do we deserve to be?
Today's readings raise that question for me. It is a question that reminds me of my own selfishness, and how selfishness is so common. As if I needed a reminder. Most of my energy at home is spent trying (trying) to patiently teach and show my three kids to share with one another instead of fight over who has what and where one is. It is a daily, how shall I say, adventure that my kids invite me to take with them. "That's my Calvin and Hobbes book!" or "He's sitting in my spot!" or "She had the last donut! It's not fair!"
No, it's not fair, and I know, because I didn't get any of the donuts at all, and my son likes to steal my seat at the table.
Before you laugh, though, consider how often we approach others with this sort of indignation. It comes from the same sense of deserving more that ten of the disciples show the other two, those sons of Zebedee, James and John, for whom their mother sought a privileged place in the Kingdom of God. What of that indignation, that anger in the f ace of what appears an injustice? Are the others upset that James and John wanted to be at each side of Christ at the end? Do the other ten disciples think that they deserve such a place of privilege, instead?
And why would anyone want to assume that place? According to Jesus, it is a force of habit that leads people to ask for such a privileged position in the Kingdom of God. That is how James and John, in fact most people, have been taught by the societies that they have been born into. There are rulers, the ruling class, those in charge, and they seem to have made it, and they seem to have it made, so to experience that kind of prestige, the best approach to take is to get as close to the powerful as possible, even to join, to become a member, to achieve grandiosity through proximity to the grand. This is what Jesus questions when he says, "You do not know what you are asking." "Where do we deserve to be" is the wrong question.
What drives that desire for greatness, power, and glory, though—what fuels that question, "where do we deserve to be"—is what the story from Jeremiah helps to answer for me. Here, the prophet becomes a victim of plots against his reputation, despite how he had advocated for those very people who now seek his demise. It is as if the other priests and prophets want to get closer to God, so they try to make room for themselves by ostracizing and marginalizing Jeremiah, who seems closer to God than the rest. They act as if they deserve to be where Jeremiah is, as if what they desire is what James and John desire—a better place for themselves, a more prominent one that signals to them and to others that they matter, that they are worth it, that they have dignity.
Jesus teaches us that dignity is not a result of placement, though. Dignity is a starting point. We do not achieve self-worth. We have it from the moment we are created. We are recognized for it during baptism, we hope to keep it in focus even during the worst of times, and we have faith that our self-worth will culminate as we grow into the Goodness of God and find ourselves born into eternal life. It is hard, though, not to feel rejected, abandoned, isolated, when we find ourselves in one place even though we deserve (or think we deserve) one that is much better.
Imagine the Son of God in a desert for forty days. The devil suggests Jesus deserves better. But there, just as in today's readings, and in fact through the Gospels, Jesus teaches us to start with a different question: not, "Where do we deserve to be," but "Where do others need to be?" It's the only question that gets us out of the desert, because otherwise we are simply by ourselves, wondering whether we are worth it.
We reveal our own dignity when we help others to recognize theirs. To put aside our desire for greatness for the sake of what others need is to rely on one another for each other. To love one another. As Jesus suggests, we deserve nothing less.
I picked today to give the reflection because of my schedule, but when I looked at the readings I laughed—it seems that every year, I either get the story of Lazarus and the rich man, or the boys in the fiery furnace. Getting the same passages over and over gives me an appreciation for what our priests do, week in and week out, thinking of new things to say in response to the same readings. I imagine it can sometimes feel tedious or difficult, but there is also a comfort in the repetition, in the return to familiar stories, as well as an opportunity to read them in new ways from wherever we are in our own lives.
It brings to mind something I learned in college. It was a medieval drama course, and the professor, my mentor, was talking about concepts of time in the Middle Ages. On the board he drew a straight line, which represented historical time, constantly moving forward in one direction. On top of that, he drew a circle, to represent liturgical time, in which the story of Jesus' birth, ministry, death and resurrection repeats in the familiar cycle of the church year, to which medieval plays were inextricably linked. And then, above the circle, he drew a single point, from which he drew two lines, one linking to the start point on the history line, the other its end point, forming a triangle, which encompassed the circle. This, he said, was God's time, encompassing the whole of human history at once—the endless circle of alpha and omega contained within the triangle of the Trinity.
All these years later, I still remember that lesson, and it has informed not only my own teaching, but my own spirituality as well. This Lent, as I have every year since 2000 when my mom gave it to me, I return to my little book of mystics, which, like the liturgical readings themselves, continue to be both familiar and to yield new things. Today's reflection is from Meister Eckhart:
As soon as your repentance mounts up to God, your sins are swallowed up in His compassion. The worse you believe your sins to be, the more ready God is to pardon them. God wishes to enter your soul and drive sin out, for no one is slow to root out what is hateful to them. The more there is to forgive, the happier God is to forgive. And the more displeasing they are to Him, the quicker God forgives.
This year, I am struck by how Eckhart's absolute faith in God's mercy and forgiveness seems to stand in contrast to the reading from Luke, in which the rich man is rebuffed by Abraham, who points to the "great chasm" separating sinners from the righteous. I'm always a little unsettled by scripture passages that seem to represent God as less than forgiving, but as I sat with today's reading, it occurred to me that the passage isn't about God at all, but about Abraham—Jesus is talking to the Pharisees here, offering this parable featuring the great Hebrew patriarch as an invitation to pay attention to scripture, to be more charitable to those in need, to turn toward God. While the parable may seemingly end without mercy for the rich man, that is not the end of the story. We know that God Himself offers infinite mercy, through the death and resurrection of His own Son. And while we, or for that matter, even Abraham, can ever know the heart and mind of another, God can, and does, as today's reading from Jeramiah reminds us:
More tortuous than all else is the human heart,
  beyond remedy; who can understand it?
I, the LORD, alone probe the mind
  and test the heart,
To reward everyone according to his ways.
God alone has endless capacity for understanding, for compassion, and for forgiveness. Eckhart understood this, and during Lent, we are encouraged to seize on this divine mercy, to use the season as an opportunity to reflect on what we get wrong, to ask forgiveness, to accept grace, to try again to live in accordance with God's will for our lives.
And again, I am reminded of my mentor's diagram from all those years ago. The individual life is a microcosm of his illustration of time: each of us moves through our lives, hopefully growing in faith and aligned with God's will for us, but we also constantly fall back into cycles of our own weakness and sin. Those things might seem to be in tension, until we realize that from His vantage point, God takes in the whole, encompassing our lives from beginning to end, and holding us, I like to believe, with endless mercy and forgiveness.
Matthew 5:17-39
"Whoever obeys and teaches these commandments will be called greatest in the Kingdom of heaven."
Today's readings are interesting especially if one is a lawyer.
Reading 1 from Deuteronomy:
"listen to the laws that 'I' (Moses) am teaching you. Observe them and Survive.  Take possession of the country which Yahweh is giving you."
Moses realizes he needs more (Authority) so the next line is "Look! Yahweh, MY God, commanded you, I have taught you laws and customs to observe in the country of which you are going to take possession."
Keep the laws. Others will admire your wisdom. You get land.
Keeping the law shows that you love God
Remember the laws. Teach your kids. You get land.
Or else…
Reading 2 from Matthew 5:
"I (Jesus doesn't need Authority) have come not to abolish but to complete."
The Law has to exist until its purpose is achieved.
The message is the same.  Do it. Or else. Be the least in the kingdom or great in the kingdom. Oh…and there's no land this time. 
Keep the law (Jesus' beatitudes) and what? You get to heaven.  Much better than land.
How do we know?  Jesus told us. No one comes to the Father except through Me.
I'm a lawyer. I like to keep things simple. Follow the rules or get fined or go to jail.  Simple.
Let's get basic here:
When are most laws created?  In times of crisis.   Mosaic law was created after decades of slavery, then freedom followed by wandering and grumbling in the desert, and a promise of land for following the rules. About 7 centuries before Jesus.
Jesus delivered his message at a time of continuing crisis.  Political occupation and repression of Jews and others by the Romans.
Why do laws exist?  To maintain the order of a society. 
Laws, whether legitimate or illegitimate, draw lines in the sand.  Some are included and some are excluded.  It's very deliberate.
In an ideal situation, everyone who wants to be included knows the rules and needs to abide by them...or else. 
The codification of the Law by Moses was an extremely important step in the creation of Israel: the Jewish people. Remember, they'd been freed from Egypt but were wandering in the desert for a long time.  This codification was a necessary precursor to get them from their wanderings and grumblings and to the stability and establishment of a non-nomadic people who  possessed land.   This process was critical to their social and legal identification as a People: The Chosen People. There was no other way to do it.
Jesus does the same thing. There continued in his life to be political and social crises. Stories about him demonstrate time and again that the Law is still important. It's also not fixed and immutable.  How do we know?
He's always engaged in discussions with the teachers and his followers about the Law and its interpretation. He questions, pushes boundaries, enhances the important parts of the Law, and provides examples by his life to make those derived examples real and capable of duplication by those who were observant, who observe, those who wished to observe and be included and  demonstrate that by being law abiding, God knows who loves and they, in turn, will be loved by God. These codified discussions are known by us as The Beatitudes.
It's pretty basic, straight forward inclusive stuff.
Where does this bring us to in Lent some thousands of years later amidst the contemporary crisis of a pandemic where there's sickness, isolation, uncertainty of many kinds, divisiveness, polarization and death? Where lawlessness in our own backyards has been on full view on a world stage for too long.
Lent provides us with not only the opportunity to ask ourselves "how do I measure up to the expectations set by Jesus", it also lets us/compels us to challenge the status quo.
Lent gives me and all of us the time to begin to make things right again, to renew ourselves, to seek forgiveness for wrongs committed by us against others and ourselves, and to regain our place among those who also believe and embrace the same basic ideals regardless of how, where and by whom they were taught.
I'd also suggest that Lent also gives us the opportunity, utilizing the Beatitudes,  to choose to push the boundaries to question the status quo.  Jesus was big on choice: Believe and be cured. Believe and Follow Me. Or not. There are consequences but you have a choice. (Remember:  No one is ever NOT cured. Non-followers aren't condemned, they leave Jesus sad.)
Lent provides an opportunity to be adults (1 Corinthians 13).  It permits us to say what does and does not work for us and to then accept responsibility for those choices we make.  
Oh dear.  Does that mean we get tossed out of the group?  Jesus doesn't mention hell (an ultimate exclusion) as a failure for not complying with the laws.  Remember he challenged them and the teachers on a regular basis. 
What does he say?  He says more often than not that you'll be in heaven but as the least versus the great. He adds later "There are many rooms in My Father's house."
Not all of them have a great view but they all have the same address and THAT is the beauty of Lent.
We have a choice to embrace the ideals.   That affirmation is ultimately what Lent is about: adult choices and accepting consequences knowing that Jesus loved the challenge of a good argument.
"If today you hear his voice, harden not your hearts."
Lots of voices in our world today. Lots of voices in the marketplace of ideas.
Lots of voices – some true, some false, some good, some evil, like those demons that Jesus casts out in today's gospel.
How do we figure out which ones to listen to? Which ones to follow?
Which voices are really the Lord speaking to us?
Listening has become a lost art.
Have we noticed those times that we are so anxious to get our point across that we interrupt when someone is sharing their feelings or ideas with us?
Or we are so convinced that we are right and the other person is wrong, that we are talking at the same time they are?
Can't we just stop and – not just hear – but listen and try to understand what others are sharing with us?
If we don't listen, we miss out on so much, especially listening to what is in our hearts.
From our first reading, "When you speak all these words to them, they will not listen to you either; when you call to them, they will not answer you."
Does the Lord or other people feel the same about our own listening skills?
A seminary colleague shared his experience about being asked to leave the high school after his second year. In his first year, he had passed his courses except Latin, so he had to repeat the entire year. The next year, he failed Latin again, and was told not to return. Back home, he took Latin at a Catholic high school, and tried for readmission. But he was told that the fathers decided that he did not have a vocation to the priesthood. He got married, had a wonderful family, and became one of the top law enforcement officers in the country.
That was his vocation – his calling. We all have one, even if it's not always clear what that calling is.
I often refer to my media career as "when I had a real job." That's because teaching at Iona is not a job – it's a calling, a very important calling.
Back to Jeremiah in the first reading:
"Thus says the Lord, this is what I commanded my people: listen to my voice; then I will be your God and you shall be my people. Walk in the ways that I command you, so that you may prosper."
During Lent, we have the time to reflect, the time to listen, the time to listen to the Lord about our calling, whatever that might be.
"I will praise you, Lord, for you have rescued me."
How many times have we said that? How many times have we been rescued?
In the first reading, we hear Isaiah quoting the Lord to us, "They shall live in the houses they build, and eat the fruit of the vineyards they plant."
Who is this that "shall live in the houses they build, and eat the fruit of the vineyards they plant"? It is an old man who would have "lived but a few days as an infant", or certainly not "rounded out his full lifetime" but for the intervention of God, our Creator, our Father.
In the reading from John's Gospel, a royal official has heard that Jesus arrived in Galilee from Judea. He goes to Jesus and asks him to come down and heal his son, who was near death. What follows is a remarkable exchange.
Jesus said to him, "Unless you people see signs and wonders, you will not believe." However, one suspects that the royal official is not so much concerned about signs or belief at this moment. He is concerned about saving his son. The royal official said to him, "Sir, come down before my child dies." (You can hear the desperation in the man's voice.)
Jesus said to him, "You may go, your son will live."
One cannot help noticing all the movement in the Gospel reading, Jesus has come from Jerusalem where he made an impression on the people but had contentious relations with the Pharisees. Jesus travels to Galilee, then goes to Cana. The royal official travels to find Jesus and ask his help. Then the official returns home. His servants are going out to meet him and tell him about his son's recovery. One is reminded by all this movement that we are fellow travelers with Jesus in these weeks leading up to his passion. One is reminded that we are moving toward something, too.
The man asked the servants when the boy began to recover. They told him, "about one in the afternoon." The father remembered that that was when Jesus said to him "Your son will live" and this memory is an instance of grace, for it brings faith to the man and to his entire household.
Isaiah tells us the LORD says, "I am about to create new heavens and a new earth. There shall always be rejoicing and happiness in what I create. Truly, the lord has created a new world for this man.
Again, we are reminded of the words of the Psalm, "I will praise you, Lord, for you have rescued me"; and as undeserving as we may be, as unlikely as it may be, "At nightfall, weeping enters in, but with the dawn, rejoicing", and my favorite, "You changed my mourning into dancing"!!!
The Annunciation
During Lent most of the readings center on forgiveness, repentance, self-denial, sacrifice. Then, all of a sudden, like the tiny green sprouts that force themselves through the cold barren ground, comes this joyous feast of the Annunciation. Lent prepares us for Christ's passion and resurrection that secured our salvation; the Annunciation celebrates the beginning of our salvation. At the moment that Mary accepted God's call, she became the conduit of our redemption, the second Eve, the spiritual mother of us all.
When we read Luke's gospel, it sounds very straightforward. The angel Gabriel appears to Mary, tells her she is going to have a child who will be called the Son of the Most High. She questions how this will happen since she is still a virgin and when Gabriel tells her the Holy Spirit will come upon her she accepts. It seems unlikely that it was so simple for Mary. Imagine a young teenage girl from the small town of Nazareth who receives a visit from an angel. That alone would have been enough to frighten most people. When the angel told her she was going to have a child, the Son of God, she must have been confused and deeply troubled. Mary was asked to put her reputation in jeopardy and face certain condemnation from the community. It doesn't seem possible that she truly understood what was being asked of her or the enormous consequences of her decision but yet, because she is a woman of extraordinary faith, she agrees. What would have happened if she said "no?" Who would have blamed her? Mary could have said "This is just too much for me to handle – you'll have to find someone else – I really can't agree to something I don't understand." But she didn't. Even though she may not have understood all the implications of what God was asking of her, she did understand and believe that this was what God wanted of her and so she was willing to put her life in His hands and submit to the will of God.
What are the lessons to be learned from today's gospel? I think they are twofold. First, it reminds us of the supreme love that God has for us to fulfill the prophesy that we heard in the first reading: "the virgin shall be with child and bear as son, and shall name him Emmanuel, which means 'God is with us.' " God did not abandon us after the sin of Adam and Eve but promised a Redeemer and he sent his only begotten son that we might live forever with Him. Second, we cannot help but admire this supreme act of love and courage of a teenaged girl and the complete trust she had to say "yes" in the face of uncertainty. Most of us like to be in control of our lives and know where we are going. It isn't easy to accept God's will for us – we like to be in the driver's seat. God's plan for many of us may not be as central to the salvation of the human race as his plan for Mary's, but we must believe that each of us has a unique role to play within our community of family, friends, and colleagues and that our actions can have effects beyond our knowledge and comprehension. We must be ever open to God's graces so that when we are faced with challenges and difficult decisions, we can respond as Mary did as echoed in today's psalm: "Here I am, Lord, I come to do your will."
In today's reading there is a tension about the way a valuable oil is used at a dinner gathering being held in honor of Lazarus, whom Jesus has raised from the dead. Mary uses the oil to anoint Jesus' feet. Judas sees this as a waste since the oil could have been sold and the money distributed among the poor. The reading quickly reveals that Judas is not sincere in his concern for the poor, but is a thief who steals from the common funds.
As the disciple who would later betray Jesus when he is brought to trial, Judas is an easy target for judgement and vilification. Even Jesus rebukes him by reminding him that he will have many opportunities to care for the poor, but only this one time to acknowledge Jesus among them. But there is a danger in making Judas a target of our uncritical or unreflective condemnation.
If we consider the characters in the reading as qualities of our own inclinations and personal characteristics, we see that we all wrestle internally with the tensions expressed in the story. On one level, the tension between using a product for purely practical purposes instead of a more ceremonial or aesthetic purpose is always with us. The need for human expression, creativity, and ceremony is always in tension with the pragmatic need to fix problems. Recognizing important events is critical to informing the context from which our lives derive meaning. Jesus is reminding the guests at the dinner party of the importance of what is transpiring and that the work of helping the poor will not go away.
Judas represents that part of our personalities that is wired to get ahead, to procure material goods for security and comfort. This self-interested dimension of our personalities is important for our survival, but it can also be destructive if we do not contextualize it appropriately. Jesus is helping us to do this by prioritizing the use of the oil in the story.
In this passage, one can see Lazarus as representative of what is at stake in working out this tension. As the ordinary citizen who has been raised from the dead, Lazarus has overcome the fundamental limitation and tragedy of human existence. He represents the divine potential that resides within the human condition, which is realized through the intervention of Jesus.
Whereas Judas represents the self-interested self that makes material well-being the goal of life, Lazarus reminds us of our dependence on Jesus as the way to liberation and human fulfillment. The passage concludes by pointing out that the chief priests planned to kill Lazarus. As the one who represents the liberating potential of Jesus, which transcends their political power, he is a threat to them. Correspondingly, the passage is a reminder to each of us to pay attention to the tensions within ourselves that can restrict our freedom by focusing too much on material self-interest in contrast to the liberating truth of Jesus as he begins his journey of suffering and sacrifice to overcome human sin.
Is 50:4-9a
Psalm 69:8-10, 21-22, 31, 33-34
MT 26:14-25
The Lord GOD has given me a well-trained tongue,
That I might know how to speak to the weary a word that will rouse them.
Wow. Oh . . . wow. What a verse to stop an academic in her tracks! I almost could not get past this opening verse of scripture for the day. Indeed, I hazard to suggest that we—we who work in any job at or work toward a degree at a Catholic college—could all spend a great deal of time reflecting on this verse. Have we well-trained tongues? Is it hubris to agree that we do? Is it false humility to deny it? How have we used our training? Are our tongues well-trained swords of destruction? Do they spew mayhem and big lies? Is the mark of a well-trained tongue the ability to have the perfect "bon mot" always at the ready? Is it the ability to bend language to our advantage?
Or rather, is the mark of a well-trained tongue the ability to use compassion and insight "to speak to the weary a word that will rouse them"? And—what a responsibility the end of this verse presents! In an age of Covid, how weary are we of fear and death? How can we find the words to rouse the weary? I think of how stretched Fr. Gerard must feel after the past 12 months of relentless pastoral care in tragedy after tragedy, and how this verse lands on him.
I would like to consider the three readings today in the context of this first verse from Isaiah, its image of a well-trained tongue, and how we see ourselves in different roles in scripture.
The selection from Isaiah is one of the four "Servant Songs." The passages from Isaiah and Psalm 69 ask us to reflect on faith in the face of opposition. Typically, the arc of such selections moves from lament to praise. Such a juxtaposition can be comforting—a rousing word to the weary. But we ought not to be fooled. An early move to comfort will be cold comfort in the end.
Instead, I think that scripture calls us to take the time to mull over the characters we encounter and to imagine ourselves in each role. How have we been the aggressor and the opposition who scripture says strike, beat, insult, mock, and poison the Isaian servant or the psalmist? Only after we have considered the ways in which we are the aggressor and oppressor can we begin to imagine what it means to "give my back to those who beat me, my cheeks to those who plucked my beard." The poor and oppressed do not have a choice about being beaten (physically, psychologically, spiritually, economically and more). They are powerless in the face of their oppressor. How does scripture call me to consider how I am an oppressor before I can imagine myself in the role of one of the poor whom the "Lord hears and spurns not"? We need to engage these spiritual thought experiments if we are to understand the Holy Week story of redemption and recreation.
What will I do with my well-trained tongue? Oppress or redeem? Harm or heal?
And now what do we do about Judas? No one ever wants to imagine themselves in the role of Judas. But we must put ourselves in Judas' shoes. Traditionally today is known as "Spy Wednesday." We live in an era of alternate facts and conspiracy theories, so frankly I would rather not have to confront the alternate realities of spies during Holy Week. But so, it is. Judas was something of a double agent and the biblical accounts narrate something of a plot among a few people in the leadership of Jerusalem to ensnare Jesus.
We must place ourselves in Judas's shoes and ask what did Judas/what did I do with my well-trained tongue?
Did I ask the haunting question "Surely it is not I, Lord?" with an honest and humble tongue?
Did I ask the haunting question "Surely it is not I, Lord?" with a disingenuous tongue and with misplaced pride to show others that it really would never be me?
Did I ask the haunting question "Surely it is not I, Lord?" with a tongue concerned for the truth and a desire to discern my need for repentance?
Did I ask the haunting question "Surely it is not I, Lord?" with a conspiratorial tongue to deflect from my true intentions?
What roles do we play with our well-trained tongues?
What is at the heart of a spy game? I would suggest that the two key components are Intimacy and Betrayal. That is why a conspiracy works and why it hurts so deeply.
Think of the intimacy of a dinner party. Now deepen the intimacy many times when the meal that is shared is part of a religious ritual enacted within a family. Think of the intimacy of the thoughts that are shared, of how people reclining at the table know each other's strengths and weaknesses, joys and sorrows, of the expectation that the well-trained tongues around the table would only speak words of support, of comfort, of healing, of truth (even if at times discomforting truth).
Think of the intimacy of eating from the same bowl. Imagine the connection between hearts as you dip into the same bowl and your hands touch and your eyes meet. Imagine the betrayal of such intimate touch.
Now imagine Judas and Jesus together at the Passover table as we listen to the words of a contemporary Haggadah (the order of service for a Seder):
We dip the parsley into salt water, evoking the salty tears that our ancestors wept when they were slaves in Egypt. We taste the tears of suffering intimately and yet recognize, bless and savor the taste of hope. We turn these tears into action and hope into love.
The intended redemption of the ritual turns upside down and inside out. Surely it is not I, Lord? My well-trained tongue attempts to mask my actions. New bitterness. New suffering. New tears. Yet, truth prevails. In fact, in the intimacy of the touch, of the sharing of the meal, of the asking of the question both Judas and Jesus knew the truth. And though the truth was a bitter betrayal, it was borne of intimacy and the gospel concludes today with Jesus responding to Judas's question: "You have said so."
What do we do with our well-trained tongues?
Ash Wednesday 2021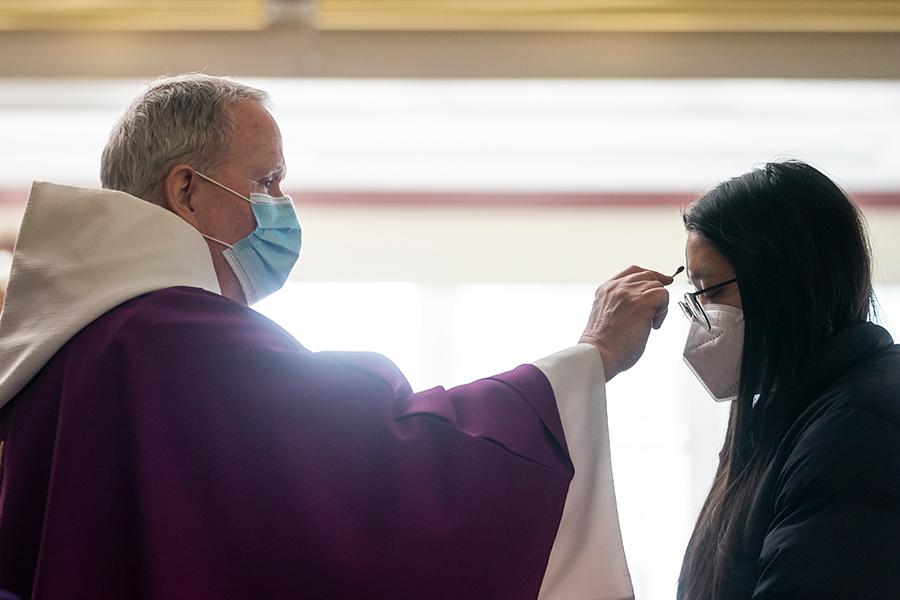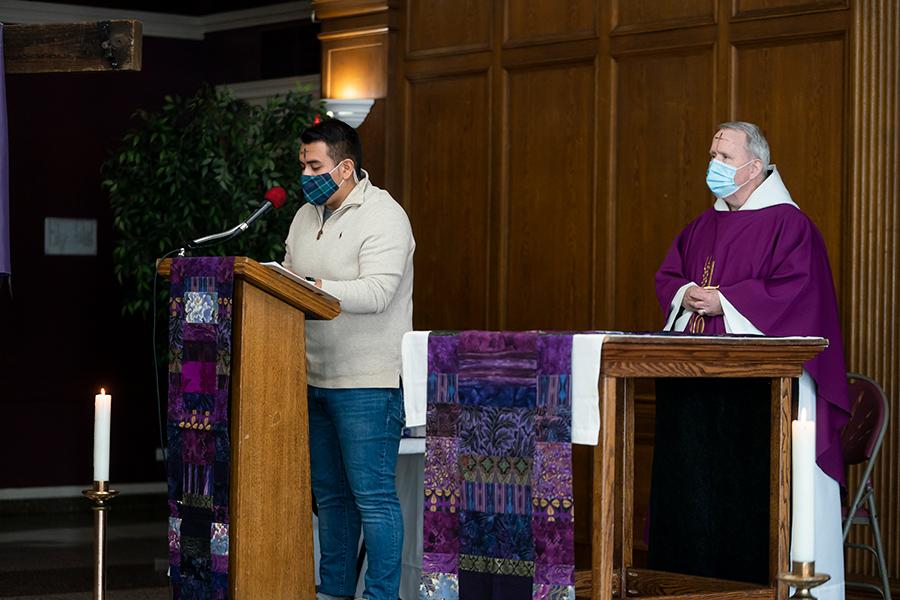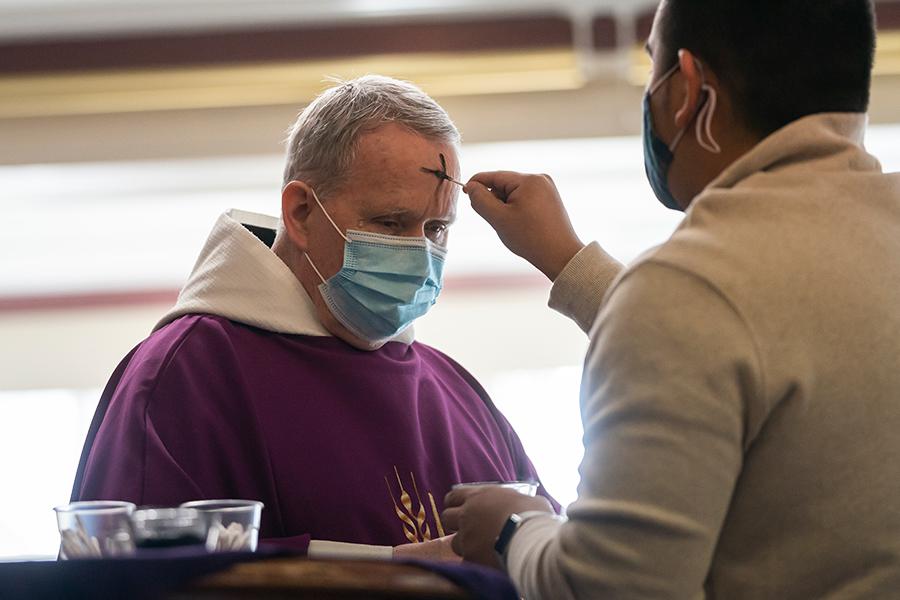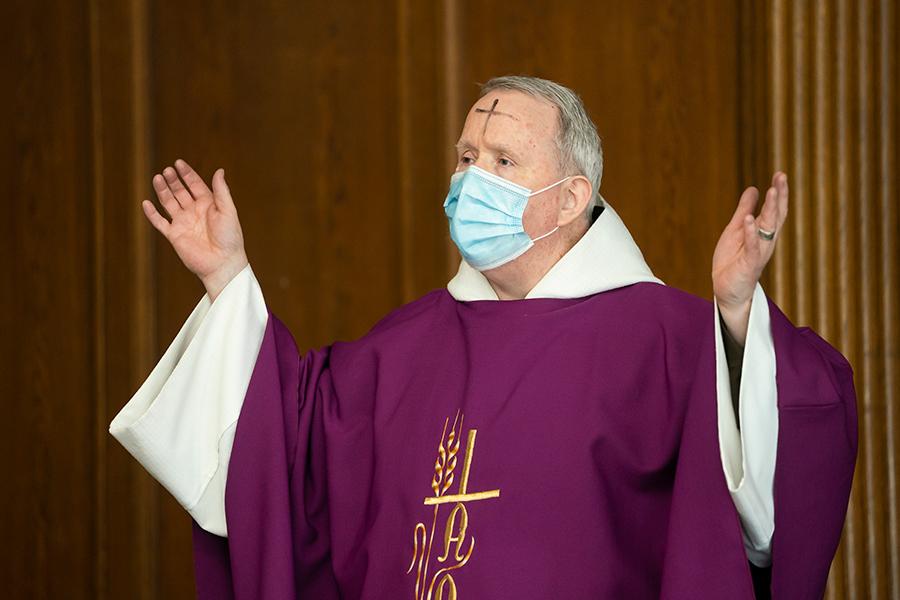 Daily Calendar and Special Events
Mass on Tuesdays in Faculty Reception Room, 5 p.m., (no 12:15 p.m. Mass on Tuesdays in Lent)
Retreat for Busy People: A twist on our week-long Busy People Retreat, in this retreat, retreatants sign up to meet with one of ten prayer guides for 30 minutes each week throughout Lent. Please contact Fr. Gerard Mulvey if interested.
Bible Study: Tuesdays, 3/2, 3/16, and 3/30, 7-8 p.m., Conference Room #1, LaPenta Student Union
Join your fellow Gaels in conversation about deepening one's faith and engaging the Bible.
Taizé Prayer: Monday, 3/15, 7-8 p.m., Holy Family Church.
Join us for a prayer service of song and silence in the style of the community in Taizé, France.
February 17 - Ash Wednesday - 12:15 pm Mass; 2 pm, 3pm, 4 pm, 6pm, 8pm Prayer Service, Arrigoni Center
February 17 - Operation Rice Bowl begins
Every Thursday - Hospitality , 5:30 pm, Burke Lounge, Spellman Hall
Sacrament of Confession - with Fr. Gerard Mulvey prior to mass everyday or anytime by appointment.
Every Monday, Wednesday, and Thursday during Lent-Weekly Mass, 12:15 pm, Faculty Reception Room, Spellman Hall.
March 30 - Stations of the Cross, Noon, St. Columba Statute
April 9 - Operation Rice Bowl donations due in the Office of Mission and Ministry
Please contact the Office of Mission and Ministry for information on any of the programs listed on this page.
(914) 637-2772
Deepen your Lent by doing Operation Rice Bowl!
Rice Bowl is a way to give to our neighbors who are suffering from poverty. 75% of the total funds collected during Lent will support Catholic Relief Services' programs around the world, while the remainder will be given to a local soup kitchen.
$1 a day for 40 days of Lent means: 1 month of food for a family, 2 years of seed for a farmer, or 3 months of clean water for 4 families.
Stand in solidarity with the world's poor by giving of yourself this Lent.
Please pick up your Rice Bowl after Ash Wednesday mass, after the services or in the Office of Mission and Ministry. Please return the Rice Bowls to the Office by April 9, 2021. Thank you for your help! You are needed!
Stations of the Cross
March 30, 2021 at Noon
At the Columba Statue
Iona students re-enact the story of the Passion of Jesus. Student clubs and organizations offer a prayer at each station as participants walk through campus. The Stations of the Cross is a Lenten devotion that offers witness to Jesus' Passion and Death. Soup and bread served at Montgomery House afterwards.
Daily Lenten Calendar: February 17-April 3, 2021
February 17
Ash Wedednesday
12:15 pm Mass
2pm, 3pm, 6pm, 8pm Prayer Services
Arrigoni Center
February 18
Deuteronomy 30:15-20
"Moses said to the people: "Today I have set before you life and prosperity..."
5:30 p.m. Hospitality
February 19
Isaiah 58:1-9A
"Sharing your bread with the hungry, sheltering the oppressed and the homeless; Clothing the naked when you see them, and not turning your back on your own."
February 20
Isaiah 58:9B-14
"If you bestow your bread on the hungry and satisfy the afflicted; Then light shall rise for you in the darkness..."
February 21
Genesis 9:8-15
"I set my bow in the clouds to serve as a sign of the covenant between me and the earth."
6 p.m. Mass, Holy Family
February 22
Leviticus 19: 1-2, 11-18
"Take no revenge and cherish no grudge against your fellow countrymen. You shall love your neighbor as yourself."
Reflector: Joel Quintong
February 23
Isaiah 55: 10-11
"Giving seed to the one who sows and bread to the one who eats,"
5 p.m. Mass
Faculty Reception Room
Reflector: Dr. Carl Procario-Foley
February 24
Luke 11:29-32
"...people gathered in the crowd, Jesus said to them, "This generation is an evil generation; it seeks a sign, but no sign will be given..."
February 25
Peter 5: 1-4
"Tend the flock of God in your midst, overseeing not by constraint but willingly, as God would have it..."
5:30 p.m. Hospitality
February 26
Ezekiel 18:21-28
"Thus says the Lord GOD: If the wicked man turns away from all the sins he committed, if he keeps all my statutes and does what is right and just, he shall surely live, he shall not die."
February 27
Matthew 5:43-48
"Jesus said to his disciples: '... love your enemies, and pray for those who persecute you...'"
February 28
Romans 8:31B-34
"Brothers and sisters: If God is for us, who can be against us?"
March 1
Luke 6:36-38
"Stop judging and you will not be judged. Stop condemning and you will not be condemned. Forgive and you will be forgiven. Give and gifts will be given to you; a good measure, packed together, shaken down, and overflowing, will be poured into your lap."
Reflector: Brother Jason Ford
March 2
Matthew 23: 1—12
"The greatest among you must be your servant. Whoever exalts himself will be humbled; but whoever humbles himself will be exalted."
5 p.m. Mass
Faculty Reception Room
Reflector: Dr. T.J. Moretti
March 3
Matthew 20:17-28
"...the Son of Man did not come to be served but to serve and to give his life as a ransom for many."
Reflector: Dr. Christina Carlson
March 4
Jeremiah 17: 5 - 10
"Blessed is the man who trusts in the LORD, whose hope is the LORD."
5:30 p.m. Hospitality
March 5
Jeremiah 21:33-43, 45-46
"I say to you, the Kingdom of God will be taken away from you and given to a people that will produce its fruit."
March 6
Luke 15:1-3, 11-32
"My son, you are here with me always; everything I have is yours. But now we must celebrate and rejoice,..."
March 7
Romans 5:1-2, 5-8
"Brothers and sisters: Since we have been justified by faith, we have peace with God through our Lord Jesus Christ..."
March 8
Luke 4:24-30
"Jesus said to the people in the synagogue at Nazareth: 'Amen, I say to you...'"
March 9
Matthew 18:21-35
"Lord, if my brother sins against me, how often must I forgive him? As many as seven times?" Jesus answered, "I say to you, not seven times but seventy-seven times."
5 p.m. Mass
March 10
Matthew 5:17-39
"Whoever obeys and teaches these commandments will be called greatest in the Kingdom of heaven."
Reflector: Dr. Vin Maher
March 11
Jeremiah 7:23-28
"Come, let us return to the LORD..."
5:30 p.m.
Hospitality Reflector: Dr. J. Breslin
March 12
Hosea 14:2-10
"Let him who is wise understand these things; let him who is prudent know them..."
March 13
Hosea 6:1-6
"Listen to my voice; then I will be your God and you shall be my people. Walk in all the ways that I command you, so that you may prosper."
March 14
Ephesians 5:8-14
"Awake, O sleeper, and arise from the dead, and Christ will give you light."
March 15
Isaiah 65:17
"Thus says the LORD: Lo, I am about to create new heavens and a new earth; The things of the past shall not be remembered or come to mind."
Reflector: Tony Iodice
Taizé Prayer, 7 p.m.
March 16
Ezekiel 47:1-9
"Wherever the river flows, every sort of living creature that can multiply shall live, and there shall be abundant fish, for wherever this water comes the sea shall be made fresh..."
5 p.m. Mass
Faculty Reception Room
March 17
John 5:17-30
"Whoever does not honor the Son does not honor the Father who sent him..."
March 18
Exodus 32:7-14
"I will make your descend-ants as numerous as the stars in the sky; and all this land that I promised, I will give your descendants as their perpetual heritage."
5:30 p.m. Hospitality
March 19
John 7:1-2, 10, 25-30
"You know me and also know where I am from. Yet I did not come on my own, but the one who sent me, whom you do not know, is true."
March 20
Jeremiah 11:18-20
"O LORD of hosts, O just Judge, searcher of mind and heart, Let me witness..."
March 21
Romans 8:8-11
"Whoever does not have the Spirit of Christ does not belong to him. But if Christ is in you, although the body is dead because of sin, the spirit is alive because of righteousness."
6 p.m. Mass, Holy Family
March 22
Romans 4:13, 16-18, 22
" ...but through the righteousness that comes from faith. For this reason, it depends on faith, so that it may be a gift..."
March 23
John 8:21-30
"You belong to what is below, I belong to what is above. You belong to this world, but I do not belong to this world."
5 p.m. Mass
Faculty Reception Room
March 24
John 8:31-42
"If you remain in my word, you will truly be my disciples, and you will know the truth, and the truth will set you free."
Reflector: Felicia Colangelo
March 25
Genesis 17:3-9
"God also said to Abraham: 'On your part, you and your descendants after you must keep my covenant throughout the ages.'"
Reflector: Dr. Fran Bailie
5:30 p.m. Hospitality
March 26
John 10:31-42
"I have shown you many good works from my Father. For which of these are you trying to stone me?"
March 27
Ezekiel 37:21-28
"Never again shall they be two nations, and never again shall they be divided into two kingdoms."
March 28
Mark 11:1-10
"Blessed is he who comes in the name of the Lord! Blessed is the kingdom of our father David that is to come! Hosanna in the highest!"
6 p.m. Mass, Holy Family
March 29
Isaiah 42:1-7
"...I, the LORD, have called you for the victory of justice, I have grasped you by the hand; I formed you, and set you as a covenant of the people..." Reflector: President Carey
March 30
Isaiah 49:1-6
" ...my reward is with the LORD, my recompense is with my God."
5:00 p.m. Mass
Faculty Reception Room
March 31
Isaiah 50:4-9A
"The Lord GOD is my help..."
Reflector: Dr. Elena Procario-Foley
April 1
EASTER BREAK
Holy Thursday
April 2
EASTER BREAK
Good Friday
April 3
EASTER BREAK
Holy Saturday
April 4
EASTER SUNDAY
ALLELUIA! HE IS RISEN!