Interactive Degree Audit
The interactive degree audit is a tool that allows students and advisors to track a student's progress toward degree completion. It is available through myiona.iona.edu and can be used for academic planning and course selection. Degree audits can be run at any time and as often as you'd like. Every time an audit is run, it retrieves the most up-to-date information and matches it against program requirements. "What-if" audits are also available to run to show how current coursework matches against a different major, minor, or degree.
Please note this tool does not eliminate the need to meet with an academic advisor. All students are encouraged to meet with their academic advisors to ensure they are on track with their degree program. The degree audit is not considered an official document and does not take the place of a transcript as your official academic record.
Interpreting the Interactive Degree Audit System
If you have any questions or issues after running a degree audit, please speak with your advisor or email registrar@iona.edu.
Interactive Degree Audit FAQs
The interactive degree audit is a tool that allows students to see how their completed and planned coursework fulfills their intended degree program. It also displays any outstanding coursework the student needs to complete in order to earn their intended degree.
Yes. The interactive degree audit will be used by your advisor during the advising process to help chart your trajectory toward degree completion. Furthermore, if any questions arise regarding degree requirements and course substitutions, your advisor will be pivotal in helping you with that information.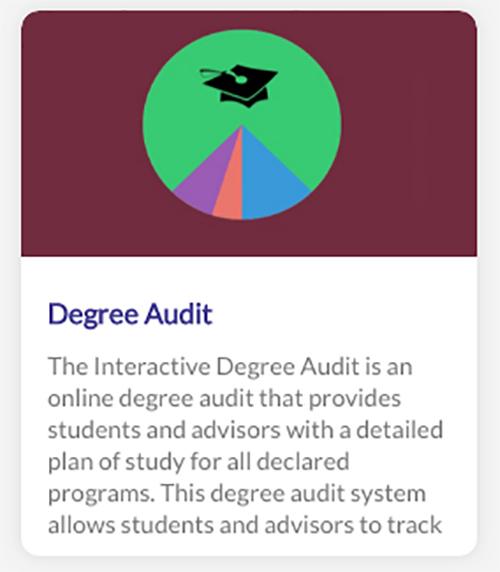 Simply sign into myiona.iona.edu and you will see an option for the degree audit.
Yes! Any work completed prior to becoming an Iona student, whether it is AP/IB/CLEP credit or coursework from another institution, will appear on the audit.
If you believe that there is an error with your audit, please be sure to contact your academic advisor so they may review it with you. Your advisor can work with the Registrar's Office to correct any errors that may exist.
Audits can be run at any time and as often as you wish, but we recommend running an audit on the following occasions:
Before you register for classes.

Running an audit prior to registering for classes is a good way to determine which requirements you need to fulfill for your degree and will help you choose your classes appropriately.

After you register for classes.

Once your class registration is complete for a particular term, you should run an audit to make sure all of the courses you are registered for satisfy requirements for your degree.

If you change your major or minor.

When you change your program plan, it is important to run a new audit to see how the courses you have taken fulfill any new requirements added to your audit.
No. The degree audit is your program plan of study and helps students and advisors in planning out the completion of a particular degree. The only official documentation of degree completion is an official transcript.
If you run an audit and receive no results, be sure to contact your advisor or the registrar's office.
More Tools
Schedmule
Take control of your time by creating a schedule based on your preferences!
Planner
Advisors can use this product to help students chart out their pathway to degree completion term-by-term.