Iona University's Master of Arts in Psychology Prepares Laura Bauer '23MA to Conduct Groundbreaking Research in Space Exploration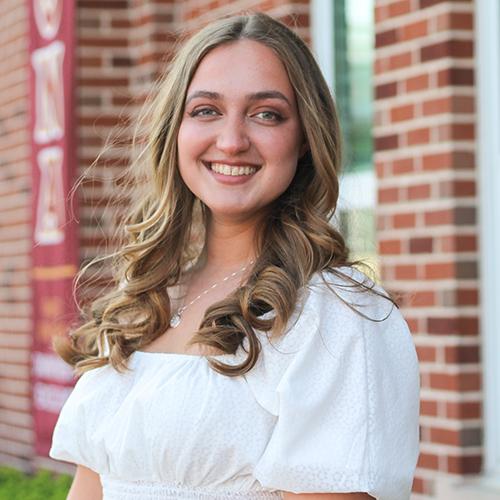 Hometown: Mahopac, New York
High School: Mahopac High School
Major(s): Industrial Organizational Psychology, MA
Favorite Spot on Campus: The Harry Potter Room in Ryan Library
Why did you decide to attend Iona?
I was looking for programs that offered a graduate degree in industrial-organizational (I-O) psychology that gave students the opportunity to conduct research as well as participate in an internship, so Iona was a perfect choice! My mom received her degree from Iona as well, so I thought it was very fitting to follow in her footsteps.
Tell us about the Ph.D. program you will be pursuing next.
I will be attending Michigan State University in the fall of 2023 to pursue my Ph.D. in organizational psychology. I will be working closely with Dr. Dorothy Carter in the Leadership, Innovation, Networks and Collaboration (LINC) Laboratory on research projects funded by NASA and the Army Research Institute. The LINC Lab is currently working on projects that aim to understand the nuances of spaceflight multiteam systems for the mission to Mars!
When/how did you decide to pursue a Ph.D.?
During my time in my undergraduate program, I decided I wanted to pursue a career that involved working with teams of astronauts. I scoured LinkedIn to find researchers in this field and see how they got to where they were, and I discovered that they all held a doctorate degree. That's when I knew this was the path that would get me to my goal.
In what ways has Iona prepared you for your Ph.D. program?
My time at Iona allowed me to broaden my experiences in the field of I-O. Here, I could pursue my current research interests, present my findings at professional psychology conferences, gain experience working in the field of I-O through my internship and obtain a specialized degree in I-O psychology.
What do you feel is the most distinctive advantage gained from your Iona experience?
Getting to work with such amazing faculty who helped shaped my ideas into concrete actions and support me along the way was the best experience I could have asked for. My mentors at Iona are the reason I was able to get into a Ph.D. program and I'm so thankful to have their support.
What Iona University faculty or staff members has made a positive impact on your future? Why?
Throughout my two years at Iona, I worked directly with Dr. Brandon Ring as a research assistant in his lab, where I developed skills as both a professional in I-O, and as a researcher. Dr. Ring supported me every step of the way and gave me the opportunity to pursue my goals, while coaching me through challenges along the way. I wouldn't be here without him, his reassurance and his patience! I would also not be where I am today without Dr. Brian Cesario and Dr. Patricia Oswald, who helped me curate my thesis goals into a reality and were always there to guide me in the right direction - no matter the challenge (or the silly questions). Thank you for everything!