Laurie Rebholz '99MBA, Managing Director at Citi, Says 'My Time at Iona Was an Important Investment in Myself'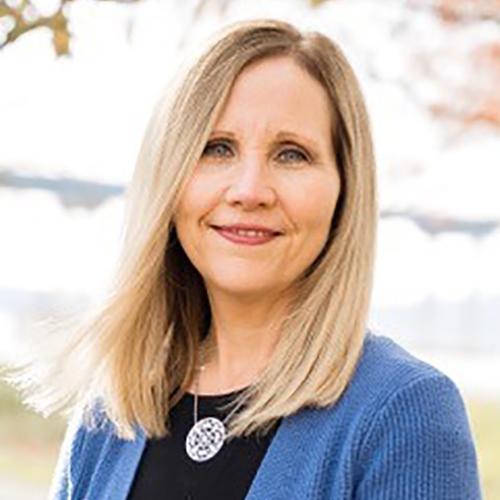 Name: Laurie Rebholz
Hometown: Pelham, N.Y.
High School: Pelham Memorial High School
Degree: MBA, Concentration in Human Resource Management
Graduation Year: 1999
Company: Citi
Job Title: Managing Director, Leadership and Performance Solutions (Learning and Development)
What is a day in the life like at your company?
Busy! My days are often quite full from start to finish, and no two days are the same. We're an extremely collegial organization, so I spend a lot of time with my team, peers and stakeholders, which I very much enjoy about our culture. (My family seems to think I just attend meetings all day every day!)
What do you love most about what you're currently doing?
Everything! I lead a team of amazingly talented, committed and engaged professionals. Our goal is to help equip our global leaders at all levels to get the most out of their teams. We help leaders further develop skills such as coaching, delegation, inclusive leadership and credible challenge through our portfolio of learning programs. Knowing I might influence our culture through how people are managed each day is extremely fulfilling.
How did Iona prepare you to get where you are today?
Going for my MBA at night with other working professionals was inspiring. The practicality of the experience allowed me to apply what I was learning in real time; it really energized me to see my education put to use so quickly. While I hoped an MBA would help me build greater credibility as I moved from a non-profit job to a role in corporate America, it was as much about challenging myself to further develop. I knew it would be an amazing accomplishment to secure an advanced degree while working, and it was an opportunity that really motivated me.
Were you involved in any student groups or activities? If so, how did they shape or support your career path?
I went for my MBA at night while I was working, so unfortunately that didn't allow for much involvement with activities on campus. I will say my experience in projects allowed me to connect with extremely smart and ambitious professionals and helped me explore different areas of business that I might enjoy as part of my career journey.
What is the lasting impact Iona has made in your personal and professional life?
My accomplishment of securing an MBA while working is a source of great pride for me, so of course Iona is tied closely to those memories. My time at Iona was an important investment in myself and continues to be a reminder that pushing yourself to new heights and seeking ongoing growth and development is critically important to your overall confidence and success. I am currently the chair of the LaPenta School of Business Executive Advisory Council, so there has been a more recent (and I'm sure lasting) impact in my personal and professional life. I've met some amazing executives as well as current students and I'm so inspired about the value that an Iona education continues to provide many years later.
What advice do you have for a current Iona student who wants to follow a similar path?
Do it! I think I have the greatest career on earth – I don't think enough people consider human resources or learning and development early in their career. Even in HR, there are roles focused on data and metrics, finance and numbers (compensation), policies, etc. so there is tremendous variety, challenge and opportunity available.
What seven words would your family and friends use to describe you?
They would describe me as loyal, caring, fun, energetic, organized, driven and stubborn.