2X NBA All-Star Allan Houston Talks Faith, Leadership, Legacy at Iona University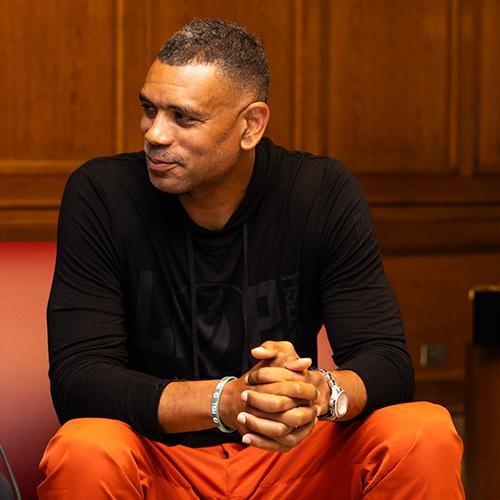 New Rochelle, N.Y. – To whom much is given, much is required. For two-time NBA All-Star Allan Houston and his wife, Tammi, that Bible verse provides powerful words to live by.
"It was always bigger than basketball. I knew that I had talent, but I was always taught that the talent was for a bigger reason and purpose," the former Knicks shooting guard said Wednesday night. "Life is perspective. It's not what happens to you, it's how you perceive it and what you do with it and how you move forward from it that matters. You win first from within. The scores and the trophies and everything that comes after is all from your preparation."
Speaking to a crowd of students, faculty and staff in Thomas J. Burke Lounge at Iona University, the Houstons shared words of wisdom about their personal and professional journeys, including parenting seven children as well as launching a social impact brand, FISLL.
Named after the five fundamentals that inspired Allan Houston on the court and in life, FISLL emphasizes the importance of faith, integrity, sacrifice, leadership and legacy.
"I was on the plane one day and I just wrote down those five words," Allan Houston said. "Faith is a big part of our identity. I am always listening to my spirit, listening to God's voice. I encourage you all to take quiet time and just listen, just reflect. Because it's in those quiet moments that you receive the most power."
"You are going to learn a lot of information from your professors and your classrooms," he added. "But wisdom comes from God. And it comes from how you apply that information you're going to get."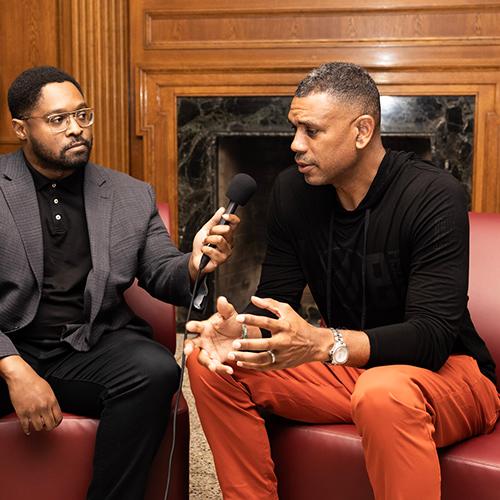 Sharing stories from the NBA sprinkled in with laughs about parenting and deep truths about trust, faith and so much more, the Houstons kept the room captivated by their clear and passionate insights into success and leadership.
"What he's telling you, he has lived," Tammi Houston said. "They say walk the talk. But I want you to know – this talk, we have walked it. Whatever you put your mind to, you have to put your mind into doing it well. You have to have the highest standard for yourself. Otherwise, why do it?"
Alison Munsch, Ph.D. , Iona's chief officer of Diversity, Equity, Inclusion and Belonging, organized the opportunity and led the discussion. Her thoughtful questions helped to guide the conversation toward key takeaways that people could apply toward success in their own lives. There were countless nuggets of wisdom throughout the fireside chat.
"Your life is an opportunity to lead where you stand. It becomes a lifestyle," Tammi Houston said. "When you know you're a winner, you're going to act like a winner, you're going to lead like a winner, you're going to show up like a winner. Actions always speak louder than words."  
"You have to have a desire to get better every single day. We don't know what the future is going to look like, but we can show up today," Allan Houston said. "The question I want to start and end with is this: How do you want to show up?"