Iona University Inaugural GaelVentures Incubator Connects Recent Graduates with Alumni and Community Leaders to Put Ideas into Action
After one-month post-graduation, four recent graduates put their entrepreneurial ideas to the test with guidance from alumni and community leaders in the Hynes Institute for Entrepreneurship & Innovation's 2023 GaelVentures Incubator.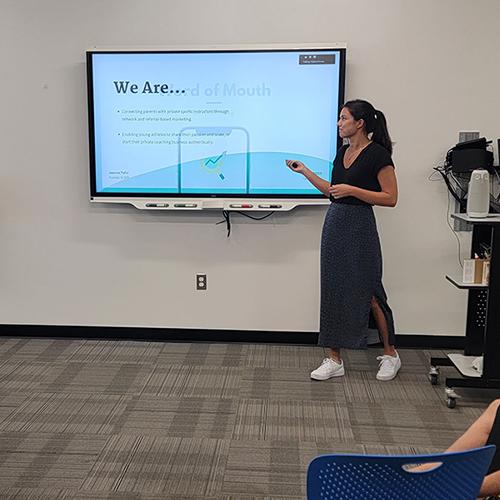 Through the Hynes Institute for Entrepreneurship & Innovation, the GaelVentures 2023 Summer Incubator  program leveraged all the resources available at GaelVentures to support recent graduates in launching their ventures. Whether developing a product, service, or a side hustle, this 5-week intensive program provided the young entrepreneurs with the resources they needed to turn their goals into a reality and accelerate the launch of their projects.  
Founders and their unique projects from the 2023 GaelVentures Incubator included:
Tommy Marchelos '23 – BA  in Entrepreneurial Leadership  
EZ-Sock: The EZ-Sock is an assisted living device that allows people with chronic pains or mobility issues to reclaim their independence by making it easier to put on socks. 
Joanna Falisi '23 - BS in Economics & BBA Entrepreneurship  
Word of Mouth: Word of Mouth connects parents with private sports instructors through network and referral-based marketing, while enabling young athletes to share their passion and start their own private coaching business. 
Juan Cadille '23 - BA in Computer Science and Philosophy 
SocraTAi: The SocraTAi software empowers students with AI-generated feedback, Socratic questions, and summaries for homework. This aids educators in reducing hours spent developing feedback and promotes professor-moderated AI integration in education. 
Michael Brand '23 – BA in Computer Science 
WallPulse: WallPulse redefines the process for Interior Design by leveraging technology to add variety and movement to decor. The goal is to make the transformation of personal spaces seamless for both creator and consumer through a digital medium.
Local experts, alumni, and the Hynes Institute's mentor network met with the founders throughout the summer to deep dive into market research, customer discovery, and product/service validation & development at the GaelVentures coworking space. Multiple processes in the business development journey were researched, developed, and put to the test.
Thank you to the following alumni mentors and community leaders for lending their time and expertise during the 2023 GaelVentures Incubator.
Alumni Mentors
James P. Hynes '69, 01H and Anne Marie Hynes (Benefactors of the Hynes Institute of Entrepreneurship & Innovation)
Ed McNally '78 (President and CEO Star Marketing Svcs. Group)
Tony Goncalves '94 (former CRO of Warner Media)
Patrick Halloran, CPA, '95 (Partner at PFK O'Connor Davies, LLP)
Danny Potocki '06 (Founder of Finis Ventures and Lecturer, Entrepreneurship & Management at SUNY New Paltz)
Charissa Eykelhoff '16 (Owner of Simply Loved Weddings)
Hynes Institute Mentor Network
James Abruzzo (Founding Partner of JGA Partners, LLC.)
Stacey Cohen (Founder of Co Communications)
Jeffery Davis (Partner at Davis & Cantor)
Noel D'Allacco (Founder of Operation Prom & Director of Development & Strategic Initiatives for the Women's Enterprise Development Center)
Liz Gallo (Founder of WhyMaker).
Pam Miner (Director of Partnerships at the Hudson Valley Center for Innovation)
Genevieve Piturro (Founder of the Pajama Program)
Walter Recher (Founder of Small Ball Marketing).
Marc Seiler (CFO Group Finance Director at Nestle Turkey)
Lisa Tretler (founder of Business Boosters Consulting & Strategist in Residence at the Hynes Institute)
Ahmed Zahlan (Ph.D. Student in Entrepreneurship and Innovation at Africa Business School at UM6P)
2023 GaelVentures Incubator: Weekly Breakdown
Week 1 placed an emphasis on goal setting and defining mission, vision, values, and target markets.
During Week 2, the founders conducted market research and customer discovery. This was performed by surveying target markets to gain insight into demographic information, preferences, and behaviors.
Week 3 continued with customer discovery and product development. Each of the participants started developing high-resolution prototypes in order to solicit feedback from their market and build strategies for customer acquisition. 
Week 4 honed in on marketing and branding. The founders heard from several experts and with the support of their mentors, they crafted language, logos, and strategies for how to reach their customers.
Week 5 focused on nailing down startup expenses, recurring expenses, and capital needs for launching. The cohort also put the finishing touches on their presentations for "Demo Day." Demo Day was a culmination of a summer of hard work, intensive research, and support from community and alumni members through final presentations.
The expertise, mentorship, and community support received throughout the course of the 2023 GaelVentures Incubator i s a testament to the mantra, "Gaels Take Care of Gaels." With supporters from diverse backgrounds in corporate industries and non-profit sectors, the participating Iona graduates gained invaluable experience as they jumpstart their entrepreneurial projects.