Alumni Spotlight: Mary Bongo '15, '17MSEd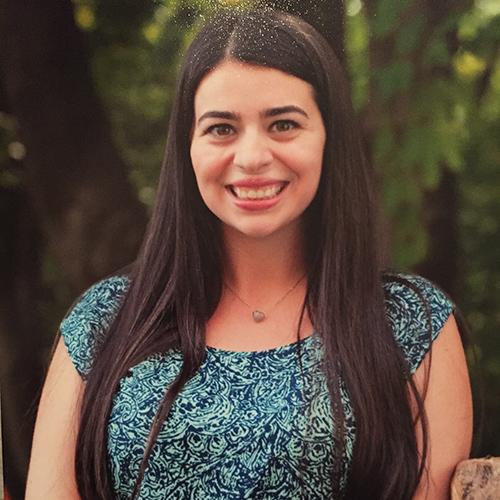 "Mary has been a stand-out teacher in terms of her pedagogical skill, her ability to engage students and her collaboration with fellow teachers.  I have no doubt that a great deal of her success can be attributed to her preparation at Iona. In the nearly 20 years that I have been an instructional leader in both the humanities and special education, Mary now stands out as one of the most memorable educators I have had the pleasure to see in action." – David Luhman, chair of the Humanities Department at Albert Leonard Middle School.
When Mary Bongo '15, '17MSEd transitioned from Iona's campus to a classroom of her own, she never imagined the impact she would make, the bonds she would form or the lives she would change as an educator. Because of her top-notch competency, and the care and enthusiasm displayed in her work, Bongo received the Outstanding Middle School Social Studies Teacher Award presented by the Westchester Lower Hudson Council for the Social Studies.
The awards ceremony was held on May 25 at Smith's Tavern of the North Castle Historical Society in Armonk, N.Y.
Bongo recently took the time to share more about life at Iona and beyond as well as how her experiences at the College led her to where she is today.
Hometown: Pelham, N.Y.
Undergraduate Major: Adolescent Education, Concentration in Social Studies
Graduate Major: Special Education and Literacy 
Current Position: Seventh and Eighth Grade Social Studies Teacher at Albert Leonard Middle School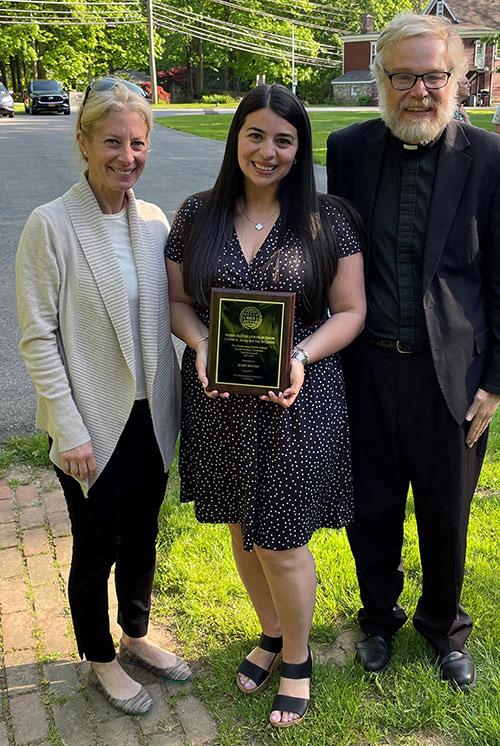 1. Why did you decide to study your particular major?
I always knew I wanted to be a teacher from a young age; I loved playing pretend school with my younger sister. When I got to Iona, I was unsure of what type of teacher I wanted to be, but during my sophomore year, I was placed at Dodson School in Yonkers in both a kindergarten and middle school classroom. I decided I wanted to teach middle schoolers — I fell in love with that particular age demographic.
2. How did your experiences at Iona help prepare you for your current role?
Iona gave me hands-on experience working with students in multiple placements. My student teaching placement was actually at Albert Leonard Middle School, so the College helped me get my current job now. Through Iona's vast placement opportunities, I was able to see a variety of teaching styles and real-life strategies come to life.
The professors at Iona College were also so supportive. They went above and beyond to challenge and differentiate their lessons to fit the needs of all students in the class. Their classes taught me research-based strategies that I use in my class today. They really do care about their students. One professor in particular who impacted my educational career is Dennis Gunn, Ph.D., CFC, '93. Br. Gunn was always there whenever I needed him for educational advice. He spent countless hours with me outside of the classroom to offer help in creating demonstration lessons and practicing my interview skills. Br. Gunn and I have developed a friendship that still exists to this day. 
I am forever grateful to all of my professors that I have had at Iona College. They have helped shape me into the educator that I am. 
3. What are some of your other postgraduate accomplishments, in addition to your Outstanding Middle School Social Studies Teacher Award?
After graduation, I received all my professional teaching licenses in N.Y. state and also recently got tenure at Albert Leonard Middle School.
4. What is your favorite part about being an educator?  
This is such an easy question! My favorite part of being a teacher is my students. I love getting to know my students inside and outside of the classroom. They are the reason that I love my job. I love when my former students come back to visit me and share their accomplishments.
5. What activities were you involved in at Iona? 
 I was a member of Edmund Rice Society and worked at summer orientations, which was a great time. I was also the president of Iona College's Education Honor Society, a member of the History Honor Society and vice president of the Italian Society.
6. What advice do you have for a current Iona student who wants to follow a similar path?
My advice for current Iona education students is to be like a sponge. Soak up all of the opportunities that Iona provides.  Take advantage of all of the school placement opportunities and stay after the required hours if you can. The more observing you do, the more you are able to see different strategies and styles in practice. Over my years as a teacher, I have found that the key to a successful classroom is building relationships with students. Once students feel comfortable with you and they know that you care about them, they are willing to take academic risks.