At Con Edison, Brendan Getzler '19 Helps Make Sure New York is the City that Never Sleeps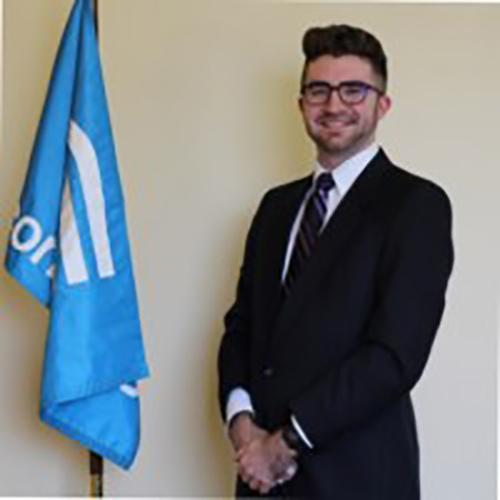 Hometown: Bellmore, N.Y.
High School: Wellington C. Mepham High School
Major(s): Information Systems and Finance
Company: Con Edison
Title: Systems Analyst
What do you love most about what you're currently doing?
I love that what I am doing is for the betterment of my community. Since my group is working on modernizing the NYC grid, it gives me pride that I am working on an initiative that helps New York be the city that never sleeps. Most of all, I really enjoy my teammates. What really makes my job great is that I have the support of everyone in my department to learn, grow, and become a better professional. Lastly, my team and department encourage continuous development, so they were fully supportive of me continuing my secondary education at NYU Stern School of Business.
Why did you decide to study your particular major?
Throughout high school, I knew I wanted to work in technology. I took up learning JavaScript until ultimately realizing that I did not want to be a software engineer. My main skills were analytics, data driven decisions, and utilizing software to simplify tasks. The major of information systems crossed my path, and I learned that it was, simply put, the "business side of computer science." I never considered a business degree until then, and it opened my eyes. This major felt like it was created just for me. I completed the information systems curriculum by the end of my third year at Iona, and I wanted to double major in something that would complement my information systems degree. I ultimately chose finance.
How did Iona prepare you to get where you are today?
Aside from my mom, I owe my life to the Iona community for helping me get to where I am today. I left high school with the goal to get a systems analyst job right out of college, and Iona helped me get there. Midway through my time at Iona, a dream came true – I got to work for the NFL as an IT intern.
Were you involved in student groups or activities? If so, how did they shape or support your career path?
I have no regrets on my student group activity level, except for the fact that I should have started earlier. When I started at Iona, I was a member of the Honors Program, which took up most of my time. Looking back at my four years, I can safely say that the Honors Program helped me grow in the best way possible. The books I read in humanities shaped my way of thinking today.
In high school, I played bass drum for the marching band and saw an opportunity to try out for the Pipe Band. I eventually joined the team and was elected club president my senior year. I was also a member of Pi Kappa Phi Fraternity which allowed me to make lifelong friends and connections. From a personal perspective, being in Pi Kappa Phi taught me how to be more responsible for my actions. I was also involved in Iona's Athletics Department, working on the field and behind the scenes for live sporting events.
Attending Iona gave me a platform to continue my involvement in my faith. I participated in the Office of Mission & Ministry's Midnight Runs and Hospitality Dinners, and I also went on a mission trip to Ireland. Lastly, I was a business tutor in the Rudin Center, which shaped my career; it challenged me to find multiple ways to say the same information while also being a subject-matter expert across various business topics. That is critical in my job now because all my co-workers come from diverse backgrounds and cultures, where being able to understand and explain both sides of the information can be the difference between conveying your message versus losing the audience.
What's your fondest Iona memory?
I cannot pinpoint it to one moment. My entire senior year was something I can look on during my Iona tenure and would not change a single moment. Between all the senior year events, finishing my internship, to graduating at Madison Square Garden and celebrating with my family and friends along the way. Specific events like marching in my last parade in the Pipe Band, senior formal at Glen Island, 75 nights until graduation in the library, the Honors Convocation, presenting my honors thesis, and finishing my second major just touch the surface of what made my senior year so special.
Was there a professor, staff member, or peer who made an impact on you while you were at Iona? If so, who and why?
At Iona, my honors advisor, Dr. Griffith, made such an impact on my time at Iona. There were many moments where I doubted myself, but he urged me to continue with the program. He helped me find out where I needed to be mentally and encouraged me to keep going. This taught me resiliency and to not give up just because something was hard. He also encouraged me to go in the path of information systems, finish launching the information systems club at Iona, and to author a technical honors thesis on cryptocurrency, which brought both of my majors together. Through many times of doubt, I have him to thank for the beginning, middle and end of my honors career at Iona.
What advice do you have for a current Iona student who wants to follow a similar path?
Advice I would give to a current student is to get out of your comfort zone and surround yourself with those willing to help you do that. Throughout my entire time at Iona, the stars aligned with my friend group and professional network. My only job was to put the work in to be the best version of myself – that starts with going out of your comfort zone and becoming comfortable being uncomfortable. Only you are responsible for the life you live. Life throws bad experiences at you; it is up to you to control how you handle them.
How would your family and friends describe you?
They would say I'm productive with a sense of humor.