Delia Fernandez '20
"All of my professors, in every single class I was enrolled in at Iona, knew my name. I was never just another occupied seat in their classroom."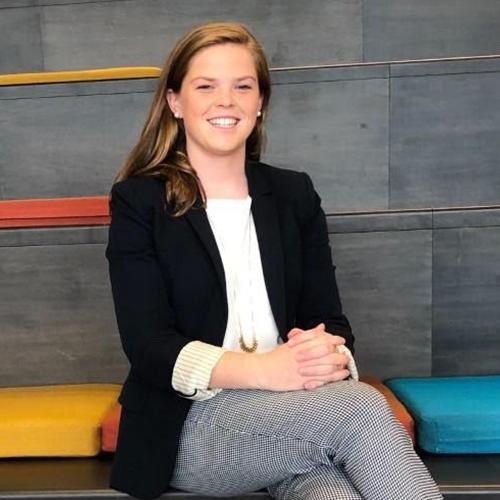 Major: Marketing
Hometown: Malverne, N.Y.
High School: Kellenberg Memorial High School
Why did you choose Iona?
The strong community upon which Iona is built was most impressive to me as a prospective student back in 2016. Overall, there were several factors that drew me to Iona, besides the communal aspect that is ever-so evident as you step on to the school's beautiful campus in New Rochelle.
Proximity to the city was certainly a plus. I could attend interviews, conferences, participate in national competitions, go to dinner with friends, and attend shows all within a short ride of the Gael Express and Metro North. Being close to a city is something you want to consider, especially as a business major.
The reputation of the LaPenta School of Business was important to me. Iona may be small, but it certainly holds its own. I can attest to this as a summer intern for some major companies including 21st Century Fox and WPP's GroupM. As a rising junior and rising senior, I worked alongside Ivy League students and students from other competitive colleges/universities in rigorous summer programs that I discovered either through Iona or a connection that I made at Iona.
Iona's small class sizes impressed me. This was something I did not realize was so important until I was a student. Something that may sound foreign to college students at other colleges/universities, especially at the freshman level, is that all my professors, in every single class I was enrolled in at Iona, knew my name. I was never just another occupied seat in their classroom. These small class sizes allowed for intimate group discussion and for students to further engage with one another. It is a more personal learning experience that you can gain significantly from.
Lastly was Iona's Division 1 rowing team. I wanted to pursue rowing in college and Iona's facilities offered an indoor rowing tank. This is considered a rare luxury for rowing teams, even at the Division 1 level. I had heard of former Iona rowers having good experiences, and having already acquired interest in the school, this was definitely a bonus for me. Being part of the athletic community was one my favorite aspects of college. It is a community made up of amazingly talented and hard-working people that not only aim high but produce results. I definitely miss the rowing team camaraderie, traveling, and of course, the occasional 5 a.m. morning row while coxing the four (you know who you are).
Why did you choose your major?
I chose Marketing as my major because it was a broader study of business that allowed for flexibility, creativity, and continual learning. I can explore many industries and am not confined to one discipline. Overall, I love meeting and engaging with people. Learning about and from others is something I really enjoy and has made me grow significantly as a person. Most roles in marketing will require that you work with a team and are a good team player. In the classroom and as an intern, my favorite task included building campaigns with a team. Getting together, thinking outside the box, tossing ideas around the room, and ultimately, constructing a masterpiece is quite thrilling. The experiences I have had as a marketing student made me excited to transition from life as a college student into the workforce, full-time.
What have you accomplished at Iona that you are most proud of?
An accomplishment I am most proud of at Iona was leading, as Fundraising and Recruitment Chairperson, the student body in breaking the school record for most money raised for Iona College's annual dance marathon, IonaTHON, in 2018. IonaTHON is an annual dance marathon at Iona College in support of Maria Fareri Children's Hospital in Valhalla, NY. This goes without saying that it could not have been done without the support of my co-chairperson, Michaela Weidtman, and our respective teams. There is about six to seven months preparation for this event. It was very exciting and rewarding to reveal the grand total in the presence of current/former patients and their families.
Another accomplishment was being inducted into Delta Epsilon Sigma, the national scholastic honor society for Catholic colleges and universities. This was certainly a full-circle moment for me. I was unaware of how I ranked among the students within my major, so this honor certainly came as a pleasant surprise. This ceremony was one of the final memories I made at Iona College before having to leave due to the coronavirus outbreak. There were 44 students (3-5 students for each major) inducted for the Class of 2020. It was definitely the best way to end my academic career as a recognized student among Iona faculty.
What clubs/organizations/teams were you involved in at Iona? Tell us a bit about these experiences.
I was a member of the Women's Division 1 Rowing team. The rowing team made up a significant amount of my time at Iona. A demanding yet rewarding sport, I really enjoyed my time as a member of the team. I made some of my closest friends through rowing and definitely learned an extensive amount about my abilities and limitations. I am able to apply a lot of what I learned from rowing to real-life situations and scenarios. Some aspects of rowing that play a major role in my life today including hard-work, endurance, teamwork, leadership, perseverance, and time management.
I mentioned previously that I was the Fundraising and Recruitment Chairperson for Iona College's IonaTHON, an annual dance marathon in support of Maria Fareri Children's Hospital. I was on the committee for three years and a chairperson for two of those years.
I was a participant on the 2018 New Orleans Mission Trip. It was an incredible, eye-opening experience that altered my perspective on the world and contributed to my knowledge regarding the topic of racism, specifically, issues involving race within New Orleans, Louisiana. I would recommend participating in a mission trip if you like to travel, expand your horizons, meet new students, and enjoy service. There are domestic and international mission trips offered at Iona. Each requires you to fill out a brief application and attend an interview.
Tell us about something you learned (in or out of the classroom) that really surprised or excited you.
MCO 326: Race and Gender in Mass Communications with Dr. Nadine Cosby was a very fascinating and thought-provoking course. I looked forward to attending this class because not only did I take great interest in it, but my unfamiliarity with the subject made me destined to learned something new every day. The course focused on the lack of minority representation in the media and entertainment industry. Our final presentation consisted of a paper and presentation on a related topic of your choice. I chose to highlight the "Portrayal of Female Athletes in the Media". It was one of my favorite pieces of written work that I did in college and a paper that I still read and reference from time to time. I enjoyed learning and conducting research on a relevant media and entertainment topic in today's society as part of a class assignment.
Was there a professor or a mentor who impacted your experience at Iona?
A professor that impacted my experience during my time at Iona was Dr. Bret Sanner. I was enrolled in his business capstone class, BUS 410: Role of Business in Contemporary American Society, during my first semester of senior year. Dr. Sanner's class was unique, challenging, and informative. The best aspect of Dr. Sanner's BUS 410 course was that he incorporated business simulations into the coursework. The simulations allowed me to apply my general knowledge of business and what I learned from course lectures to the provided scenarios. Each simulation was competitive and entertaining as you worked to not only do well, but out-rank other students in the class. Succeeding in the business simulation meant you made intelligent decisions and importantly, were profitable.
Another part of the class was partaking in field work. Students were divided into teams and assigned a business or organization in the local area to serve as student consultants for the semester. This experience was unlike any other I had at Iona. Participating in this assignment allowed me to apply the knowledge I had gained my past four years as a college student to a local organization that sought me and my team's insight and advice. Being viewed as a valuable asset to the success of the organization's short-term goals and potential success of its long-term goals was a remarkable experience.
Today, I assist Dr. Sanner in research focusing on organizational/industrial psychology.
Where are you now?
I am very fortunate to share that I am an employed alumna during these unprecedented times. I definitely have to credit Iona for instilling me with the necessary tools and providing me with opportunities that have led me to be a strong candidate. I am currently working as a Brand Associate for Vandis, Inc., an IT consulting company, on Long Island.
I recently started an entrepreneurial online newsletter and website, The Chest Collective. The Chest Collective is a monthly newsletter that shares the stories of young entrepreneurs and the journey that led them to the establishment of their business. The articles are written by the entrepreneurs, themselves, and are accessible to all. The articles also provide advice, funding information, and inspirational anecdotes. (https://www.thechestcollective.com/)
I continue to assist Dr. Sanner in research focusing on organizational/industrial psychology. I find the research fascinating and I am always looking to expand my knowledge, so I remain as involved as I can be.