On Her Journey to Become an Audiologist, ASL Club Founding President Nicole Genser '21 Shares the Pivotal Role Iona Played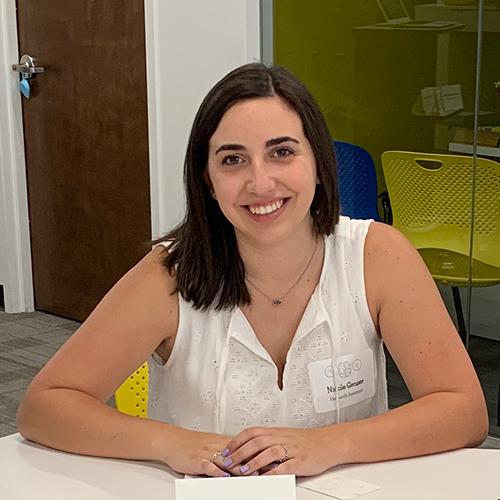 Name: Nicole Genser
Graduation Year: Class of 2021
Majors: Communication Sciences and Disorders, Psychology
Current Endeavors: Audiology Doctoral Student at Montclair State University; Research and Data Team Member at National Deaf Center on Postsecondary Outcomes
Hometown: Woodbridge, N.J.
High School: Bishop George Ahr High School
What do you love most about what you're currently doing?
Being an Iona student taught me that I can be more than one thing in life. That's what I love about continuing to study audiology. I love that I'm in a place where I'm still learning through many ways; I study in the classroom, I see patients in the clinic and I share my work through research and writing. Interacting with patients grants me on the ground experience and exposure to the journeys of many. This, combined with having hearing loss myself, gives me that much more to apply when doing research and sharing work at conferences.
The common thread in all these areas is communication and how we say what we say to those we cross paths with. My classes and work at Iona got those wheels turning for me and they are conversations I continue to have in my work at the National Deaf Center (NDC) and in the clinic. I will be co-teaching a counseling course this fall which I am very excited for.
Why did you decide to study your particular major?
As someone who grew up with severe hearing loss and being a hearing aid user, I decided that I wanted to become an audiologist. Audiologists with hearing loss bring a unique perspective to patient care and to the field as a whole as we empathize more closely with the experiences of others. It is important to note that every person with hearing loss is different, even those with the same type and degree; this is why seeing many different patients is essential. Understanding and reflecting upon all of these experiences will better inform my future clinical practice, works presented and published, and education of others rather than saturating my approach based solely on my own journey.
What is the lasting impact Iona has made in your personal and professional life?
I carry lessons learned from Iona (specifically the Communication Sciences and Disorders Department, the Psychology Department and the Honors Program) with me in my current academic life. I am able to see things holistically and think critically in all my classes and projects. The opportunities I had at Iona outside of the classroom shaped me into the well-rounded leader I have become and gave me many memories that I talk about with friends I'm still close with today. I think that since both aspects of my Iona life were so rich, I know the importance of a work-life balance and the value of living as present in the moment as possible.
Was there a professor, staff member, or peer who made an impact on you while you were at Iona? If so, who and why?
I collaborated closely with Dr. Michelle Veyvoda for all four years of my time at Iona. Her knowledge and mentorship was invaluable to me – starting the American Sign Language (ASL) Club, advising my undergraduate honors thesis, working as her research/teaching assistants and learning from her in the classroom. I owe many of my favorite opportunities I had at Iona to her, many of which I still pursue as I have gone on to obtain my certificate in ASL and continue to be actively involved in research.
Were you involved in student groups or activities? If so, how did they shape or support your career path?
I was primarily involved with the ASL Club on campus, of which I served as founding president for three years. It brings me so much joy to see how the club has persisted on campus, and that students are still enthusiastic about learning and spreading awareness. Additionally, I was the managing editor of the Honors Program Newsletter, senator at large in the Student Government Association and part of the Iona Players.
Favorite spot when you were a student:
When I was a student, I loved spending time on the hill: sunny days tanning and snowy days sledding!
Favorite campus event:
My absolute favorite event at Iona was our 75 Nights 'Til Graduation event, though Homecoming is a close second.
What are some of your most recent accomplishments?
I have recently presented at several conferences, including the Educational Audiology Association, Assistive Technology Industry Association, and the New Jersey Speech Language Hearing Association, and I am submitting two manuscripts to journals for publication. Some of these have been through my position at the NDC and some as a doctoral student at Montclair State University (MSU).
I've loved doing this since I participated in an on-campus poster presentation session following my experimental psychology course with Dr. Wong-Goodrich. Being bold enough to share your knowledge, but humble enough to learn from others, is one of the best parts of attending these conferences. My newer projects are through my doctoral program, including one related to audiologists with hearing loss performing listening checks on hearing aids.