Iona Alumnus Brendan Doran '17, '19MBA Brings Innovation to NYC Real Estate Properties as Senior Assistant Property Manager at Cushman & Wakefield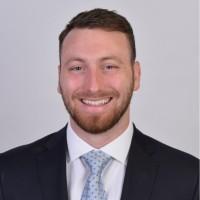 Name: Brendan Doran '17, '19MBA
Hometown: Yonkers, N.Y.
High School: Iona Preparatory School
Company: Cushman & Wakefield
Job Title: Senior Assistant Property Manager
What do you love most about what you're currently doing?
I love problem solving, and in a post-COVID-19 world, there is no shortage of issues to mitigate as tenants return to the office. In the industry of property management, you will quickly learn that unexpected situations can occur at any moment and require quick thinking to help navigate and find a solution. Emergencies, equipment malfunctions, and tenant issues are common. I love learning from each and every experience. 
What is a day in the life like at your company?
As a property manager at Cushman & Wakefield, I work onsite at one of our client's assets, currently managing around 300,000 square feet of commercial and retail space in New York City. Our approach to management is simple and effective - we drive real estate value and performance. Every day is different and I love that. My day is often dynamic as I deal with the day-to-day responsibilities of three New York City properties. This includes, but is not limited to, handling property financials, dealing with tenants, ownership, maintenance issues, fires, floods, frozen pipes, employee issues, security, contracts, HVAC, customer service, and everything in between. Organization and excellent communication in this industry are key.
Why did you decide to study your particular major?
While I did not focus on real estate specifically while at Iona, I learned a lot through my undergraduate major in mass communications, including how to create, share and incorporate important messages in everyday life. This skill has helped me in my daily communications with clients and tenants.
A year after graduating, I returned to Iona to obtain my MBA via the accelerated program, with a focus in management. I wanted to further my leadership skills, and dive into the inner workings of how corporations are successfully managed – and I knew an MBA would be a great stepping stone in my career. I am currently enrolled in the Schack Institute of Real Estate at NYU, where I am studying key components and different areas of real estate investments, to further grow my knowledge base.
How did Iona prepare you to get where you are today?
Iona gave me the confidence that you can achieve whatever you set your mind to, no matter how many times you fail. My time in the MBA program pushed me to my full potential as I was able to gain experience in real-world problem solving and analyze companies I admire through various projects. One of my favorite components of the MBA program was the ability to be open-minded in my assignments; I learned that there is no true right or wrong answer to solving a problem and that innovation comes in many forms.
Was there a professor, staff member, or peer who made an impact on you while you were at Iona? If so, who and why?
I met Brother Devlin as a freshman at Iona when I was enrolled in his psychology class. I was able to talk to him about all my classes and any concerns I was having. His class made a significant impact on me during my time at Iona, because the focus was less on the material and more about bettering yourself and finding ways to succeed after graduation. I was very lucky to have Brother Devlin as a professor and mentor and I carry many of his teachings with me every day in my professional and personal life.
What is the lasting impact Iona has made in your personal and professional life?
Iona provided me with real-life skills to succeed in the corporate world while also giving me the confidence needed to take on risks and personal challenges.
What advice do you have for a current Iona student who wants to follow a similar path?
The opportunities are endless at Iona University - take advantage of all Iona has to offer! I also highly recommended that you connect with Iona alumni on LinkedIn or through the Gaels Connect platform. It's so easy to reach out to alumni on these networks and we love sharing advice and connecting. I'm happy to connect with any student who is interested in a career in property management.
What seven words would your family and friends use to describe you?
Motivated, ambitious, outgoing, curious, funny, resilient and adventurous.