Iona's Valuable Resources Helped Alumna Colleen Duffy '19 Find Her Perfect Role at KPMG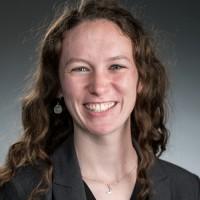 Name: Colleen Duffy '19
Hometown: Mahopac, N.Y.
High School: Mahopac High School
Major: Accounting
Job Title: Audit Senior Associate 
Company: KPMG
What do you love most about what you're currently doing?
I love the people I work with!
What is a day in the life like at your company?
As a senior associate, you are not only managing your own workload, but also helping the associates and interns with their questions and work as well. It is a constant battle of juggling tasks and knowing how to prioritize items and when to ask for help. It is key to be extremely organized and never being afraid to ask questions!
Why did you decide to study your particular major?
I knew that accounting was a solid career path with plenty of opportunities to grow.
How did Iona prepare you to get where you are today?
The Career Center helped prepare me for all my interviews and keep in in touch with various accounting opportunities. With their tremendous help, I was able to participate in the Winter Internship Program in 2019 with KPMG!
Were you involved in student groups or activities? If so, how did they shape or support your career path?
I was extremely involved with clubs and they helped me with knowing how to effectively manage projects, how to have difficult conversations, multitask and more.
What is your fondest Iona memory?
There are too many memories to pick from! If I had to choose, it would be the countless late nights spent with friends just hanging out and being goofy.
Was there a professor, staff member, or peer who made an impact on you while you were at Iona? If so, who and why?
Professor Botteglieri made a huge impact on me. As an accounting student, you will have to take your senior year tax class with him and it was grueling work! Although it was extremely difficult, he helped me understand that I definitely did not want to pursue a career in tax. Professor Botteglieri really helped those who tried and wanted to learn. That is like life, you will always be helped if you just raise your hand and ask.
What is the lasting impact Iona has made on your personal and professional life?
The friendships I obtained and kept from Iona, as well as the plethora of opportunities that helped me exceed and become where I am today, have made a lasting impact on me.
What advice do you have for a current Iona student who wants to follow a similar path?
Take every opportunity you can, because you may not have a second chance. I was very involved in clubs and activities during my time at Iona that did not relate to business or even accounting, but I took advantage of these opportunities because it helped with broadening my knowledge, friendships and connections.
What seven words would your family use to describe you?
Enthusiastic, determined, motivated, creative, outgoing, caring and loyal.