Jamal Jackson '16
Making Meaningful Connections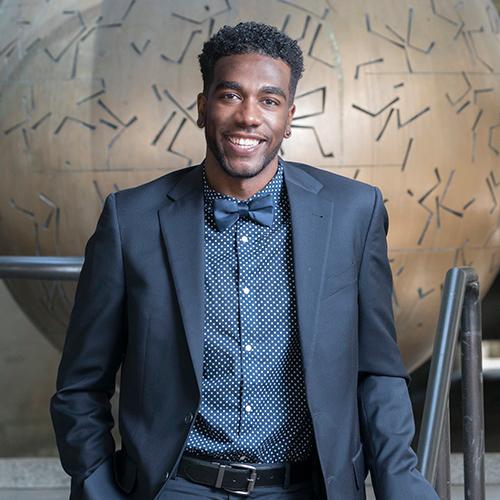 Born and raised in Brooklyn, NY (Central Islip High School), Jamal Jackson '16 is a third-year law student with a passion for environmental advocacy and justice. A criminal justice major and environmental science minor, Jamal was a SURE (Summer Undergraduate Research Experience) scholar who studied the dichotomy of organized/disorganized crime as a research assistant for Dr. Cathryn Lavery. As a senior, he was awarded the St. Columba award from the Office of Mission and Ministry for his leadership as a Kairos retreat team leader. He also brought the wellspring service project to Iona, which focuses on raising funds for clean water projects throughout Africa. That same year, he had an opportunity to be part of a mission trip to Kolkata, India, which solidified his passion and desire to be an environmental lawyer. Among so many enriching experiences, he recalls his most rewarding to be his time serving as a resident assistant in Loftus Hall.
"I had the opportunity to have the greatest group of residents I could have ever asked for. Watching my residents progress from their first day of school to the last day of the year was my greatest Iona experience. I watched so many of my residents find themselves, begin their journeys, and become student leaders. Watching their progress, being able to support them, and be able to be a resource for them was my way of giving back to Iona what Iona gave to me. It made my experience go full circle."
Jamal believes Iona was the perfect blend of everything he needed. It provided him with the ability to be close to home while also feeling like he was away, with an intimate campus that was small enough to allow for the development of meaningful relationships with professors and friends. Jamal recalls, "I felt Iona was the best fit for me because there were people there that would support me and push me to be the best version of myself. To be honest, once I visited the campus, the decision was made. I love Iona's campus."
During his time at Golden Gate University School of Law, Jamal has had four internships including, advocating for environmental justice communities with Center on Race, Poverty, and the Environment, representing a community that was burdened by toxic air pollution with Golden Gate University Environmental Law & Justice Clinic, learning the intricacies of consultations and compliance with the Department of the Interior, and working with the clean water act and administrative claims with Aqua Terra Aeris. He is gearing up for graduation in May 2019 and looking forward to taking the California bar exam in July where he hopes to then work for a government agency doing environmental compliance work.
His advice to new and prospective Iona students is to "understand that it is okay to be yourself. Your path is your own and it does not have to be the same as someone else's. Iona will give you everything you need to become the person you want to be. Hold your dream tight in your hands and work towards your dream every day. If you do that, without a doubt you will succeed. Make meaningful connections and give as much as you expect to receive, and your Iona experience will be your perfect experience. Leave no tables unturned."