Jeanne Taylor '83
Whether the U.S. Open or the Special Olympics, A Love for Service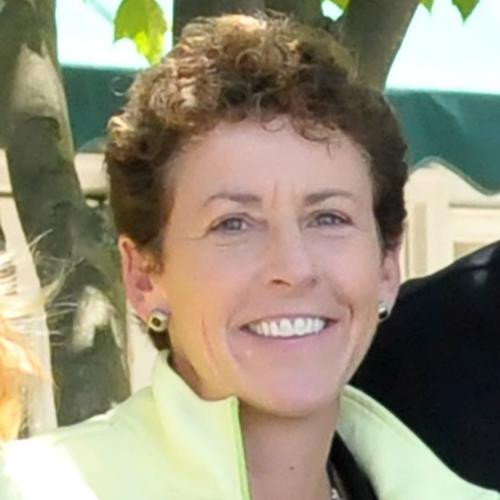 Jeanne Taylor always had a love for basketball, and she shared her passion while she worked at All-Star Basketball Camp in Nanuet, N.Y. This is where she met Maggie Muldoon '77, former point guard for the Gaels, Iona Hall of Fame inductee, and Iona's assistant women's basketball coach. Taylor followed in Muldoon's footsteps, coming to Iona and playing guard for the Gaels for four years under Head Coach Sandi Capifali. Since then, whether she's on or off the court, behind the scenes at the U.S. Open, or volunteering with the Special Olympics, athletics have been central to Taylor's life.
"Wearing the maroon and gold basketball uniform and the great education from the Mass Communications Department are my greatest memories from Iona," Taylor said. "From an academic standpoint, I was fully prepared to earn my master's degree at the University of Tennessee and from the athletic side, my experience on the basketball court and serving as team captain my senior year gave me a greater sense of confidence to further my career."
Basketball even took Taylor to South Korea, where she represented the United States at the 1988 Olympics in Seoul as the media liaison for the gold-medal winning women's basketball team.
Taylor's career evolved from working in sports information and athletic marketing at Rutgers University to serving as championship director of national golf championships to serving as Chief Operating Officer of a sports marketing company. "I oversee the day-to-day business operations for MSG Promotions, which specializes in major event management, marketing and corporate hospitality with an emphasis on golf," Taylor said. "MSG is the exclusive provider of corporate hospitality for the U.S. Open on behalf of the United States Golf Association. As COO, I am part of a team that develops and manages the budget for all facets of the U.S. Open hospitality program including sales, fulfillment, special events and operations." Since joining MSG in 1997, Taylor has been involved in 18 U.S. Opens, two U.S. Senior Opens, and two U.S. Women's Opens.
Although golf has become Taylor's professional focus, she gives her volunteer time and her heart to coaching basketball with her local Special Olympics chapter. "Volunteering with Special Olympics is what I'm most proud of," she explained. "That may seem odd when I have operated in other larger and more prestigious domains. They are all rewarding in different ways, but the Special Olympics work is close to my heart."
"Although I have operated in college, professional and international athletics, and local Special Olympics, sports and communications seem to be the common denominators, and these are the things that my experience at Iona inspired in me."