Joseph DaSilva '20
Looking for an environment of like-minded, ambitious individuals, and finding it at Iona.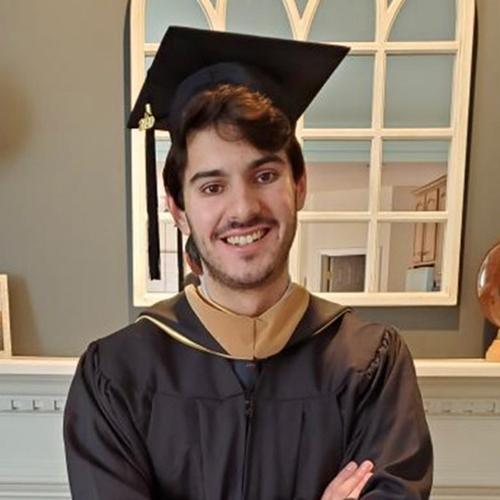 Double major: Economics and Finance double major
Hometown: Brewster, N.Y.
High School: Brewster High School, Brewster, N.Y.
Clubs & Activities:
Iona College Honors Program
Iona College Finance Club
Joseph is currently pursuing a master's degree in statistics with a concentration in data science from Baruch's Zicklin School of Business.
Why did you choose Iona?
The biggest reason I chose Iona is the tight-knit community that is fostered on campus through extracurriculars, research opportunities, athletics, and student clubs and organizations. I knew that I wanted to be in an environment where I was surrounded by like-minded, ambitious people, and found my home at Iona. In a similar way, I was drawn to Iona due to its proximity to New York City. The energy and culture of New York is a tremendous inspiration to me and, coupled with the vast array of job and internship opportunities available there, I knew I needed to be close by.
Why did you choose your major?
I've always been interested in very "big picture" questions and being a student of economics and of finance is an extension of that natural curiosity. I see markets not as standalone entities, but as something that is created at the intersection of various global and macro forces that shape peoples' lives, for better or worse. In order to create a more transparent, democratic and equitable economic machine, it is imperative to understand the complexity of these forces and how to navigate them.
What have you accomplished at Iona that you are most proud of?
I am most proud of my tenure as President of the Iona College Finance Club (ICFC) for three consecutive years. My e-board and I envisioned the ICFC as an accessible student group that served as a networking powerhouse for ambitious students in the LaPenta School of Business, providing access to the most elite internships, professional development and mentorship opportunities in the financial services sector. Perhaps my fondest memory of my time serving the student body is bringing a group of students to the floor of the New York Stock Exchange to watch the opening bell and network with traders going about their day.
Tell us about something you learned (in or out of the classroom) that really surprised or excited you.
We typically have a pretty narrow view of what a career in finance looks like, usually shaped by pop culture and media. Truthfully, the possibilities are endless. No matter what your interest is, be it research, analysis, entrepreneurship, or technology, there is a role for you within the financial services industry that will stimulate your curiosity.
Iona does a great job, particularly in the economics department, of giving you a good "big picture" view of the field. I had the opportunity to get exposure to different technical/quantitative courses and topics during my time at Iona, which really opened a world of possibilities for me that culminated in my pursuing of my master's degree. I didn't know this would be something I'd want until I had the opportunity to experiment at Iona.
Have you participated in any internships or research opportunities?
During the summers after my junior and senior year, I worked at Ernst & Young as an indirect tax intern out of the Times Square office, an opportunity which I pursued after having spoken with a distinguished Iona alumnus who is currently a senior partner at the firm. I am ecstatic to be returning to Ernst & Young full-time in the new year as an indirect tax consultant.
Pursuant to the honors program thesis requirement, I completed my honors thesis in the area of behavioral economics during my senior year. This research paper, titled Behavioral Analysis of Financial Markets and the Psychological Pitfalls of Investors, details the importance of leveraging the innate psychological patterns in human cognition in making better economic decisions.
Was there a professor or a mentor who impacted your experience at Iona?
Each and every professor I had at Iona left a positive mark on me in some way, but there are a few that stand out to me. First are Dr. Bonu Sengupta and Dr. Mike Malenbaum of the economics department, who I credit for igniting the passion for my field of study. Next, I'd like to mention Professors Matt Carey and Eric Moscato of the finance department, whose pragmatic approach to teaching students about financial markets fundamentally shaped the way I think about problems in that space. Lastly, I would like to mention Dr. Bob Lacey of the political science department, whose masterful analysis of the past, present and future political landscape ignited another passion of mine in the area of public policy.
What are you looking forward to?
I'm definitely looking to make tech and data science the cornerstone of my professional career. I think there's a tremendous amount of opportunity created when you leverage things like machine learning in making better decisions. Lots of people think that the abundance of data today makes decision-making much easier, but I take the opposite view. The deluge of information we're faced with makes identifying what info is relevant much more difficult, and thus makes decision making much harder. I have a background in behavioral economics, and I'm interested in combining my love for human psychology with unique technical solutions to different problems.