Kaitlyn Camperlino '20
Hands-on experience gained at Iona, coupled with support from faculty, helped her land two amazing internships.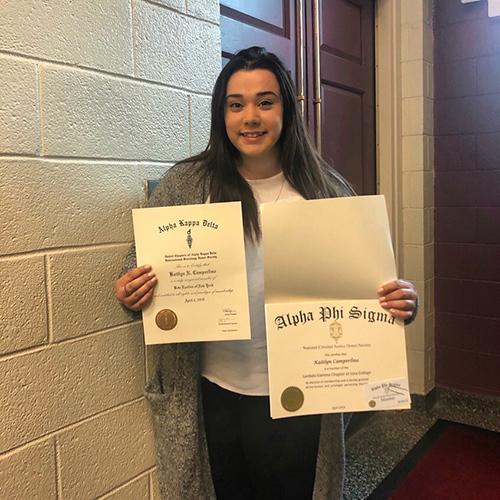 Major: Criminal Justice and Sociology
Hometown: West Milford, N.J.
High School: West Milford High School
Some ways I participated at Iona:
President - Love is Love, Iona's LGBTQ+ organization
Scholars Day 2019 - won best panel presentation for my research on India's Sex Industry
Student representative - Iona's Council on the Arts
Iona in Mission Immersion trip 2019 – India
Attended sports games
Kaitlyn is currently pursuing her master's degree in Criminal Justice at Kean University in New Jersey.
Why did you choose Iona?
I chose to come to Iona because of its proximity to New York City, the design of the campus, and its faculty to student ratio so I could ensure that I was not just a number!
Why did you choose your major?
I have always had a passion for law, advocacy and social justice, so criminal justice was the right path for me. Then I took a sociology class as part of the core curriculum, and the subject matter piqued my interest immensely, especially in regard to research. I learned that criminal justice and sociology have concepts that go hand-in-hand, so I decided to do a double major.
What have you accomplished so far that you are most proud of?
Being a student at Iona made me realize that putting in the hard work pays off. I pursued and earned internships at places I had dreamed of working.
My first ever internship was with the Westchester County District Attorney's Office in the Investigations Division. I worked with high technology and cybercrime, public corruption, and organized crime. I attended court trials, engaged with victims for restitution purposes, assisted with preparing cases, and worked on cases side-by-side with assistant district attorneys through document preparation, opinions on evidence, and further investigation into the defendant if asked.
My next internship was with the Legal Aid Society, which represents individuals in marginalized communities who cannot afford an attorney. I was a part of Legal Aid's Criminal Defense Practice Investigations program where I received training to perform my own misdemeanor investigations on behalf of our clients. Our training included how to speak with witnesses and clients, potential court trial preparation, digital forensics, investigation techniques, and law and ethics. I was assigned to the Manhattan Borough where my partner and I would spend the day conducting our investigations and speaking with witnesses to prepare for trials. As someone who is a people person, I loved interning here because of the constant interactions I was able to have with people who have been affected by the criminal justice system.
Is there a particular area of study in your major that you are most interested in right now?
Deviant behavior has always been an interest of mine and being able to learn about the motivations of others committing acts outside of social norms is very intriguing! I also am very interested in being able to do my own research.
Tell us about something you learned that really surprised or excited you.
Learning about the problems with mass incarceration and seeing some small changes in the outside world has made me happy to learn that more people are becoming aware of these problems.
Tell us something you've learned about yourself since coming to Iona.
One thing I've learned about myself is that the best way to go far is to be true to yourself. I've always tried to formulate a narrative that makes me look my best, but I realized it's okay to have my bad days. Being honest with yourself and what you want allows you to achieve fulfillment!
Any advice to prospective students?
Keep the most open mind you can. Some of the best opportunities I've ever had have come from being a part of something I took a chance on.