Marnie Skinner '20
At Iona, she gained the leadership and science skills necessary to pursue her Ph.D.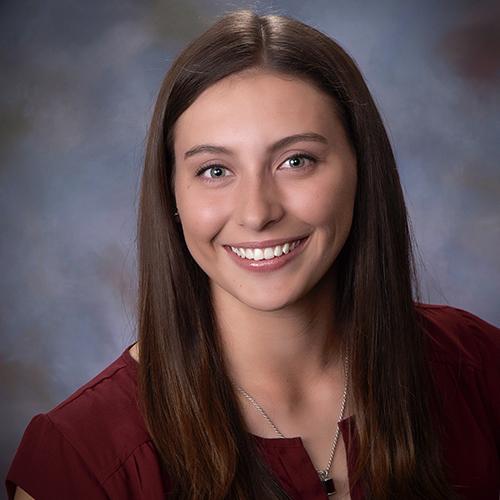 Major: Biochemistry
Hometown: Moses Lake, WA
High School: Moses Lake High School, Moses Lake, WA
Why did you choose Iona?
The primary reason I chose Iona was because of the opportunity it provided to play competitive collegiate softball as well as pursue a scientific degree. At many schools, especially Division I schools, it is difficult to do both. The size of Iona, as well as the academic faculty and coaching staff, made it possible.
Why did you choose your major?
I always enjoyed the sciences throughout grade school. I have always really enjoyed learning how things worked, and the science only furthered my curiosity. So, when initially enrolling at Iona, I started in general biology and chemistry without any real direction. Luckily, I had really great professors and advisors that helped me identify biochemistry as a major that would fit my interests best.
What have you accomplished at Iona that you are most proud of?
I am most proud of the relationships that I have made here at Iona. Both academically and athletically, I have met people that have really had a great involvement and impact on how I have gotten to where I am today and who will continue to be a part of my life for years to come.
What clubs/organizations/teams were you involved in at Iona? Tell us a bit about these experiences.
I was a starting pitcher for Iona's softball team, and I cannot begin to put into words how much this program means to me. Iona softball not only afforded me the opportunity continue to play the sport that I love but helped me develop so many skills that I will continue to use throughout my life. As a pitcher, I was often easily in a position to lead my team during games. Through that, I have been able to develop good leadership skills that I can apply to other aspects of my life. I have also gained great time managements skills from having to balance the demands of a science course load with softball, and this has already proved helpful this fall as I started graduate school. But most importantly, I gained lifelong friends from this team. I was surrounded by amazing teammates and coaches that have all made such a positive impact on my life. It was truly an honor to get to be a part of Iona softball.
I was also a member and leader of Iona's chemistry club. Through this club, I got to further explore ways to try and connect science to the community and not only educate, but get people involved in science. Many people can find chemistry complicated and have a hard time relating to it, and so it was nice to be able to help change that perspective and make the subject more approachable since it is an important part of life.
Tell us about something you learned (in or out of the classroom) that really surprised or excited you.
Despite it being easily the hardest course I ever took, I believe the material that I learned in my Biochemistry II class my junior year was the most fascinating and exciting for me. The material we went over covered the pathways and mechanisms by which the body processes macromolecules. It sounds cheesy, but learning how these processes worked really fulfilled my curiosity for learning how things work in general. I am continually fascinated by how our body functions at the cellular level and this fascination continues to drive my passion for doing research in graduate school.
You were a part of several research projects through Iona, including Project Symphony and the research conducted by Prof. Fontana in Italy. Could you describe these experiences? How do you feel they impacted you and helped you on your current path at John Hopkins?
Both of these research opportunities played a big role in my decision to pursue my Ph.D. I started in Dr. Lee's research lab as a freshman and it introduced me to what research was like and the type of demands it entailed. From then on most of my summer for the next three years was spent in a basement lab in Cornelia working on what would become my thesis project. I had the chance to work with amazing equipment and really enhance my overall scientific education outside of my traditional classes. Working in the lab gave me the opportunity to learn that I not only really enjoyed research, but I had the capacity to do it successfully and realistically could pursue graduate school as my next step.
Through my work in Dr. Lee's lab I was given the opportunity to go to Italy to do research for Professor Fontana with my lab partner Regan Warmouth. The overall experience in Italy was very exciting as we not only had an opportunity to perform new scientific techniques in a lab, but also had the challenge of being in a new country. It was the first time either of us had left the United States, and so overall, the opportunity was quite daunting, but successful; we achieved what we set out to do and that was really rewarding. This experience was the last bit of confirmation I needed to truly believe that I was up for the challenge of graduate school.
Was there a professor or a mentor who impacted your experience at Iona?
The faculty within the biology and chemistry departments at Iona are all really amazing and I do not think I could have found a more personalized and fulfilling science education elsewhere. I do have to thank Dr. Lee personally though for being my advisor for both my coursework and my research. She is one of the most passionate people I have ever met and is always inspiring those around her. I loved getting to do research for her and anytime I'd meet with her I always left having gained something, whether that be knowledge or a smile. She is an incredibly compassionate person and truly cares for all of her students and without her I would not be where I am today.
I also can't forget to thank my original head softball coach, Melissa Inouye, for all of her support and for recruiting me to play at Iona. Without her, I would have never come to Iona in the first place and would have missed so many amazing opportunities as well as not met all of the wonderful people that I did.