Treloara Harrisson '20
Applying lessons learned in the classroom to real-world problems.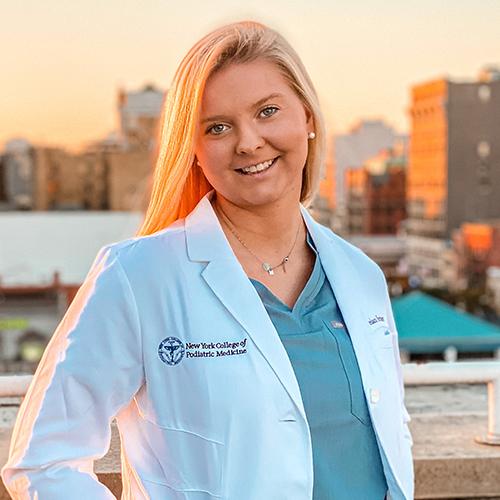 Major: B.S. Biology, Minor in Neuroscience
Hometown: Greenwich, Conn.
High School: Greenwich High School, Greenwich, Conn.
Clubs and Activities
Iona College Honors Program
Iona College Women's Soccer team
Peer tutor at the Rudin Center
Participated in Research with Dr. D'Aversa
Vice-President of the Biology Club
IonaTHON
Relay for Life
Midnight Run
Why did you choose Iona?
I got recruited to play soccer at Iona College. I also got accepted to the Honors Program and received scholarship money, so it was a no brainer for me to pick Iona!
Why did you choose your major?
I knew going into college that I liked science and wanted to pursue something related to sports medicine. I had no idea what field of health care I wanted to pursue going into college, but that narrowed down my choice to Biology.
What did you accomplish at Iona that you are most proud of?
I am most proud of my success in my science classes at Iona College and achieving a 4.0 science GPA as a student athlete.
Tell us about something you learned (in or out of the classroom) that really surprised or excited you.
Anatomy and Physiology was definitely one of my most challenging yet rewarding classes. This class really reestablished my passion for human biology and wanting to go into medicine.
Tell us something you learned about yourself while at Iona.
I, like most people, was resistant to change. Iona taught me to be open to change as well as make the most of every opportunity given to me.
Did you belong to clubs/teams? Or did you participate in other activities? Tell us a little about that experience.
I was on the Iona College Women's Soccer team, a peer tutor at the Ruden Center, and participated in Research with Dr. D'Aversa. I was also in the Iona College Honors Program and was the Vice-President of the Biology club. I also participated in other great volunteer events like blood drives, IonaTHON, Relay for Life, and Midnight run.
Did you participate in any research? Tell us about that. What did you learn and how did it help you?
I learned about the different research projects that were available while I was a freshman in Biology 102. In my sophomore year, I reached out to faculty to express my interest in participating. My research advisor was Dr. D'Aversa and the research we performed was on neurodegenerative disorders. We were initially working with different cell types but expanded our research to working on Zebrafish embryos. My thesis was entitled, "Effects of an Alzheimer's Disease drug, Donepezil, and CBD on Embryonic Development." Research is a great way to get involved at Iona and apply material learned in the classroom to real-world problems. This also gave me the opportunity to explore whether research was something I wanted to pursue in my graduate studies.
Did any class, professor, mentor or friend make an important impact on you at Iona? How?
The Biology Department is a small knit community that pushes every individual student to succeed. Dr. D'Aversa was my advisor for class, my research advisor, and the individual who introduced me to podiatry. She definitely has left the biggest impact on my life and I am so grateful that Iona brought Dr. D'Aversa into my life.
What are doing now? (If you have any special stories you would like to share about your work/studies now, please include those.) What are your plans for the future? How did Iona help you with your career/life plans?
I am currently a first-year medical student at New York College of Podiatric Medicine. As a collegiate soccer player, I experienced many foot and ankle injuries. The field of podiatric medicine holds a special place in my heart and my passion for soccer has translated to my newfound passion for podiatry. Iona provided me an excellent science foundation and the necessary materials to excel taking the MCAT. Both Dr. Kang and Dr. D'Aversa were extremely helpful and essential throughout the application process and in my transition from Iona to medical school.
Any advice to prospective students?
Meet the faculty at Iona College. The small knit community of every department provides a great learning atmosphere that challenges you while also giving you individualized attention that other colleges may not be able to provide.