Working at Deloitte, Joanna Ziegelbauer '14, '15MBA is Making the World a Greener, More Sustainable Place to Live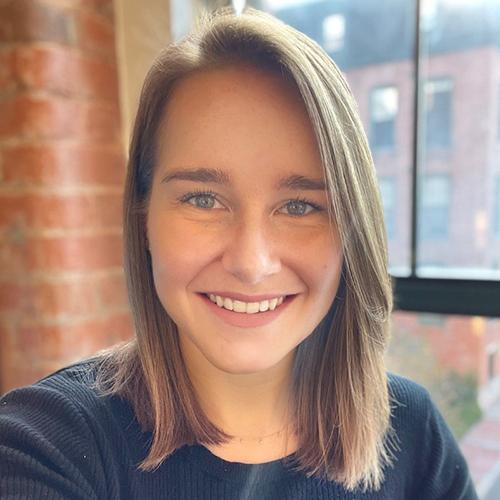 Name: Joanna Ziegelbauer '14, '15MBA
Major at Iona: Accounting 
Hometown: Monroe, N.Y.
High School: Washingtonville High School
Title: A&A Sustainability Manager, ESG (Environmental, Social, Governance)
Company: Deloitte
What do you love most about what you're currently doing?
My current role in the ESG and sustainability services practice allows me to work with clients in a variety of stages in their ESG journeys from infancy through industry leaders with mature reporting. I get to help clients understand and enhance their impacts on the societies and environments in which they operate with the help and support of an amazing team of colleagues.
What is a day in the life like at your company?
A typical day within Deloitte certainly varies by service line and level, but from my perspective, a typical day consists of about 40 percent of my time connecting with clients regarding existing projects, potential projects, or hosting educational sessions, 50 percent working directly with my engagement teams (engaging with colleagues, mentoring younger professionals, training, etc.), and 10 percent of my time working on internal initiatives.
Why did you decide to study your particular major?
I come from a family of mathematicians and engineers, and I've always enjoyed working with numbers. Then in high school I took an accounting course and the subject matter clicked for me. I also knew there was a certain level of employment certainty associated with an accounting degree.
How did Iona prepare you to get where you are today?
Iona helped me to build confidence to enter the workforce by teaching me business fundamentals through my coursework in addition to providing experience with communication, leadership and time management. The connections I made through my time in Iona helped to open doors to internships and job opportunities, and have remained connections that I've called on for counsel as I've moved through different stages of my career.
Were you involved in student groups or activities? If so, how did they shape or support your career path?
Throughout my time at Iona, I was involved in multiple student groups and organizations: accounting club (member, treasurer, then president), resident assistant (three years), honors program, and the Edmund Rice Society. These provided me with opportunities to expand my network of friends, learn organizational and time management skills - which I've found to be critical and use daily - and develop leadership practices.
What's your fondest Iona memory?
My fondest memories relate to the missions trips I participated in through the Office of Mission & Ministry. I was able to travel to Bolivia and Zambia to work with members of those communities on various projects from painting and maintenance to education of children and adults.
Was there a professor, staff member, or peer who made an impact on you while you were at Iona? If so, who and why?
There were many, but Dr. Haber stands out as someone who helped me at multiple points during my time at Iona. He was a professor, a mentor, a career advocate, and continues to be a cherished connection to this day.
What advice do you have for a current Iona student who wants to follow a similar path?
Make the most of your time at Iona by fostering relationships with your peers, advisors and faculty members you come across. Those connections become invaluable as you move throughout your career and navigate your path forward in life. Don't be afraid to get involved and challenge yourself to step into leadership roles. And finally, feel free to reach out! I'd be happy chat with anyone who's interested.
What seven words would your family and friends use to describe you?
Attentive, caring, intelligent, organized, responsible, proactive and funny.