David Zuckerman, Ph.D.
"I want students to know that it took me a long time to figure out my direction. So, I'm very understanding when students struggle and are not sure about their career choices."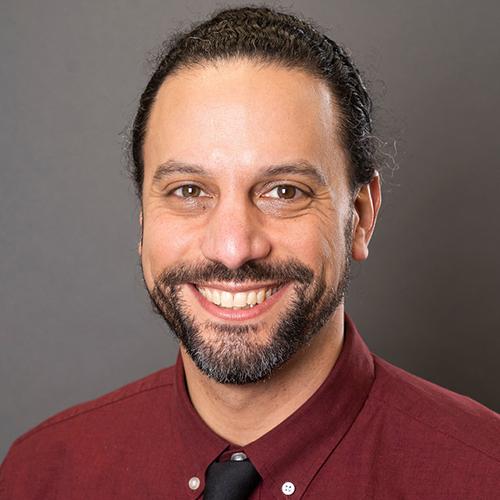 David Zuckerman, Ph.D., began teaching biology at Iona in 2016 and was awarded a National Science Foundation (NSF) grant in April 2020. The grant of $372,115 covers expenses for equipment, materials, paid research opportunities for students, and travel to conferences.
Tell us how you chose the field of biology.
First of all, I want students to know that it took me a long time to figure out my direction. So, I'm very understanding when students struggle and are not sure about their career choices. I went to college in Cleveland at Case Western Reserve University where I studied chemistry. But I wasn't in love with the field and wasn't sure what to do after graduation. I found a job as a technician in a molecular biology lab, also at Case Western, and then spent two years in Hamburg, Germany, in a virology lab studying hepatitis viruses. That's where I fell in love with biology research and decided to go to graduate school.
What are you researching now?
I'm been researching the cell biology of a particular bacterial species called Myxococcus xanthus. This species does not cause disease, but it exhibits complex social behaviors, and so it is of interest to the research community.
Do you have any students working with you on your research?
Yes! Students have been involved since the beginning. In fact, a student contribution was central to the submission of the NSF grant. When I arrived at Iona, I had plans to do experiments to support a hypothesis for how one gene produced two gene products, but one of my research students did experiments that proved my hypothesis completely wrong! I used these observations to develop a new hypothesis, which led to the grant and research projects for other students.
In all, 14 students have performed research with me, including three students who performed a "virtual research experience" this summer that they were paid for.
In addition to working collaboratively at Iona, my research students have also made presentations at conferences. With the grant, I will be able to help pay for registration and travel for students to attend larger conferences in the future.
What is most exciting about being awarded the NSF grant?
I'm most excited to have an opportunity to pay students for the time they're working with me, and to invite them to larger conferences that we will have to travel to. A big impulse for me to have applied for this grant is that if we're not able to pay students for their time in conducting research, then it becomes an extra-curricular activity that can only be performed by students who can afford to spend a lot of time in an unpaid activity, particularly over the summers, which is when we have the best opportunity to focus on research, but also when many of our students need to earn money.
Being able to pay students helps my research, increases student commitment, and allows me to contribute to fulfilling the Iona Mission of providing opportunities like this to all students, regardless of background.
In addition, the grant has allowed us to purchase a state-of-the-art piece of imaging equipment. This equipment is available for all students and faculty in research and in classes.
Tell us something about yourself students might not know.
In college I minored in theater (acting).
What are your interests/hobbies outside of your field?
I enjoy fishing and am looking forward to returning to indoor soccer post-pandemic, where I play goalkeeper.