Steven Jarmon, Senior Clinical Lecturer, Marketing
"I am a solid resource for students looking for industry insights and internships or entry-level positions across many industries."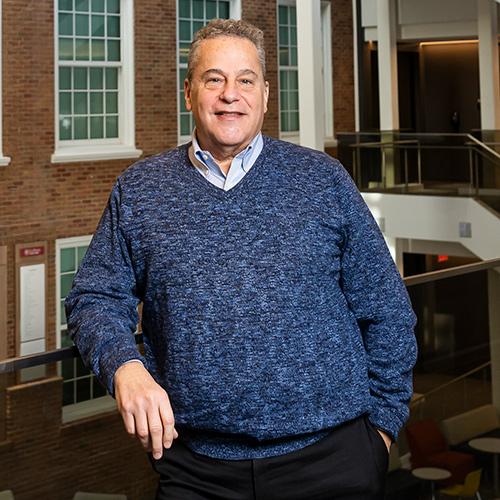 Steven Jarmon joined Iona in Fall 2020 and brings 30+ years of marketing and communication leadership to his students.
What are you passionate about in your field right now?
Marketing is such a dynamic field! With the advance of digital marketing and media, it is evolving faster than ever.
While understanding the more traditional strategic underpinnings of marketing remains essential, the way brands create relationships and messages with target audiences is vastly different.
As a career marketer, I love the fast-paced, quick-thinking decisions that often need to be made in real-time – as that is what consumers demand and expect today. It is a field that energizes me!
Tell us about some of your work in marketing.
First of all, I love to use my extensive experience and network to help students make connections and find internships and entry-level jobs.
I have spent more than 30+ years working in marketing and communication leadership positions for world-class brands such as 1800flowers.com, Dr Pepper, Nikon, Snapple, Tate's Bake Shop, and Timberland. I have also worked for small and large advertising agencies working on the Chase Bank, McDonald's, and the New York Mets accounts.
Have you ever opened a bottle of Snapple and turned the cap over to read the Snapple Fact? I came up with that idea. Our research showed that there is a natural inclination for people to turn the cap over once they've opened the bottle. So, I thought we could capitalize on that and include fun facts on the inside of the cap. It was very successful, and Snapple is still doing it.
My favorite Snapple factoids: Most humans can't kiss their elbows. Snails breathe through their feet.
Tell us about your teaching and how you prepare students for careers in marketing.
For my Marketing Planning & Strategy class, which is a capstone course for Marketing major seniors, I bring in real clients, such as The New York Times, the ASPCA and Bobbi Brown Cosmetics for the students to work with.
After a brand briefing by the client, the students work in teams and collectively create a marketing plan that addresses the marketing challenges provided by the client.
The client continues to be in touch to answer questions and provide clarity during the semester and then returns to the class for the final presentations. I try to make this experience as true to life as possible, so students get the most out of the exercise while also creating a tangible asset for their portfolios and resumes as they enter the field as emerging professionals.
What are your interests or hobbies outside of your field?
I am an avid sports fan. My students know I am a New York Mets fanatic, and I was fortunate enough to work with their marketing team during the season when they won the World Series! You never know what opportunities may come up in this field.
Tell us something about yourself students might not know.
I married my high school prom date and have now been married for 40 years with two children and one grandchild!