Diane Ferrero-Paluzzi, Ph.D.
Associate Professor, Communication Sciences and Disorders Department
Associate Dean, School of Arts & Science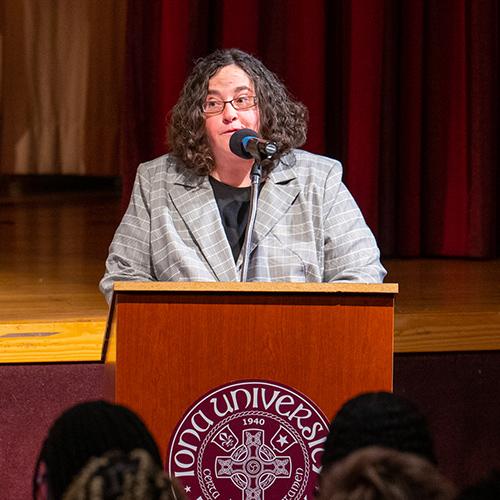 Office:

Murphy Center, Dean's Office for the School of Arts & Science

Phone:

(914) 633-2053

(914) 633-2053

Email:
Degrees:
Ph.D., Southern Illinois University Carbondale, 2002
MA, University of Maine, Orono, 1998
BA, Hofstra University, 1995
Dr. Diane Ferrero-Paluzzi teaches courses in narrative and storytelling in healthcare, communication for the health care professional, intercultural and interpersonal communication, clinical communication, cognitive communication and aging, and communication with families. Her research interests include health communication, philosophy of communication, physician-patient relationships, communication apprehension, narrative storytelling, tourism, nonverbal communication, medical curricula, therapy dogs and aging in healthcare.
Dr. Ferrero-Paluzzi focuses her research on health and clinical communication. She has an interest in linking aging studies, cognitive communication and caregiving as her main foci. She is currently in the final preparation of a Biopsychology and Communication textbook for Routledge and a project on using nature, animals and travel with storytelling to stimulate healing for those with chronic illnesses.
Ferrero-Paluzzi, D. (2022) Biopsycholgy and Communication (under contract), Routledge
Ferrero-Paluzzi, D. (2015) The Sage Encyclopedia of Cancer and Society. Bulgaria, Yul Brenner, Thyroid Cancer.
Ferrero-Paluzzi, D (2016). Communicating with Technology. Kendall Hunt.
Ferrero-Paluzzi, D. (2009). Instructor's Manual for Real Communicator. Bedford St. Martin's.
Cianci, A. M. & Ferrero-Paluzzi, D. (2005). Metacommunication in hearing aid acquisition: Audiologists, patient and family. Kappa Omicron Nu.
Grunwald, J. & Ferrero-Paluzzi, D. (2005, 2017). Communicating with technology. Allyn and Bacon/ Pearson Custom.           
Ferrero-Paluzzi, D. (2004). Using communication to explain psychotherapy. Carolinas Communication Annual, XX, 50-61.
"Naming Rituals" (2003) - Chapter in the Encyclopedia of Religious Rituals. Berkshire Publishing Group, Routledge.
Ferrero-Paluzzi, D. (September, 2002). Gorgias' rhetoric: Is it the answer psychotherapists have been looking for? Florida Communication Journal, 30 (2), 43-50.
Ferrero-Paluzzi, D. (September, 2002) "Book Review – Collaborative Circles by Michael P. Farrell." American Communication Journal
Dr. Ferrero-Paluzzi is the founder and director of the Iona University Speakers' Center and works with students and community members who have communication anxiety and/or want to improve public speaking delivery. She is a vocal coach, communication consultant, and accent modification professional with research and clinical interests in health communication and clinical communication. She teaches courses in Cognitive Communication Disorders and Aging, Problems in Aging, Health Communication, Clinical Communication and Narrative and Storytelling in healthcare.
Health communication
Clinical communication
Patient-centered care
Head and neck cancer
Cognitive disorders
Mindfulness as Effective Communication
Biopsychology/Neuroscience of Communication
Bill Gove Scholarship from the National Speakers' Association