25 Years of Building Homes and Building Community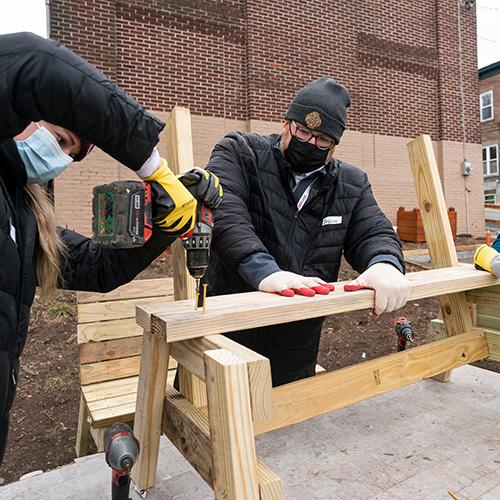 Equipped with hard hats and hammers, Iona faculty, staff and nursing students commemorated Martin Luther King Jr. Day by joining with The Fuller Center for Housing of Greater New York City to help build homes for people in need.
According to their website, The Fuller Center "seeks to eradicate poverty housing by promoting partnerships with individuals and organizations in an unrelenting quest to provide adequate shelter for all people in need worldwide."
Iona volunteers put their skills and compassion to work in the historic neighborhood of Moquette Row in Yonkers, N.Y., where revitalization efforts are underway, including the rehabilitation of homes for seniors and veterans.
Jim Killoran, executive director of The Fuller Center was grateful for the Gaels' participation, noting that Iona has been "volunteering with The Fuller Center for over 25 years, from Brother Joyce and Brother Piggot coming to the sites to Carl Procario-Foley bringing out the students and participating in the yearly kick-off event, the Martin Luther King Build-a-thon."
Jason Ford, CFC '01, assistant director of Iona in Mission, said, "Participating in the MLK Jr. Day of Service with members of the Iona College community is always a rewarding day. It is especially poignant to serve in our community during the COVID-19 pandemic and be a small part of helping a family experience some stability and to transform a house into their home."
In just a few hours, the volunteers installed installation in the basement of a home, completed a utility closet in the kitchen and built seven park benches for the nearby park.
Brielle Stark-Adler, Ph.D., director of the Iona College Counseling Center, found the MLK Build to be a wonderful way to connect with Iona's mission. "When speaking about Iona with folks who are unfamiliar with it, I describe the College's commitment to put its mission into action as its most unique and outstanding quality. The Office of Mission and Ministry leads the way by providing opportunities to very simply, do good, as part of the course of professional and community life here."
For Amanda Howerton-Fox, Ph.D., it was an opportunity to "get out from behind the computer screen and do good in the world in a way that felt safe." She added, "One of the hardest parts about this pandemic is that it limits our ability to help others at a time when people are in such dire need of help. Building with organizations like the Fuller Center is an incredibly satisfying experience because you can see concretely how you've made a difference for someone."
"Here's to The Fuller Center and their commitment to affordable housing and to building the beloved kingdom Dr. King longed for," said Carl Procario-Foley, director of Mission and Ministry.
Iona students will continue to build with The Fuller Center on Saturdays throughout the spring semester. If you would like to volunteer, please visit the Fuller Center website or email Jim Killoran at jim@fullercenterny.org.