ALS Ice Bucket Challenge Co-Founder and Iona College Alumnus: "I live and breathe 'Fight the Good Fight' every second of every day."
Pat Quinn '06 offers inspiration as Iona students take the challenge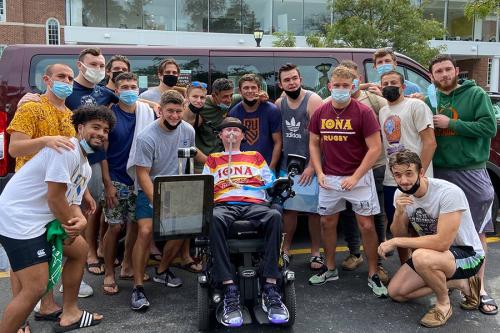 NEW ROCHELLE, N.Y. – Diagnosed with ALS at the age of 30, Iona College alumnus Pat Quinn '06 is now seven years into his battle with the debilitating disease. He can no longer walk. He can no longer talk. And for the first time, despite the pride he takes in his resiliency, he found himself fighting for his life in the hospital just three weeks ago.
"In my fight against ALS, I really didn't want to go into the hospital unless it was to keep me alive," Quinn said through a computer that tracks his eye movements and generates speech. "Probably not the smartest mindset, but I am Irish, stubborn and keeping my head focused on being strong is key."
The hospital was admittedly his darkest hour.
Yet what gives him strength, he said, what renews his spirit and pushes him to continue the fight, are moments like the one this week at Iona College.
Gathered on East Hill as they have every year since the ALS Ice Bucket Challenge began in 2014, dozens of Gaels dumped buckets of ice water over their heads to raise money and awareness for ALS. The Ice Bucket Challenge has raised a remarkable $250 million worldwide since its launch, directly leading to several important breakthroughs. Yet there is still no cure.
"Days like today drive me to continue fighting this disease. Without the support of the Iona College community, my fight wouldn't be the same. After all, our motto is 'Fight the Good Fight.' I live and breathe 'Fight the Good Fight' every second of every day," said Quinn, a Yonkers native who played rugby at Iona and majored in Criminal Justice. "ALS is a ruthless disease. When the Ice Bucket Challenge started, I was still walking and talking. You can see what ALS has done to me over the last seven years. And that is why we are here. To fight together, and show people we still have more to do to defeat this disease."
ALS (amyotrophic lateral sclerosis), also known as Lou Gehrig's disease, is a progressive neurodegenerative disease affecting neurons of the brain and spinal cord. A year after being diagnosed, Quinn co-founded the Ice Bucket Challenge with friend Pete Frates, a Boston College alumnus whom he had met through their shared struggle with ALS. Frates passed away peacefully in December 2019 after a heroic fight at the age of 34. It was a devastating loss for Quinn, and the entire ALS community, especially as this year marked the first Ice Bucket Challenge without him.
"These two young men connected on a deeper level than anyone else could," said Quinn's father and caregiver, Patrick Liam Quinn. "When you see someone fighting something so courageously, being such a strong advocate for research and a cure, you can't help but fight right alongside him."
Olivia Santos '21, who organized this year's Ice Bucket Challenge on behalf of students, said the disease hits close to home for everyone at Iona. Although Quinn's life was forever changed at such a young age, his impact is an inspiration.
"He's really just been a champion advocate for the cause," said Santos. "One person can make a big difference when it comes to millions of people participating."
See News12 Coverage of this Event
Being committed to advocacy and service is more than just a lesson at Iona, said Carlie Brainard '21. It's a way of life. That's why she participated in this year's challenge, which she has supported in various ways throughout her years as a Gael.
"This is one of the big Iona traditions. It's what Iona stands for – helping others and fighting the good fight," said Brainard. "It was really emotional. The little jokes he had were really funny, and it just shows that through it all, you can still choose to have a good spirit about things."
Quinn would be the first to agree that a positive outlook is everything.
As he was struggling to see the light through his hospitalization this summer, a nurse, Nikki Melia, at St. John's Hospital in Yonkers, turned things around. One caring nurse was all it took. She brought in a speaker, and together they jammed out to some Notorious B.I.G. and '90s rock – including Pearl Jam, Red Hot Chili Peppers, Foo Fighters, Nine Inch Nails and The Smashing Pumpkins, just to name a few.
"It was a fired up mood. I needed that nurse to show me in my brief moment of darkness, that I didn't need to worry about what I was going to do tomorrow. She revitalized my spirit of living right now. A song, a game, a visit from your brother, niece and nephew, texting a friend – it can be anything. It's the small things that drive us forward and give us the backbone to go after those bigger accomplishments, reach those higher goals," said Quinn. "What we do truly matters and I'm here to push you – I push everyone I can – to live their lives, to find every possible reason to smile, to make a difference. It's why we are here."
To learn more or donate, please visit the Quinn for the Win website.