On Display: My Own Rose-Tinted 3D Glasses by Werner Sun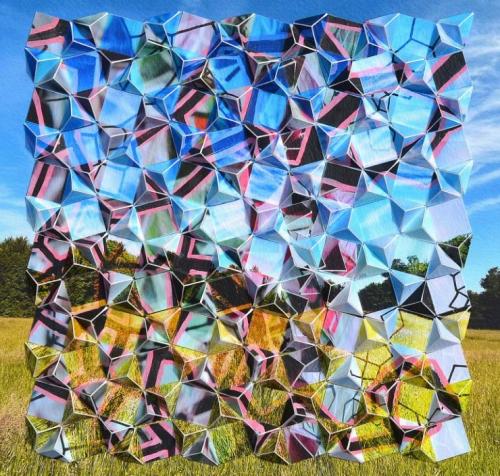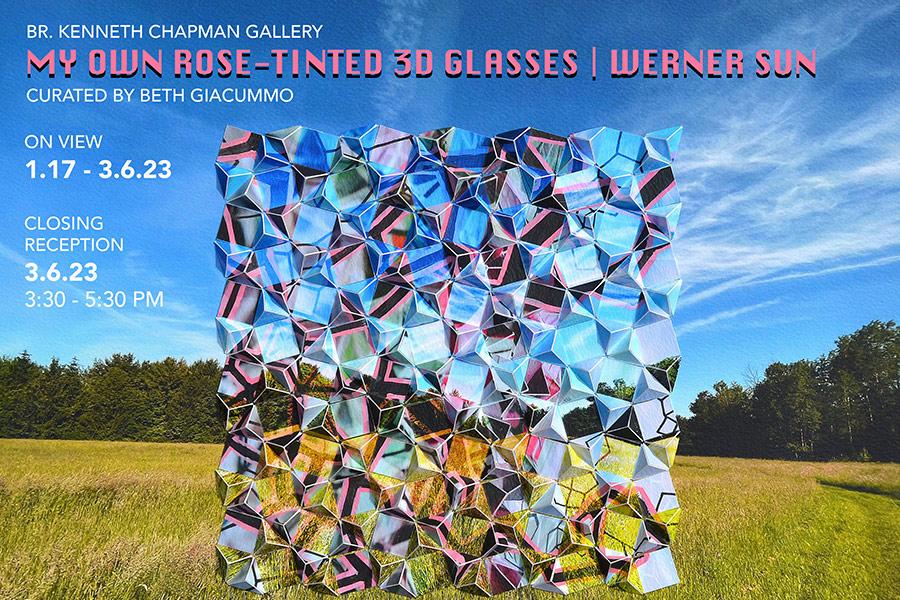 Curated by Beth Giacummo 
January 17 - March 6, 2023
Gallery Events 
March 6, 2023
Closing Reception | 3:30 – 5:30 PM 
Location | Br. Kenneth Chapman Gallery located in the JoAnn Mazzella Murphy '98H Arts Center 
A virtual artist tour will be made available via QR code at the exhibition. The video will be released January, 21, 2023
Br. Kenneth Chapman Gallery presents My Own Rose-Tinted 3D Glasses 
By Werner Sun, curated by Beth Giacummo, on view from January 17 - March 6, 2023. 
On March 6, join us for a closing reception with the artist from 3:30 - 5:30 PM
My Own Rose-Tinted 3D Glasses will include works from an ongoing series of works exploring mark-making + folding + the color pink. The exhibit will include drawings, collages and sculpted prints.
Werner's work as an artist straddles boundaries; it is both two- and three-dimensional, both digital and analog. The physical process he uses to create his works typically begins with taking photographs and reconfiguring them using a variety of repetitive, labor-intensive procedures, often applied recursively. The scrambled images that emerge from this process show a fascinating interplay between pattern and complexity. An obvious interest in algorithmic transformations is present throughout his works and is informed by his past experience as a physicist, in which he used computational algorithms extensively to analyze scientific data. The artist executes his visual algorithms primarily by hand, whether by sculpturally recomposing images using paper engineering techniques or by embellishing them with geometric mark-making. His attachment to the handmade is a reflection of his impulse to balance the analytic character of science with a more personal approach towards data. 
Werner Sun lives and works in Ithaca, NY, and his work has appeared in the Memorial Art Gallery of the University of Rochester, Aon (New York, NY), Manifest Gallery (Cincinnati, OH), and the Islip Art Museum. His essays and images have been published in The Brooklyn Rail, Interalia Magazine, and Stone Canoe. He is the 2019 recipient of the Aon-CUE Artist Empowerment Award from the CUE Art Foundation, and a 2017 recipient of a Strategic Opportunity Stipend from the Community Arts Partnership of Tompkins County, NY. Werner recently completed a photographic sculpture commission for the Cornell Botanic Gardens. 
  
Gallery Hours  
Please see updated gallery hours here.
  
ABOUT IONA UNIVERSITY COUNCIL ON THE ARTS 
The Iona University Council on the Arts is dedicated to sponsoring artistic and cultural programs for the enrichment of the Iona University community, particularly the student body.
With an endowment from the Baron Lambert Fund for the Arts, established by Mr. and Mrs. Joseph M. Murphy, the Council exists to make the arts more present and visible – providing the unique awareness, inspiration, and participation which the arts promote.  
Consisting of Iona University faculty, administrators, students, and alumni, the Council on the Arts seeks to expand and deepen the cultural life of our student body. The Council produces and coordinates events whereby students, faculty, and administrators may experience the arts communally.
In addition to public performances and conferences, the Council sponsors programs such as Art Quest trips which are designed to introduce members of the Iona community to the cultural richness of the community. 
PRESS CONTACT FOR GALLERY 
For additional images or artist information please contact: 
Beth Giacummo 
Bgiacummo@Iona.edu