Hands Around Iona Fundraiser Supports ALS Research in Honor of Patrick Quinn '06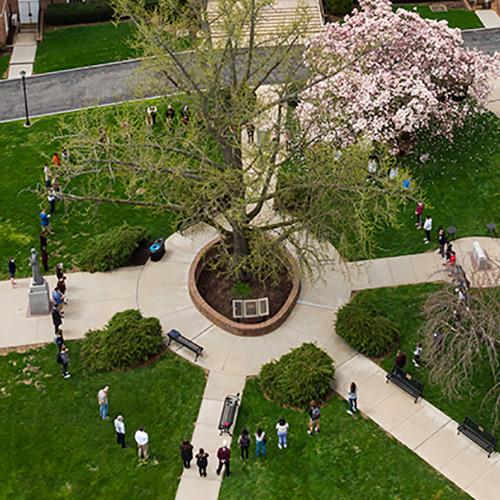 The Iona College community came together for its annual "Hands Around Iona" fundraising event on April 13, 2021. Iona students, faculty and staff joined together in prayer around the gingko tree on campus, following a performance of the Iona College Pipe Band. All funds raised will be donated to the Quinn for the Win Foundation for ALS research.
Iona alumnus Patrick Quinn '06 passed away in November 2020 after a heroic battle with Amyotrophic Lateral Sclerosis (ALS), making this year's event especially meaningful for those in attendance. Diagnosed with ALS in March 2013 at the age of 30, Quinn co-founded the ALS Ice Bucket Challenge as a way to raise money and awareness for the disease. It instantly became an international sensation, raising a remarkable $250 million since its launch in 2014. Despite leading to several promising breakthroughs, sadly there is still no cure. Quinn's friend and Ice Bucket Challenge co-founder Peter Frates, a Boston College alumnus, lost his battle in December 2019 at the age of 34.