Iona College Gaels Give Back in the Fight Against COVID-19
From donations to tech innovations to serving on the front lines, the Iona community is living up to the credo that "Gaels Give Back".

NEW ROCHELLE, N.Y. — An Iona College education has always pushed students to go beyond the classroom. The COVID-19 pandemic puts that to the test in more ways than one. Yet even in the face of today's new realities, the Iona community is living up to the credo that "Gaels Give Back" – whether it's serving on the medical front lines, donating valuable protective supplies or comforting the lonely now living in isolation.
"It comes as no surprise that so many in the Iona community are on the front lines of this pandemic, putting others ahead of themselves," said Seamus Carey, Ph.D., president of Iona College. "An Iona education prepares us to face even the most daunting of challenges with an understanding that there is purpose in our service."
When the call went out that hospitals were in need of protective gear, Iona Sports Medicine quickly donated boxes of unused medical supplies, gloves, masks and gowns to the local Montefiore Hospital in New Rochelle. Similarly, the Biology and Chemistry departments supported Montefiore with a donation of over 14,000 unused gloves, plus shoe covers, goggles, safety glasses and masks. Iona Health Services department donated masks, gowns, gloves, disinfectant wipes and nasal swabs to White Plains Hospital, and arranged for protective gear to be donated to St. Joseph's Retirement Facility.
When all K-12 schools closed, Iona education majors began virtual tutoring and online literacy lessons for local elementary students. The goal of these pairings is threefold, explained Amanda Howerton-Fox, Ph.D., assistant professor in the Education Department. First, to help Iona students gain the practical skills they need to improve as teachers; second, to engage K-12 students in meaningful literacy experiences; and lastly, to relieve some of the burden of homeschooling that many parents are experiencing.
Hailey Kourbage '21, meanwhile, a Speech Pathology major, coordinates the "Best Buddies" chapter at Iona College. The group has continued its outreach to residents of the Westchester Jewish Community Services senior homes through weekly phone calls and even virtual events. Ten Iona Best Buddies recently joined an hour-long Zoom conference call with residents, drawing pictures about Spring while talking and laughing.
Through the Office of Mission and Ministry students are also writing letters of support to those who are not allowed visitors, including those at the Wartburg Senior Center, the Blythedale Children's Hospital and the Bedford Hills Correctional facility.
Congratulations to brothers of Iona's Pi Kappa Phi, who successfully "Put Service Before Self" in a social media challenge to have donuts and coffee delivered to first responders at the New Rochelle Fire Department and Police Station.
Iona alumni are also leading the charge in response to COVID. Drs. Michael Foti '14 and Peter Vitale '14, and speech pathologist Molly Sheehan '13, '16MA are directly caring for the increasing number of COVID patients. Dr. Lucy Perazzo '88, a member of the Dean's Advisory Board, is working at the New York Veterans Hospital in Montrose. Laura Ruocco '11 is managing COVID public relations for Montefiore Hospital in the Bronx, and Aaron Snyder '08 is working with FEMA to test and treat people coming off a cruise ship in Florida.
On the medical front lines are strong Iona leaders including CEOs Rita Mabli '74, '76MBA of United Hebrew; Kathy Silard '84MS of Stamford Health; Tim Leddy '82, '87MBA, VNS of Westchester; and Anthony Viceroy '90 of Westmed Medical Group.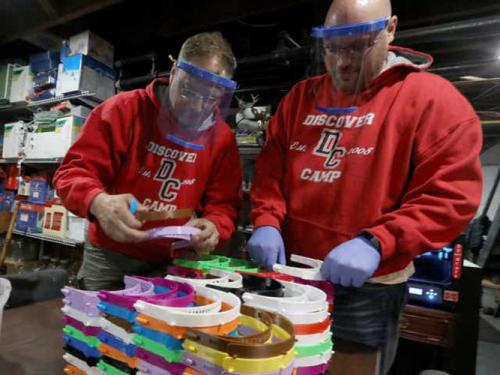 Using classic Iona ingenuity, alumnus David O'Neil '99 was also eager to answer the call to help. Seeing a need for protective face shields, he can make up to 30 a day using the 10 3D printers he has from Discover Camp of Westchester, where he is assistant director. A resident of New Rochelle, O'Neil teaches fifth-grade math and science in Eastchester and was recently featured in The Journal News/Lohud.com.
It is also important to recognize all the Iona alumni who have supported The Fund for Iona College. Thanks to their generosity, Iona has been able to respond quickly and prudently to help students and faculty during the crisis, including providing laptops and financial assistance to students in need as well as training and support to faculty.
"I know there are many more untold stories of Gaels giving back in our local and global communities. Now more than ever, we would love to celebrate them," said Carey. "Our thoughts and prayers remain with all of those affected by the COVID pandemic, especially the sick and all of the brave men and women who are putting their lives in peril for the sake of others. That is the truest form of heroism."
Do you know of Gaels answering the call to give back in the face of the COVID pandemic? Please send your story to taskforce@iona.edu.