Iona University to Welcome Largest Freshman Class in 5 Years
The momentum continues to rise as Iona announces one of its strongest, most selective and most diverse classes yet!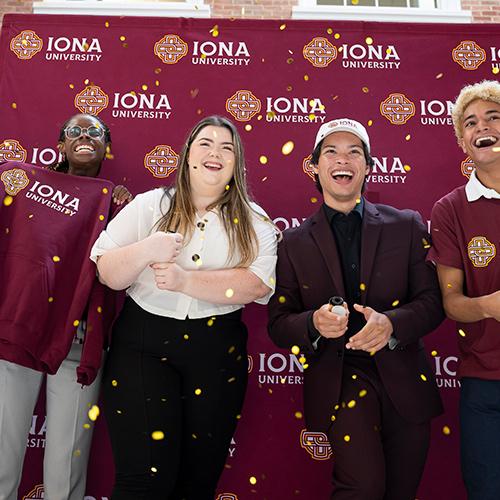 New Rochelle and Bronxville, N.Y. – Driven in part by new academic programs and degrees coupled with expanded opportunities for students to "Learn Outside the Lines" of the classroom, Iona University today announced its largest freshman class in five years. Since 2019, new student enrollment is up nearly 30 percent.
The incoming Class of 2027 is also one of Iona's strongest, most selective and most diverse group of students, representing 24 states and the countries of Australia, Ireland, New Zealand, Turkey, Ethiopia, the United Kingdom and Canada.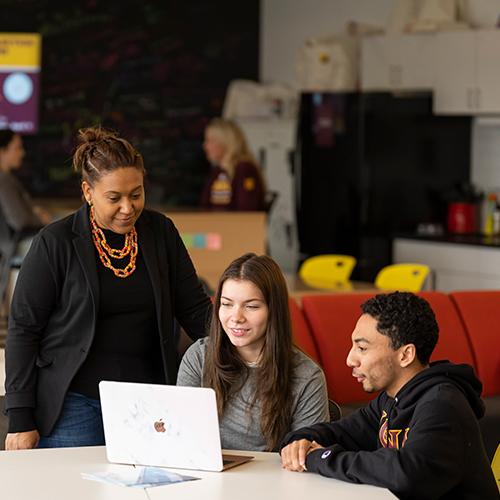 Impressively, the incoming freshman class includes 36 high school class presidents and 220 members of the National Honor Society with an overall average GPA of nearly 3.5.
As the level of academic achievement has increased, so too, has Iona's Honors Program expanded to meet the demand. The average Honors GPA for the incoming class is 3.97. For those who chose to submit an SAT, the average score this year was nearly 1230.
Given the strong applicant pool, Iona's acceptance rate also dropped this year. That means it was more competitive for students to become members of Gael Nation.
"Our growth is a testament to the value of an Iona education," said Iona President Seamus Carey, Ph.D. "I look forward to welcoming the Class of 2027 and know the best days are still ahead for Iona University."
Meet the Class of 2027!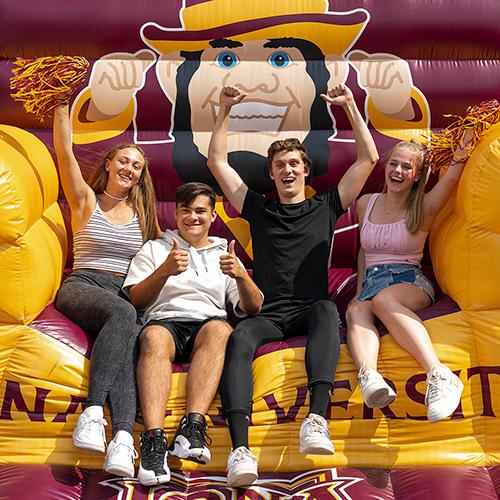 Building upon its mission of providing a transformative education especially for first-generation students, 50 percent of incoming students self-reported that they are the first in their families to attend college.
There are also more siblings and children of alumni in this year's incoming class – including 37 siblings, a 69 percent year-over-year increase, and 58 legacy students – which speaks to the satisfaction families experience and their likelihood to recommend Iona.
Reflecting Iona's foundation of faith, 33 percent of students will be coming from Catholic high schools. Additionally, Iona increased enrollment from Edmund Rice Christian Brother High Schools by 23 percent year over year.
Incoming students continued to be attracted to programs such as nursing, business administration, psychology, biology, computer science, finance and education, with a strong extracurricular interest in performing arts and community service.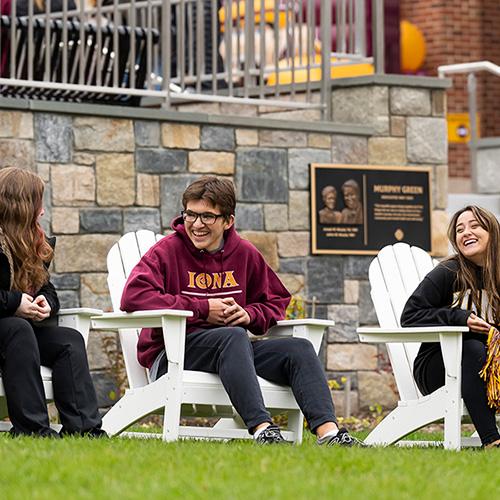 Nearly one-third of the incoming freshman class has committed to serving the local, national, and international community upon their arrival to Iona in the fall.
Notably, nearly 60 percent of the incoming class will be residential students, bolstering the overall on-campus experience.
"An Iona education helps to develop the whole student, both inside and outside the classroom," said Kevin O'Sullivan, senior vice president for Enrollment and Student Affairs. "From student clubs, mission trips and study abroad immersions to expanded opportunities in the performing arts, club sports, Division I athletics and much more, our students are given every opportunity to develop their leadership skills as they pursue their interests and develop lifelong friendships. The Class of 2027 will be a tremendous addition to campus and we can't wait to welcome them to Gael Nation!"
A School on the Rise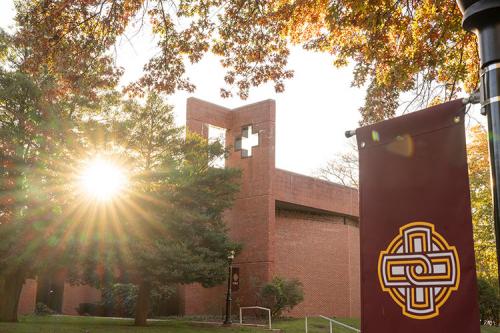 Iona is a Master's-granting Catholic institution founded in 1940 and inspired by the legacy of Blessed Edmund Rice and the Congregation of Christian Brothers. With a total enrollment of nearly 4,000 students and an alumni base of over 50,000 around the world, Iona is driven by a mission of service, justice, opportunity and the transformative power of education.
A school on the rise, Iona this year officially opened its new campus in Bronxville, N.Y., home to the state-of-the-art Kelly Center for Health Sciences and the newly established NewYork-Presbyterian Iona School of Health Sciences.
Offering cutting-edge programs in partnership with one of the nation's top hospitals, this new school builds upon the strong foundation set by Iona's School of Arts & Science and the LaPenta School of Business, as well as the Hynes Institute for Entrepreneurship & Innovation.
The University's two picturesque campuses – in New Rochelle and Bronxville, N.Y. – are both just 20 miles north of Midtown Manhattan. Iona students enjoy small class sizes, engaged professors and a wide array of undergraduate, graduate and accelerated programs.
Iona's faculty, meanwhile, have a wealth of professional experience, such as current and former international policy advisors; school principals and teachers; and C-suite executives representing international corporations, financial firms, hospitals, advertising agencies, sports organizations, law firms and more. These connections, plus Iona's extensive alumni network and proximity to Manhattan, offer unparalleled access to internship and career opportunities.
Reflecting the growth of its academic programs and the prestige of an Iona education, Iona changed its status from college to university on July 1, 2022.
Learn Outside the Lines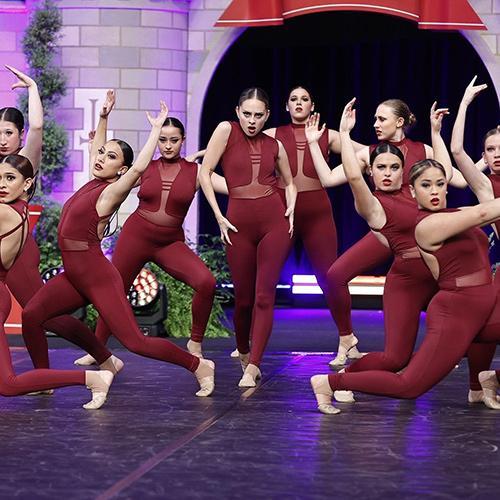 Outside of the classroom, meanwhile, Iona students can join over 80 student clubs and organizations spanning an array of interests, including 10 fraternities and sororities. Iona also has a robust club sports program, including a championship esports team, plus a thriving performing arts program and a wide range of community service opportunities both locally and around the world. All programs are geared toward developing new and lasting friendships while also building leadership skills and enhancing student engagement across campus.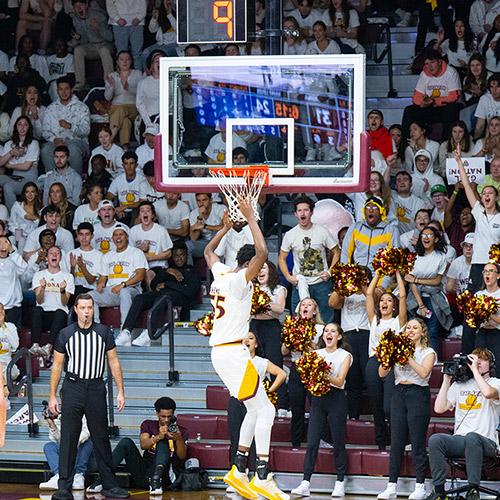 Iona is also well-known for its 21 NCAA Division I Varsity Athletics programs. Two new sports – men's lacrosse and women's acrobatics & tumbling – were also recently announced and will bring Iona's total number of offerings to 23 teams beginning next year.
Among numerous national rankings, Iona ranks in the top 4 percent nationwide for the highest return on investment both 30 and 40 years after graduation, according to Georgetown University's Center on Education and the Workforce.
Members of the Iona community are known as Gaels, who are people with Irish-Gaelic ancestry. Notable Iona alumni include Alfred F. Kelly Jr., Executive Chairman and former CEO of Visa; Margaret C. Timoney, CEO of HEINEKEN USA; Thomas J. Baldwin, CEO of Benihana; Gregory C. Cairo, CEO of Le Creuset USA; Robert Greifeld, former CEO of Nasdaq; and musician Don McLean, most famous for his song "American Pie."