In Memory of Patrick Quinn '06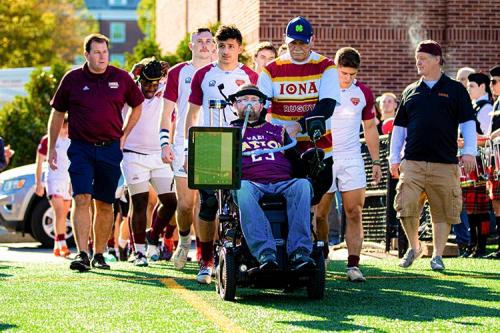 It is with great sadness that we join to mourn the passing of Patrick Quinn '06, co-founder of the ALS Ice Bucket Challenge and a proud Gael. Pat passed away early this morning after a heroic battle with ALS. He was 37.  
 
Diagnosed with Amyotrophic Lateral Sclerosis (ALS) in March 2013 at the age of 30, Pat co-founded the Ice Bucket Challenge as a way to raise money and awareness. It instantly became a viral sensation, raising a remarkable $250 million since its launch in 2014. Despite leading to several promising breakthroughs, sadly there is still no cure. Pat's friend and Ice Bucket Challenge co-founder Peter Frates, a Boston College alumnus, lost his battle in December 2019 at the age of 34.
Rallying the strength to join with his fellow Gaels at Iona's annual Ice Bucket Challenge this September, Pat addressed the crowd with his characteristic fearlessness: "Without the support of the Iona College community, my fight wouldn't be the same," he said. "After all, our motto is 'Fight the Good Fight.' I live and breathe 'Fight the Good Fight' every second of every day." No truer words could be spoken.
A Yonkers native, Pat played rugby at Iona and majored in Criminal Justice. While he would go on to receive many awards and honors for his advocacy, one in particular stands out. In accepting the 2015 Webby Award from Dave Grohl of the Foo Fighters, one of Pat's favorite artists and bands, his five-word acceptance speech about the Ice Bucket Challenge became a mantra of the ALS community – "Every August Until A Cure." Each year, the Ice Bucket Challenge continues to be one of Iona's biggest traditions on campus, embodying the College's ethos of faith, service, determination and friendship.
Pat was determined to Fight the Good Fight until the very end. In his final Tweet, he asked friends to wish him luck as he was going home from the hospital, saying he still had much to do. His will to keep pushing in pursuit of another day and another laugh will remain in our hearts always.
 
May we join in prayer to reflect on Pat's incredible life and legacy, as we offer peace to his family and all who loved him. May we also pray that Pat's strength inspires all those who battle with sickness and suffering. His parting words to the Iona community will forever brighten even our darkest days: "What we do truly matters," he said. "And I'm here to push you – I push everyone I can – to live their lives, to find every possible reason to smile, to make a difference. It's why we are here."
The family is making preparations for the Iona community, friends and loved ones to pay their respects. Further information will be provided.