Amanda Fitzgerald '22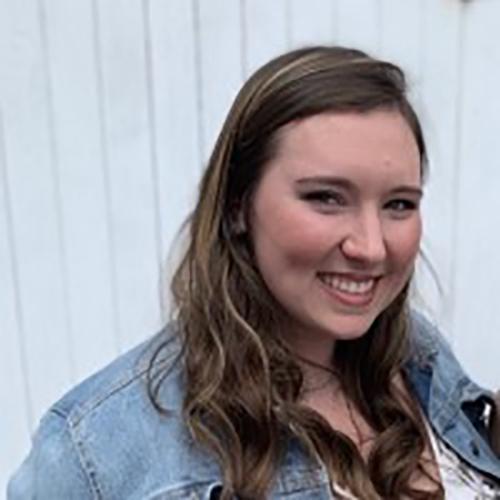 Program: Occupational Therapy (MS)
Hometown: Fishkill, N.Y.
High School: John Jay Senior High School-East Fishkill
Why did you choose Iona?
I came to Iona College to pursue my dream of getting my master's degree in the Occupational Therapy field because Iona works closely with the community. I believe that community-based service work provides a great learning environment and facilitates personal growth.
Why did you choose your major?
I chose occupational therapy because it is a versatile field that allows me to build a close relationship with clients while helping them to succeed in their desired roles and occupations.
What did you accomplish at Iona that you are most proud of?
I had the opportunity to compete in the Hynes Innovation Challenge in spring of 2020 and my partner and I came in second place. This is my biggest accomplishment at Iona College thus far and has pushed me out of my comfort zone and forced me to become a more creative thinker. Gurpreet Singh and I developed our company AccessiGear, which is based on college-branded adaptive clothing. We came up with this idea after working on a class project about accessibility on campus and we wanted to relate it to something fun and user friendly that would interest people our age.
Tell us about something you learned (in or out of the classroom) that really surprised or excited you.
I am really excited to learn about the LIRIC (learning in retirement at Iona College) group and the ways we can collaborate and bring new and exciting activities to the table for them.
Tell us something you learned about yourself since coming to Iona.
Since coming to Iona, I have learned that I want to continue my education beyond my master's degree and hopefully teach in higher education one day.
Did you belong to any clubs/teams?
I not only belonged to clubs, I helped create two new clubs! My classmates and I, along with my faculty adviser, Professor Tripta Velamoor, discovered a need for diversity awareness in OT. We wanted to create an inclusive environment that allowed students to have access to resources that would help them later on when entering the field and the job market. So, we created two clubs on campus: SOTA (student occupational therapy association), as well as COTAD (coalition of occupational therapy advocates for diversity). If you have an interest and you see a need for a new club, you can start one!
What have you been doing since graduation?
Being in graduate school has left me with a tough schedule to attend outside events on campus, but I have been able to make it to some water polo games and some events through the Hynes Institute.
Thus far, I have had the chance to do a lot of community service events and do an internship at the ABC (Association to Benefit Children) children's center in the Bronx. Here I got to work with children and develop activities that suited their social and emotional needs.
Advice to prospective students:
My advice to prospective students is to take advantage of all of the opportunities and campus events that you can. They help you to build connections, network with others in a variety of fields and you never know what you might learn about yourself in the process.
After graduation, I aim to become an occupational therapist in a hospital setting while pursuing a doctoral degree in public health.