Biochemistry Major Jamie Gudyka '24 Balances Life in the Lab and on the Track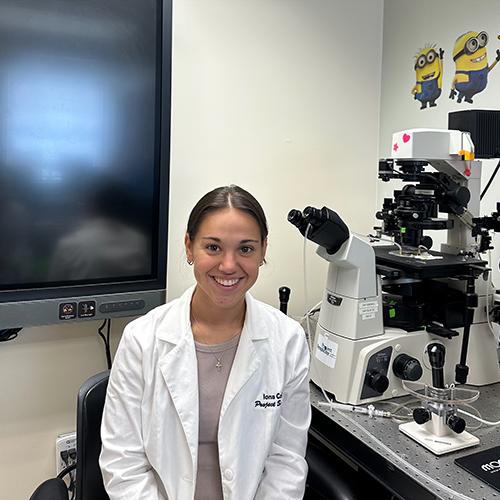 Name: Jamie Gudyka
Grad Year: 2024
Hometown: Webster, N.Y.
High School: Webster Schroeder High School
Major: ACS Biochemistry
Favorite Spot on Campus: LaPenta School of Business Terrace
Why did you decide to attend Iona?
I chose to attend Iona because of the variety of opportunities I would be given throughout the course of my four years as an undergraduate student. In addition to being recruited to run track and field, I was attracted to the atmosphere of the school and the education I could take away once I completed a degree.
What interests you most about your chosen course of study?
Being a biochemistry major, there are a variety of applications and jobs that can be done with such a rigorous degree. What interests me the most, is the research involved within the field and how it connects to health and medicine. There are so many aspects to biology and chemistry that when combined can be used to investigate difficult challenges that arise in the world of healthcare and medicine.
What do you feel is the most distinctive advantage gained from your Iona experience? From my Iona experience, I have been given many opportunities to enhance my experience as an undergraduate student. Being at a smaller school has allowed to me to have close relationships with my professors who are there to guide and help students. Additionally, I have been given the opportunity to conduct research with a professor of the university. With this I have been given the opportunity to attend and present at national conferences to enhance my experience and learn about other research that is conducted at universities by peers and professors worldwide.
What types of roles are you looking to pursue in the future?
In the future, I am hoping to pursue the role of a practicing physician in addition to working in a lab and conducting research. 
Tell us about your plans for the future. In what ways has Iona prepared you for the next step you will be taking?
After graduating from Iona, I am planning to take a gap year and do research in a lab. After my gap year, I am planning to attend a MD/Ph.D. program with the end goal of working in the field of oncology. From being in the classroom with a rigorous courseload and the activities I have done outside the classroom, I have learned to balance and prioritize what is important to me in achieving my goals. None of this would be possible without the help and support of my peers, professors and parents.
What clubs, organizations or service projects are you involved with beyond the classroom?
I am a part of a multitude of clubs and organizations including D1 Track and Field, member of Project Symphony Research Group, Peer Tutor at Rudin Center Honors Mentor, President of Gamma Sigma Epsilon, member of the Chemistry Honor Society, Vice President of Chemistry, and a Club Coach at Youth Running Club.
Is there a faculty or staff member who has made a positive impact on your future that you would like to mention?
A faculty member that has made a positive impact on my future and time at Iona is Dr. Lee. Dr. Lee has not only been my research mentor as I have been under her guidance as a member of Project Symphony, but she has both challenged and supported me in attaining the goals I have set out for myself not only at Iona but in my future. She has always been there to guide and help me and I would not have achieved what I have this far or decided to pursue a MD/Ph.D. degree if it was not for her leadership and guidance in both the classroom and the laboratory. I am very grateful for the opportunity to be a part of Project Symphony and the opportunities that has given me.