Gabriela Barragan '21
"After going to orientation, I realized Iona would definitely be the school for me. All the teachers at Iona are super helpful and are always willing to accommodate your needs."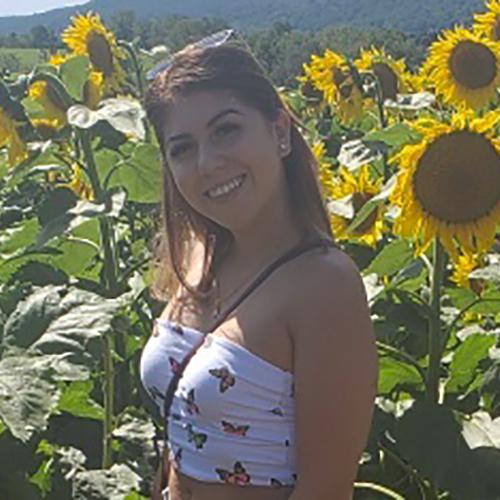 Major: Childhood Education with a Concentration in Spanish
Hometown: Yonkers, N.Y.
High School: Saunders Trades and Technical High School, Yonkers, N.Y.
Why did you choose Iona? 
At first, I chose Iona for financial reasons; I was fortunate enough to be awarded a very generous scholarship. But after going to orientation, I realized Iona would definitely be the school for me. Besides the scholarship, I loved the fact that Iona had such a great community where everyone was friendly, and you were able to feel at home. I also loved the fact that there were small classes; this meant that there would be more opportunity for one-on-one help from a teacher. All the teachers at Iona are super helpful and are always willing to accommodate your needs.
Why did you choose your major?
Before coming to Iona, I was stuck with the question of what I wanted to do for the rest of my life. In high school I was in cosmetology and thought that being a hairdresser was what I wanted, but once I got to Iona, I learned very quickly that I wanted something else.
Being a teacher was always in the back of my head. When I was a child, I would pretend to be a teacher with my cousins, but I never really took it seriously. But then I came to Iona and started taking education classes, and after my sophomore year when I was required to tutor children, I realized teaching was definitely what I wanted to do. Even after I completed my required tutoring hours, I continued to go because I loved being with the kids. I realized that being around children and being able to inspire them was something that I definitely wanted to do for the rest of my life. It's my passion.
What have you accomplished so far that you are most proud of?  
One thing I am most proud of that I accomplished this semester was student teaching. It gave me the opportunity to work with children one-on-one and be prepared for becoming a teacher. I developed so many relationships and learned so many new things. Student teaching gave me an idea of what I would and wouldn't do with my students when I had my own classroom someday. At the beginning of student teaching, I really didn't think I was going to be able to get through it especially with the pandemic going on, but I pushed through and persevered and it was the best experience of my life. If I get lucky, I hope that someday I get a job in that school because of all those relationships I built.
Is there a particular area of study in your major that you are most interested in right now?  
There are many areas of study in my major that interest me, but one thing that I feel will really help students will be my knowledge of Spanish. I chose a concentration in Spanish because I figured being a Spanish teacher or at least being in a bilingual classroom can be very beneficial for students. This semester with my student teaching, I had a lot of students who spoke little or no English, so I was a tremendous help, not only to them, but to their parents. Being bilingual has really giving me an advantage in the education world because I'm able to develop relationships and share more knowledge with students who are English language learners.
Tell us about something you learned (in or out of the classroom) that really surprised or excited you.  
One thing that really excites me both in and out of the classroom is being able to build relationships. Every semester when I'm in a new class with new people I always come out with a new friend. Sometimes even just walking around campus and seeing the same people, you start to develop friendships. It really surprised me how easy it was to become friends with people; I never realized how friendly people were until I actually took the time to speak with them.
Tell us something you've learned about yourself since coming to Iona.
One thing I learned about myself since coming to Iona is to not be afraid to step out my comfort zone. I was never the type to approach someone first and start talking to them, but after realizing that everyone at Iona is very friendly, I began to take that first step. I was also the type to be very shy in the classroom and not speak up, but Iona has made me feel comfortable to the point where I have no problem speaking in a class.
What are you looking forward in the next year? 
Next year I am looking forward to graduating Iona. I'm also thinking about graduate school and where I want to go. If it is financially possible, I will definitely choose Iona. In order for me to be a better candidate when applying for teaching jobs at schools, I will need to go to graduate school to get my master's degree. Graduating is bittersweet because I'm glad to be done with school but at the same time, I don't want to leave, especially a place like Iona.
What are you looking forward in the future?  
I really look forward to becoming a teacher, especially in a bilingual classroom. Going through all the experiences of student teaching and observing I cannot wait to have my own classroom someday and be able to inspire students. I'm looking forward to building many relationships that will help me succeed in becoming the best possible educator for students. I know it isn't going to be easy and I really have to work hard, but I'm ready to take on the challenge.
Any advice to prospective students?
My advice to future students would be to put yourself out there. I know it may seem scary at first, but I think it's really important to try new things and develop relationships with new people. I regret not being involved in any clubs or teams, although I feel like I didn't have the time for it. But I was still able to meet a lot of people. I think you should come into school with a fresh mindset and be willing to really try and make your experience the best it can possibly be.